Anmeldelser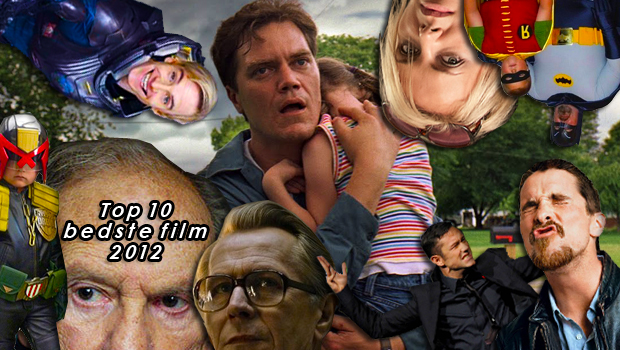 Published on december 27th, 2012 | by Bjarke Friis Kristensen
103
Top 10 – de bedste film fra 2012
Det er blevet tid til årets top 10 med de bedste film fra 2012. Herudover peger jeg på en række film, der også er værd at nævne fra året, der er gået samt ikke mindst højdepunkter fra filmfestivalerne CPH PIX og Blodig Weekend. Listen er baseret på film, der har været i dansk biografdistribution i 2012.
1. Take Shelter (Instr. Jeff Nichols)
Den knugende intense og fremragende Take Shelter behandler dommedagsfilmen på original og fængslende vis. Michael Shannon er fænomenal i hovedrollen som en mand, der kæmper med egne indre dæmoner og uhyggelige forudanelser om Jordens undergang. Min anmeldelse.



2. Amour (Instr. Michael Haneke)
Usentimentalt og med fængslende sanselighed giver Amour livets sidste åndedrag en øm skrøbelighed og døden et koldt nærvær. For nej, vi lever ikke evigt. En kendsgerning, der med Hanekes film får håndgribelig tyngde og et menneskeligt ansigt. Smuk, tragisk og pokkers gribende. Bum. Min anmeldelse.

3. Dame Konge Es Spion (Instr. Tomas Alfredson)
Paranoiaen sitrer i hvert billede, mens den forførende koldkrigsthriller folder sit komplekse puslespil ud. I roligt tempo drages man således ind i et kringlet spil af løgne, dobbeltagenter og skjulte dagsordener. En smukt orkestreret spionfilm. Min anmeldelse.

4. The Dark Knight Rises (Instr. Christopher Nolan)
Med dødsforagt og episk svung kaster The Dark Knight Rises sig ud fra Gothams svimlende tinder og ned i et fængslende mørke af desperation og anarki. Til trods for mindre skavanker er her bestemt tale om et tilfredsstillende sidste kapitel i Nolans Batman-trilogi. Min anmeldelse.


5. Prometheus (Instr. Ridley Scott)
Lige fra den episke åbningssekvens af en brusende natur og videre ned i de mørke dybder indfanges eventyret i fængslende billeder. En spektakulær film med nok pondus til at overvinde sine ujævnheder og som heldigvis ikke er bleg for at servere overgearet B-films-snask. Min anmeldelse.



6. Shame (Instr. Steve McQueen)
Shame er som et insisterende råb af afmagt og indestængt vrede. Carey Mulligan er lige så sart og skrøbelig som Michael Fassbender er frygtløs og altomsluttet af sin fordærvede rolle. Deres samspil er følsomt, nærværende og tæt på at afføde en smule håb i et ellers håbløst landskab. Min anmeldelse.



7. Looper (Instr. Rian Johnson)
Man kan hurtigt blive rundtosset, hvis man forsøger at få fod på tidsrejser og deres hjernevridende muligheder. Her lykkedes det dog at etablere tidsrejsekonceptet uden at man mistes undervejs – men heldigvis nok til at tidskomplikationerne pirrende kilder ens intellekt. Min anmeldelse.
8. Young Adult (Instr. Jason Reitman)
Charlize Theron er forrygende som følelsesmæssigt forskruet ungdomsforfatter. En kvinde i slut-30'erne, der hænger ubehjælpsomt fast i sin high school-fortid. En tragikomedie, der er et både smerteligt og morsomt portræt af den usympatiske forfatter og hendes umulige jagt på lykken. Min anmeldelse.
9. Dredd (Instr. Pete Travis)
Dredd er fandenivoldsk action med blod, kugler og sort humor lige i fjæset. Det brutale bæst holder løjerne simple og tonser blot nådesløst afsted, men ikke uden, at der indskydes et par smukke åndehuller af svævende voldspoesi. Sådan. Min anmeldelse.
10. The Cabin in the Woods (Instr. Drew Goddard)
En både opfindsom og sprælsk sag, der oplagt og med en ivrig kærlighed til genren vender horror-klichéerne på hovedet. For hvad der til at starte med ligner en gængs omgang metervaregys, ruller sig snart uventet om på maven for at lege tagfat med publikums forventninger. Min anmeldelse.

Andre nævneværdige film fra 2012
Udover årets top 10, vil jeg vanen tro fremhæve en række andre solide film fra året, der er gået. Bl.a. invasionssjov med Attack the Block, Wes Andersons fine Moonrise Kingdom, den episke vandretur Hobbitten: En uventet rejse, smuk agentaction med Skyfall, den charmerende The Artist, kulørt superheltesaction med The Avengers, den medrivende Mission: Imposible – Ghost Protocol og David Cronenbergs A Dangerous Method.
Videre til en herlig manisk Nicloas Cage i Ghost Rider: Spirit of Vengeance, isnende hjernevask med Martha Marcy May Marlene, det rå gangsterdrama Lawless, ondskabsfuld gru med Kill List, den hjerteskærende Extremely Loud & Incredibly Close, en klipklappe-klædt George Clooney i The Descendants, Martin Scorseses Hugo samt den buldrende Battleship.

Filmfestivalerne CPH PIX og Blodig Weekend
Jeg dækkede for tredje gang den københavnske filmfestival CPH PIX, hvor jeg nåede igennem 38 film. Her fik jeg nogle af årets bedste filmoplevelser og vil fremhæve følgende titler. Den intime Weekend, eksistentialistisk lejemorder-action med den thailandske Headshot, den dramatisk forførende Himizu og vanvidskomedien Tim and Eric's Billion Dollar Movie.
Videre til den skæve 'feel-good-samurai-komedie' Scabbard Samurai, 'slow burner'-dramaet Snowtown, adrenalinkicket The Raid: Redemption, den rørende I Wish, udpenslede perversiteter med The Human Centipede 2, det gotiske gys Livid, den absurde Alps, den foruroligende Killer Joe, terrorfyldt junglehelvede med Captive og Todd Solondz' sorte komedie Dark Horse.

2012 var også året, hvor København fik en ny mini-filmfestival, Blodig Weekend. En festival primært dedikeret til skrækfilm. På den fire dage lange festival nåede jeg 15 film og vil bl.a. fremhæve det voldsomme remake Maniac, som jeg også havde fornøjelsen af at introducere.
Videre til den italienske exploitation-shocker Morituris, medrivende blodsprøjt med [REC]³ Génesis, psychodramaet Excision, charmerende science fiction-snask med Manborg og klaustrofobisk gru med The Incident samt herlige gensyn med Lamberto Bavas 80'er-perler Demons og Demons 2, hvor jeg også fik hilst på instruktøren.

De forsømte film fra 2012
Når jeg går listerne igennem, kan jeg desværre igen i år se, at jeg mangler en håndfuld film, jeg har glædet mig til. Det får jeg indhentet i 2013 og glæder mig således bl.a. til De urørlige, Holy Motors, The Woman in Black, Hvad med Kevin?, Magic Mike, Modig, Ted, Monsieur Lazhar, Sinister, Tyrannosaur og Killing Them Softly. Ja, samt selvfølgelig alle de nye filmlækkerier, der venter i 2013.
– Læs også mine top 10-lister for 2009 og 2010 og 2011.
– Læs om alle mine filmoplevelser på CPH PIX 2012 HER.
– Læs om min gang på Blodig Weekend: DAG 1, DAG 2, DAG 3, DAG 4.