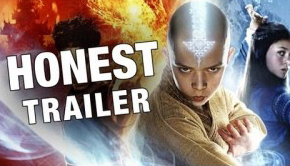 Nej, jeg har endnu ikke set M. Night Shyamalans The Last Airbender – ja, undskyld mig, men den står altså ikke lige øverst på min to-see-liste. Jeg kan nu ellers godt lide Shyamalans film – og faktisk synes jeg, at både hans ellers udskældte The Happening og Lady in the Water kunne noget. Ja, den er sgu god nok.
Jeg har da også The Last Airbender stående klar på hylden til den dag, jeg bare ikke kan vente længere med at få be- eller afkræftet om den så er så helt og aldeles slem som dens rygte. En perfekt film for gutterne bag de ærlige trailers at kaste sig over. De får da også sat et par spydige kommentarer ind – se selv i toppen. Mon du er enig?
– Bliv ven med Filmskribenten på Facebook her.
Se andre ærlige trailers:
– En ærlig trailer for 'Skyfall'
– En ærlig trailer for 'Avatar'
– En ærlig trailer for 'Star Trek'
– En ærlig trailer for 'Inception'
– En ærlig trailer for 'Iron Man 2'
– En ærlig trailer for 'Prometheus'
– En ærlig trailer for 'Transformers'
– En ærlig trailer for 'The Avengers'
– En ærlig trailer for 'The Notebook'
– En ærlig trailer for 'Harry Potter'
– En ærlig trailer for 'Jurassic Park'
– En ærlig trailer for 'Les Misérables'
– En ærlig trailer for 'The Dark Knight'
– En ærlig trailer for 'The Hunger Games'
– En ærlig trailer for 'Paranormal Activity'
– En ærlig trailer for 'Twilight: New Moon'
– En ærlig trailer for 'The Dark Knight Rises'
– En ærlig trailer for 'Twilight: Breaking Dawn'
– En ærlig trailer for 'Ringenes Herre'-trilogien
– En ærlig trailer for 'The Amazing Spider-Man'
– En ærlig trailer for 'Indiana Jones & The Kingdom of The Crystal Skull'
https://filmskribenten.dk/wp-content/uploads/2013/06/the-last-airbender-honest-trailer-thumb.jpg
166
290
Bjarke Friis Kristensen
https://filmskribenten.dk/wp-content/uploads/2018/11/logo.png
Bjarke Friis Kristensen
2013-06-09 12:20:26
2013-06-09 12:20:26
En ærlig trailer for 'The Last Airbender'