Blodig Weekend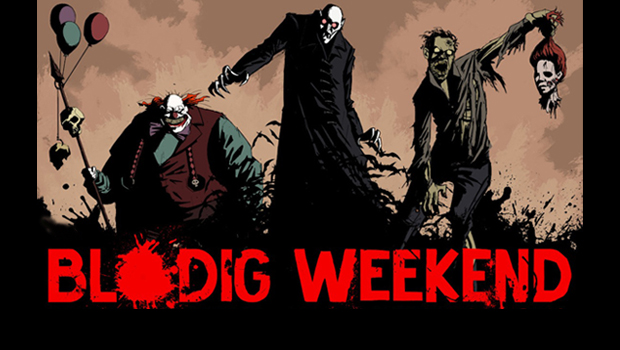 Published on september 16th, 2013 | by Bjarke Friis Kristensen
63
BLODIG WEEKEND 2013: Genrefilmsfestival byder på spændende og brutal horror
For anden gang kan man mæske sig i alverdens horrorfilm på den årlige genrefilmsfestivalen Blodig Weekend i København. Festivalen løber fra d. 26.-29. september med enkelte visninger i Århus. Programmet byder på flere interessante titler – og alene det at kunne kaste sig over horrorfilm i fire dage er lækkert.
Nedenfor følger tre titler for hver af festivalens fire dage, som jeg ser frem til – torsdag d. 26. september er der dog kun to titler på programmet, men to titler, jeg glæder mig til. Jeg har også indsat festivalens øvrige titler for overblikkets skyld. Klik på titlerne for Blodig Weekends omtaler.
Festivalen byder langt overvejende på film fra horrorland, man finder dog også enkelte afstikkere til blandt andet action- og westerngenren. Man kan desuden købe film, merchandise og andre lækkerier på collector's market lørdag d. 28. september i Cinemateket fra kl. kl. 13:00-21:00, mens festivalen også byder på en række gæster. Blodig Weekend finder primært sted i Cinemateket i København, men har også en håndfuld visninger i CinemaxX i både København og Århus.
Jeg skal introducere remaket af den grumme We Are What We Are fredag d. 27. september kl. 21:45. Originalen er en brutal og dyster oplevelse og genindspilningen skulle ligeledes være en grum omgang gru. Kig endelig forbi og sig hej.
– Besøg Blodig Weekend på deres site HER og på Facebook HER.

Torsdag den 26. september:

– EVIL DEAD, (Fede Alvarez, USA, 2013, kl. 19.00, CinemaxX, KBH og Århus).
Remakes er ofte ildeset – og oftest med god grund – men det her skulle været et sjaskhamrende godt et af slagsen. Lavet med kun praktiske effekter som i de gode gamle dage. Så selvom der nok ikke er tale om en milepæl i genren, bliver det cool at se de vamle blodsudgydelser på det store lærred.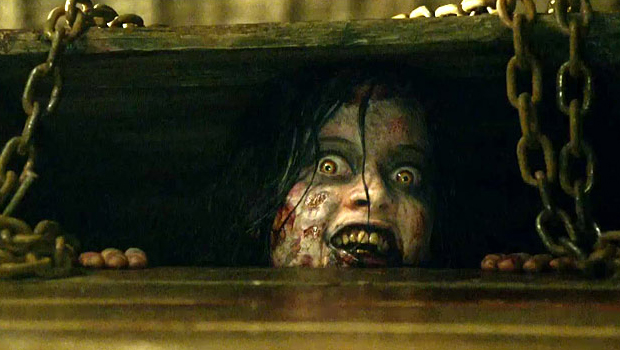 – V/H/S 2, (Diverse instruktører, USA, 2013, kl. 22:00, Cinemateket).
Jeg er ret glad for den første V/H/S – en antologigyser med håndholdt kamera – og denne opfølger skulle være endnu bedre. Instruktørerne bag de forskellige indslag er i denne omgang blandt andet Eduardo Sánchez (The Blair Witch Project), Gareth Evans (The Raid) og Jason Eisener (Hobo with a Shotgun). Min anmeldelse af den første V/H/S finder du HER.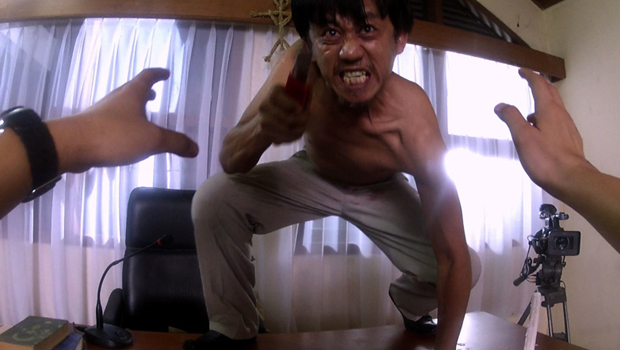 Fredag den 27. september:
– I DECLARE WAR, (Jason Lapeyre, Robert Wilson, Canada, 2012, kl. 14.00 i Cinemateket).
– THE BATTERY, (Jeremy Gardner, USA, 2012, kl. 16:30 i Cinemateket).
Dette skulle være et nyt og interessant take på zombiegenren. Jeg er vild med zombier – som alle horrorfilmfans vel er – så jeg er spændt på at se, hvordan man har forsøgt at gribe den ofte noget stivbenede genre an.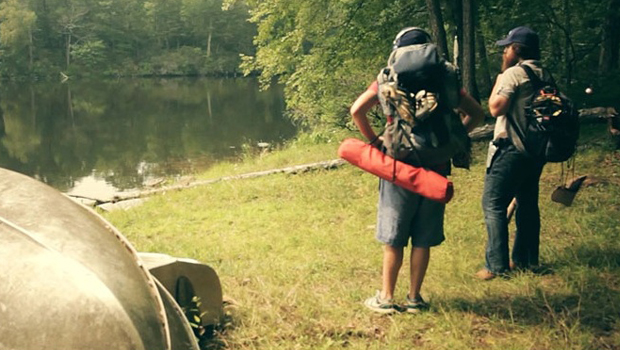 – THE FORBIDDEN PHOTOS OF A LADY ABOVE SUSPICION, (Luciano Ercoli, Italien, 1970, kl. 19.15 i Cinemateket).
– STITCHES, (Conor McMahon, Irland, 2012. Kl. 19.30 i Cinemateket).
– BYZANTIUM  – UPDATE: DENNE VISNING ER DESVÆRRE BLEVET AFLYST. (Neil Jordan, England-USA-Irland, 2012, kl. 21.30, CinemaxX, KBH og Århus).
Jeg får desværre ikke mulighed for selv at se denne vampyrfilm, da jeg skal introducere We Are What We Are i Cinemateket. Instruktøren har blandt andet Interview With a Vampire og The Company of Wolves på CV'et. Filmen har Saoirse Ronan og Gemma Arterton på rollelisten samt Thure Lindhardt og Caleb Landry Jones, hvor sidstnævnte imponerede i Brandon Cronenbergs Antiviral – du finder min anmeldelse HER.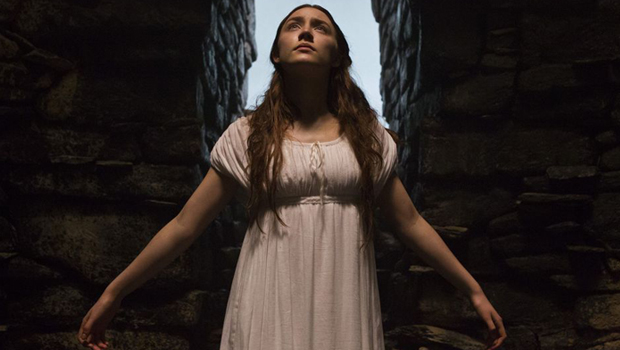 – RETURN TO NUKE 'EM HIGH VOLUME 1, (Lloyd Kaufman, USA, 2013, kl. 21.30 i Cinemateket).
– WE ARE WHAT WE ARE, (Jim Mickle, USA, 2013, kl. 21.45 i Cinemateket).
Endnu et remake på programmet. Der skulle dog være tale om et solidt et af slagsen. Filmen er i hvert fald allerede blevet modtaget positivt – og ja, den mexicanske original er fremragende. Det bliver spændende at se, hvordan man her har behandlet det både stemningsfulde og brutale forlæg. Jeg introducerer desuden filmen.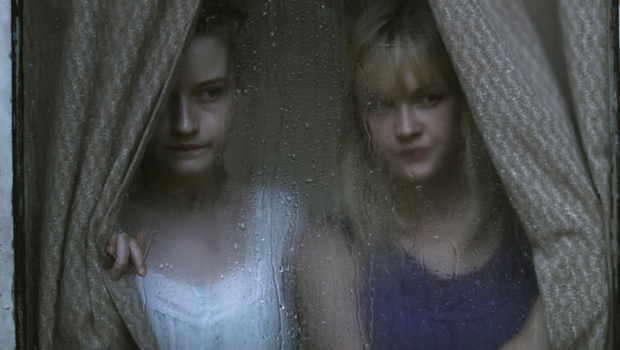 Lørdag den 28. september:

– COLLECTOR'S MARKET. Salg af memorabilia, plakater og meget mere. Fri entre, fra kl. 13.00-21.00 i Cinemateket.
– DEN NIHALEDE KAT, (Dario Argento, Italien-Frankrig-Vesttyskland, 1971, kl. 14.15 i Cinemateket).
Filmen introduceres af Dario Argento-eksperten Thomas Rostock og er en af festivalens "retro"-titler. Ja, jeg er kæmpe fan af Dario Argento – i hvert fald hans film fra 1970'erne og 1980'erne og dette er en af hans perler, og så på 35 mm. Den skal du se. Læs evt. min anmeldelse af hans Four Flies on Grey Velvet HER.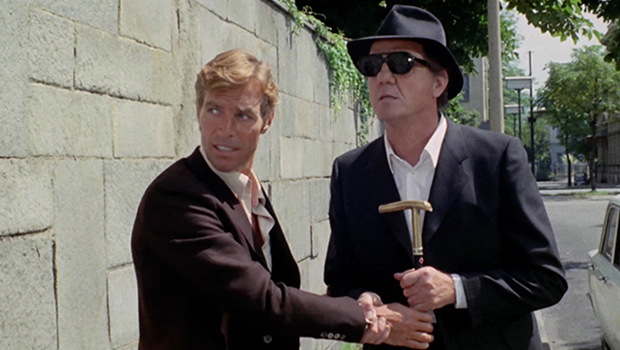 – DARK TOUCH, (Marina de Van, Frankrig-Irland, 2013, kl. 16.45 i Cinemateket).
Dette skulle være en ret brutal omgang, hvor man følger en 11-årig pige, der er eneste overlevende efter en blodig massakre i en fjerntliggende by i Irland. Håber på en ordentlig mavepuster.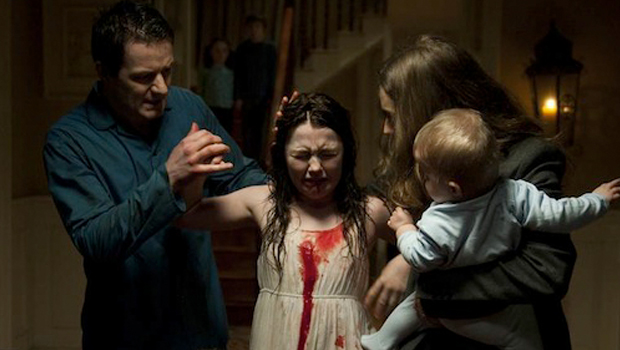 – Blodigt nyt fra undergrunden, danske genrefilm, fri entre, kl. 18.00 i Cinemateket.
– DADDY'S LITTLE GIRL, (Chris Sun, Australien, 2012, kl. 19.00 i Cinemateket).
– Alex Puddu-koncert med Edda Dell'Orso, efterfulgt af filmen ONCE UPON A TIME IN THE WEST, (kl. 19.30 i Cinemateket).
– KISS OF THE DAMNED, (Xan Cassavetes, USA, 2012, kl. 21.30 i Cinemateket).

– SHARKNADO, (Anthony C. Ferrante, USA, 2013, kl. 21.30 i CinemaxX, KBH og Århus).
Ok, den her er måske ikke horror som sådan. Men ud fra dens trailer, der har floreret på nettet ser det ud til at blive en yderst underholdende tåbelighed. Jeg mener – hajer, der hvirvels op i tornadoer og spreder skræk og rædsel. Ja, det kan vist kun blive underholdende – og så er Ian Ziering på rollelisten (Steve fra Beverly Hills 90210).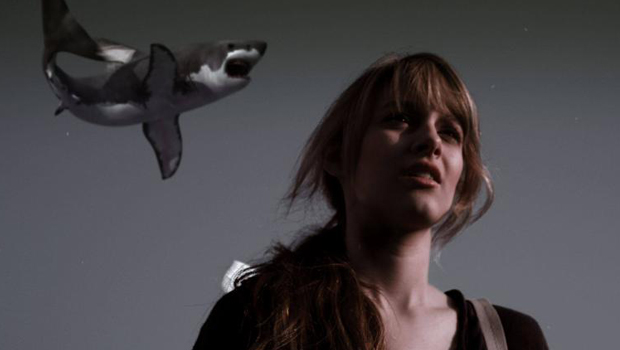 Søndag den 29. september:

– ADJUST YOUR TRACKING, (Levi Peretic, Dan M. Kinem, USA, 2013, kl. 14.15 i Cinemateket).
Festivalens eneste dokumentar og jeg glæder mig. Den handler nemlig om den subkultur af filmfans, der samler på VHS-bånd. Jeg har selv en forkærlighed for de gamle kassetter, så det bliver forhåbentligt både sjovt, interessant og underholdende at få indblik i disse samleres liv.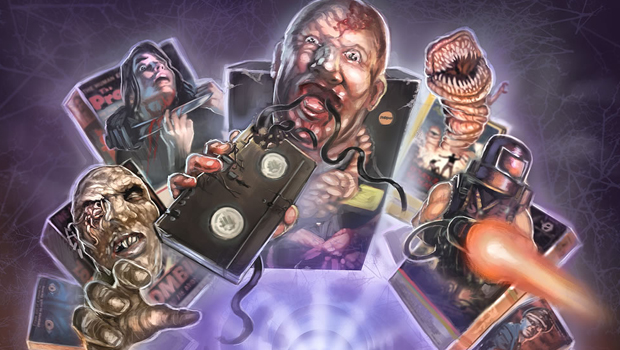 – GROTESK, (Peter J. Bonneman, Danmark, 2013, kl. 16.30 i Cinemateket).
– Blodigt nyt fra undergrunden, danske genrefilm, (kl. 18.00 i Cinemateket, fri entré).
– HERE COMES THE DEVIL, (Adrián García Bogliano, Mexico-USA, 2012, kl. 19.00 i Cinemateket).
– FRESH MEAT, (Danny Mulheron, New Zealand, 2012, kl. 19.15 i Cinemateket).
– BIG BAD WOLVES, (Aharon Keshales, Navot Papushado, Israel, 2013, kl. 21.30 i CinemaxX, KBH og Århus).
En israelsk hævn-thriller af de to instruktører, der stod bag den interessante, men også noget ujævne Kalevet aka Rabies. Denne titel skulle dog være mere vellykket – valget for mit vedkommende står dog mellem denne og actionfilmen The Tower, og selvom de begge lyder spændende bliver det for mit vedkommende The Tower jeg kaster mig over.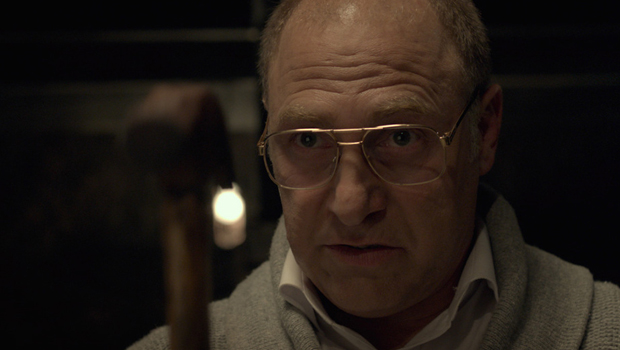 – THE TOWER, (Ji-hoon Kim, Sydkorea, 2012, kl. 21:30 i Cinemateket).
Dette er en afstikker til actiongenren – og det skulle være en yderst effektiv og medrivende film i samme boldgade som Det tårnhøje helvede og Die Hard. Jeg har desuden en svaghed for sydkoreanske film, så som Old Boy, The Chaser og Public Enemy, så mon ikke også, at denne titel bliver en positiv oplevelse.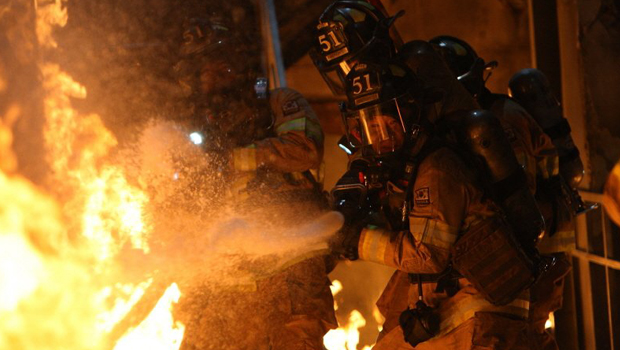 – THALE, (Aleksander Nordaas, Norge, 2012, kl. 21.45 i Cinemateket:).

– BONUS: Besøg af sangerinden Edda Dell'Orso.
Desuden gæster den 78-årige sangerinde Edda Dell'Orso festivalen. Hun har langt stemme til film som Once Upon a Time in the West, Den gode og den onde og den grusomme og har desuden sunget sange til over 50 titler af instruktører som Giuseppe Tornatore, Ettore Scola, Mario Bava og Jess Franco.