Anmeldelser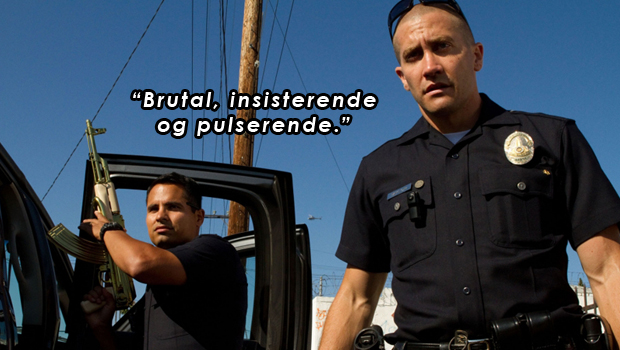 Published on maj 13th, 2013 | by Bjarke Friis Kristensen
100
END OF WATCH: På brutal patrulje med to oplagte betjente
Man får både svedige håndflader og en knude i maven på patrulje med Jake Gyllenhaal og Michael Peña i den intense politifilm End of Watch. Duoen er bedste venner og betjente i det bandehærgede South Central i Los Angeles. Deres i forvejen farlige job bliver dog snart endnu farligere, da de mere eller mindre tilfældigt får lagt sig ud med nogle mere end sædvanligt brutale kriminelle.
Men inden lortet for alvor ramler, følger man betjentenes udsatte hverdag. Både miljø og karakterer etableres med et godt øje for dagligdagen samt de mindre rutineprægede begivenheder på jobbet. Her står specielt modsætningen mellem det farlige arbejde og familielivet i stærk kontrast. Det giver god grobund for et engagerende drama, hvor man vitterligt holder med og af betjentene, når kuglerne begynder at flyve.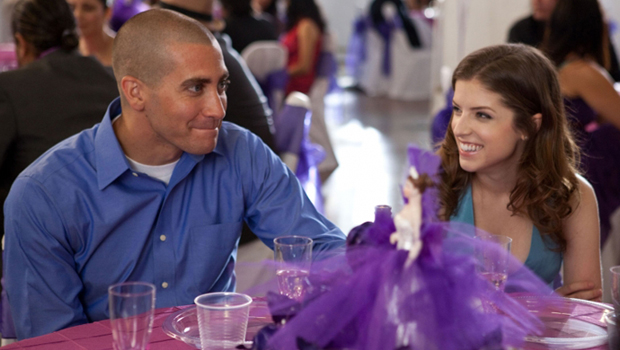 Særligt dynamikken mellem Gyllenhaal og Peña fungerer godt. De er vedkommende og underholdende selskab – et af filmens klare trumfkort. Deres veloplagte ping pong rammer i den grad plet og balancerer fint mellem kammeratlige drillerier og mere rørende samtaler om livet, døden og kærligheden. De formår at give tyngde til temaer som loyalitet, broderskab og sammenhold.
Filmen er fortalt i en delvis dokumentarisk stil, da Gyllenhaals karakter er i gang med at lave en noget uofficiel dokumentar om livet som betjent og derfor filmer løs. Den håndholdte dokustil suppleres af et "almindeligt billedsprog", når scenerne kræver det – blandt andet under de heftige skyderier. Det er hektisk, men aldrig forvirrende. Dette miks af billedstil giver filmen et nærvær og en medrivende vitalitet.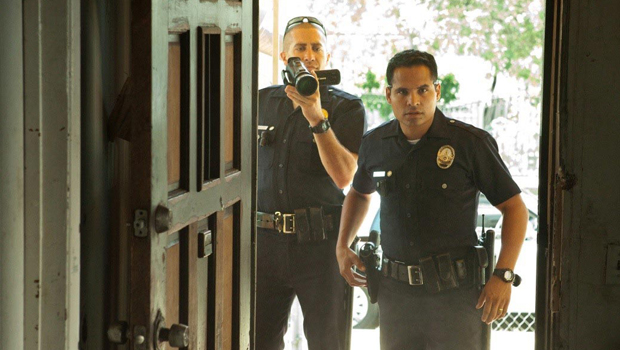 Men selvom End of Watch har mange gode ting kørende for sig, så bliver løjerne til tider også en kende ujævne. Historien og de ellers fine hverdagsscener går lidt i tomgang, hvilket actiondelen til dels retter op på. For netop filmens action er noget af det, der fungerer virkelig godt – brutal, insisterende og pulserende. Desværre begrænser skurkene sig til storbandende klichéerne på voldspsykopater.
End of Watch er altså intens, hvor særligt Gyllenhaal og Peña er med til at løfte historien og gøre politiklichéerne troværdige. De giver filmens action et følelsesmæssigt pondus – godt hjulpet af deres bedre halvdele, henholdsvis en sød Anna Kendrick og en rapkæftet Natalie Martinez. Ja, en ujævn film, men også adrenalinpumpende underholdning, der formår at gennemtæske følelsesregistret.
Filmen 3/6:

Billede, lys, ekstramateriale:.
Filmen gør sig godt på Blu-ray, hvor brugen af forskellige kameraer gør, at billedet skifter en smule udseende mellem nogle scener. Det er dog ikke noget, der ødelægger oplevelsen, men er blot med til at understøtte filmens æstetik og autenticitet. Lydsporet spiller medrivende, går klart igennem og skaber god intensitet og nærvær. Der medfølger intet ekstramateriale, men man får også filmen med på dvd.
Billede: 5/6 

| Lyd: 5/6 

| Ekstramateriale: 0/6

Samlet vurdering: 3/6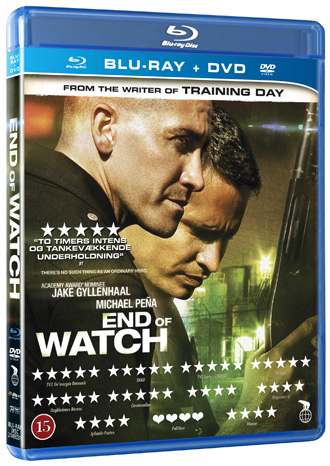 Originaltitel: End of Watch, USA, 2011
Instruktion: David Ayer
Medvirkende: Jake Gyllenhaal, Michael Peña, Anna Kendrick, Natalie Martinez m.fl.
Udgivelse: d. 2. april 2013.
Spilletid: 109 min.
Udgiver: Nordisk Film