Anmeldelser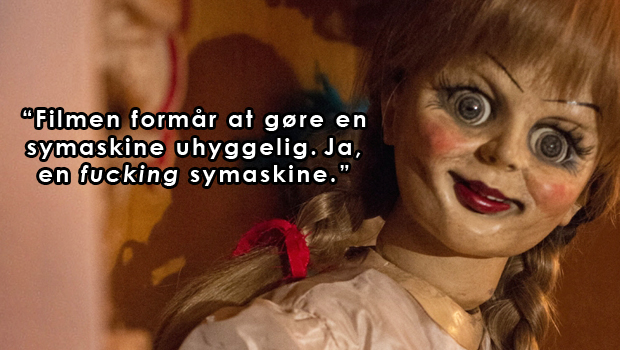 Published on oktober 16th, 2014 | by Bjarke Friis Kristensen
144
ANNABELLE: Et olmt dukkegys, der gav mig gåsehud og et godt grundlag for mareridt
Biografanmeldelse: Okay, hør lige her. Jeg er en habil horrorfan. Jeg har med andre ord set min del af gyserfilm og er efterhånden ret hærdet og ikke så nem at skræmme. Men holy fuck, det overnaturlige dukkegys Annabelle fik sgu skovlen under mig flere gange. Ja, filmen formår at gøre en symaskine uhyggelig. Ja, en fucking symaskine. Så kan en gyserfilm altså noget.
Filmen er en prequel-skråstreg-spin-off til James Wans The Conjuring, der ligeledes gav mig gåsehud og klamme håndfalder. I Annabelle er en klam dukke af samme navn, der er omdrejningspunktet. Den spillede som bekendt en mindre rolle i The Conjuring, og den er også her virkelig klam og virkelig uhyggelig. Ja, en dukke. En fucking dukke iført kjole og med fletninger. Gisp og gys.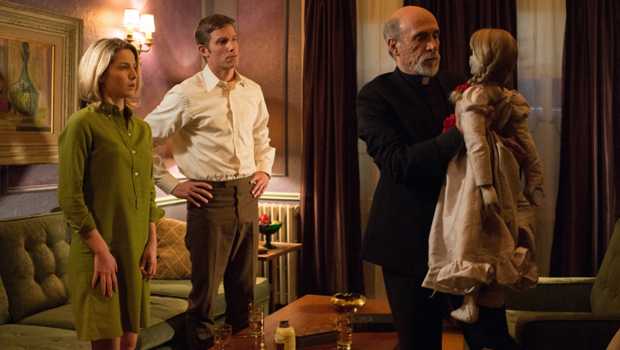 Der er selv sagt noget uldent ved Annabelle. Det finder en lille familie i den grad ud af. Vi befinder os – som i The Conuring – i 1970'erne, hvor den højgravide Mia og hendes mand John er lykkelige og smaskforelskede. Men som du ved, hvis du har set din del af gyserfilm, så er en højgravid kvinde sårbar og det perfekte mål for grusomheder. Det er også tilfældet her.
For det viser sig snart, at der hviler en ondskab i dukken. Den slippes fri og terroriserer det lille hjem. Først ved små, uskyldige lyde i natten. Men det tager selv sagt til og bliver snart til et spørgsmål om liv eller død. Ja, et helt klassisk gyser-setup, hvor genrens faste klichéer kommer i spil. Men klichéerne fungerer her, da det gøres med et sikkert og veloplagt greb om genren.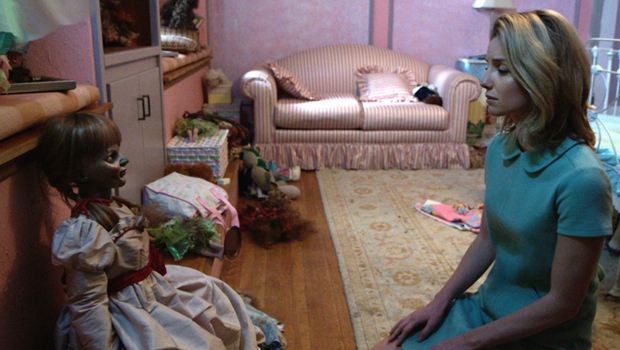 Klichéerne i Annabelle er mest af alt til stede, da genren har sin del af faste konventioner. For klichéerne – eller måske mere præcist, genrens spilleregler – bliver her aldrig klodsede, kedelige eller dovne. De leveres overraskende, med overskud og pondus. Ellers ville jeg jo for pokker ikke være blevet så skræmt. Jeg savnede dog et lidt mere nuanceret portræt af ægteparret.
Ward Horton i rollen som John forbliver endimensionel, mens Annabelle Wallis som Mia har flere følelser at spille på. Jeg blev da bestemt også følelsesmæssigt engageret. Det er vigtigt, for man skal holde af dem, der udsættes for gruen, ellers er der ikke noget på spil. Men den manglende psykologiske tyngde, et par plothuller og et par jump scares for meget, underminerede bestemt ikke gruen, gyset og grundlaget for mine efterfølgende mareridt. BØH!
– Besøg Filmskribenten på Facebook HER. 

Vurdering 4/6: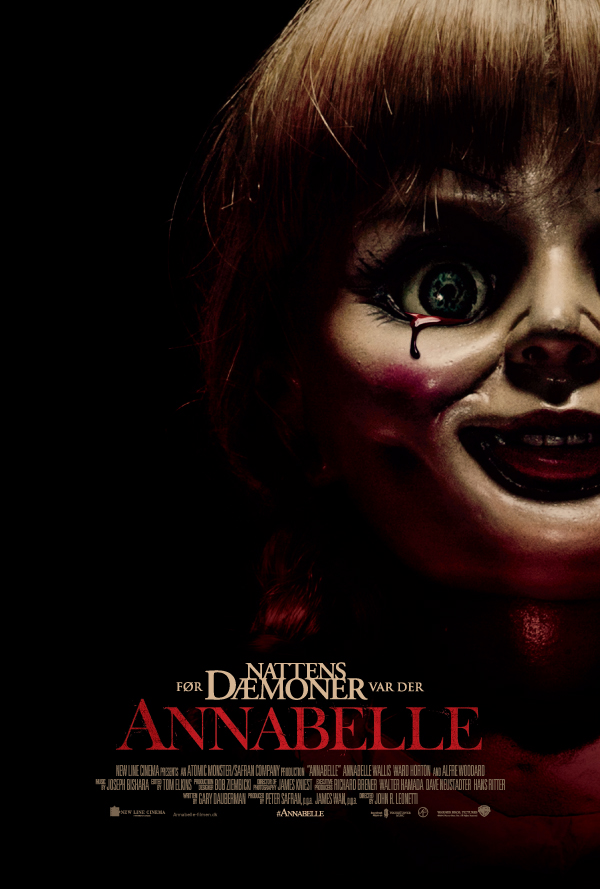 Originaltitel:
Annabelle
, USA, 2014
Release:
d. 16. oktober 2014
Instruktion:
John R. Leonetti

Medvirkende:
Annabelle Wallis, Alfre Woodard, Eric Ladin, Tony Amendola m.fl.
Spilletid:
119 min.
Distributør:
Nordisk Film