Anmeldelser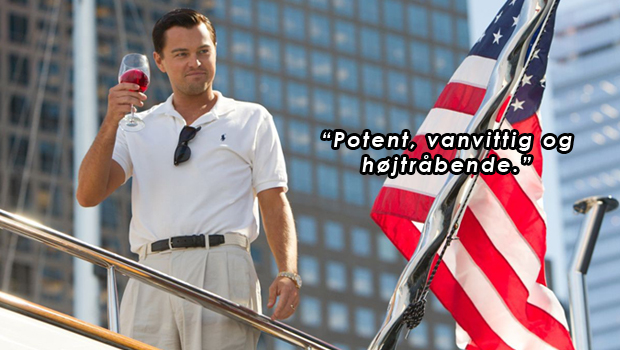 Published on juni 14th, 2014 | by Bjarke Friis Kristensen
104
THE WOLF OF WALL STREET: Scorsese og Leo leverer potent grådigheds-kick med coke, dollars og bare damer i massevis
Blu-ray-anmeldelse: Det kan godt være, at Martin Scorsese er 71 år, men der er intet forældet over hans seneste film, den medrivende The Wolf of Wall Street. En potent, vanvittig og højtråbende tur ind i fusk og fiduser på finansmarkedet med den grådige børsmægler Jordan Belfort – ivrigt og intenst spillet af Leonardo DiCaprio. Og hey, hvis du ikke lige orker at læse videre, kan jeg gøre det kort: Ja, du skal se filmen.
Du blev hængende – super. Så skal jeg forsøge at uddybe, hvorfor du selvfølgelig skal se den. For det første, så er det en film af Martin Scorsese. For det andet, så er Leonardo DiCaprio i hopla som Belfort, som man her følger opbygge sin millionforretning som finansspekulant og fupmager med kokain i næsen og damer på dilleren. En heftig rejse ind i grådighedens mest bundrådne indre.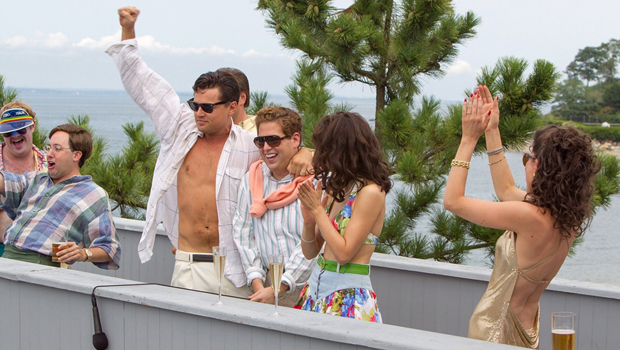 Det er heldigvis også et bundråddent indre, der er yderst underholdende, satirisk bidsk og grotesk. For selvom filmen er tre timer lang, holdes grådighedsgryden fermt i kog, hvor maniske fester og kyniske arbejdsmetoder går op i en højere enhed. Jo vist, det er ikke alle scener, der som sådan er med til at drive historien frem, eller tilføjer nuancer til karaktererne, men det er alle scener, der sprutter af energi og overskud.
Det samme gør DiCaprio i den altoverskyggende hovedrolle som en blåøjet knægt, der begynder sin jagt efter millionerne i 1987 og videre til drømmen indfries med alt hvad det indebærer af stoffer, sex samt et skrantende forhold til familien. For kone og børn passer ikke helt ind i den depraverede livsstil, hvor alt aldrig er nok. Det er dog mere Belforts vanvittige rejse, der er kernen end familiedramaet.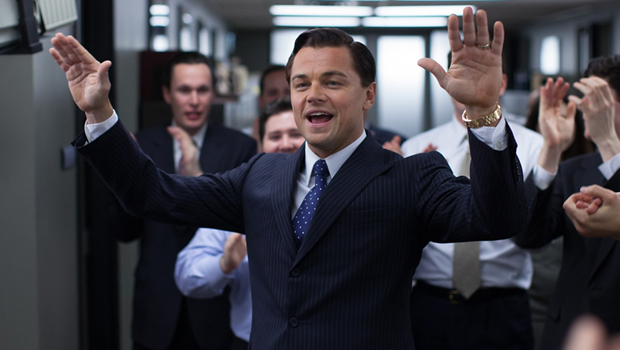 Ikke at filmen mangler dramatisk pondus af den grund. For selvom Belfort i grunden er en kynisk og koldt kalkulerende fupmager, tilføjer DiCaprio ham fine følelsesmæssige nuancer. Ja, hvis du ikke har luret det, så er her tale om en historie om storhed og fald. En historie, der tager udgangspunkt i virkelighedens Belforts liv. Her er dog nok ikke som sådan tale om en virkelighedsgengivelse en til en.
DiCaprio bakkes desuden op af Jonah Hill som hans skøre ven og kollega, mens Matthew McConaughey brillerer i en kort birolle som coke-sniffende finanstosse. Ja, Scorsese har skabt en overdådig, flamboyant og fascinerende film, der ikke er uden genklang af hans mesterværker som Goodfellas og Casino. En af mine absolut bedste oplevelser i 2014 indtil videre – med kokain, blowjobs samt dollarregn.

Filmen – The Wolf of Wall Street, 5/6: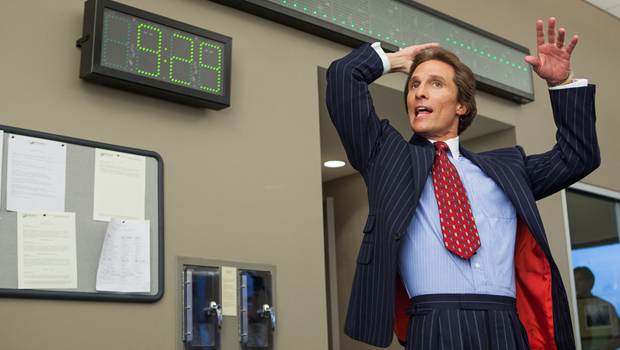 Ekstramateriale, billede og lyd:
Filmens mange vanvittige scener ser forrygende godt ud på Blu-ray. Den kulørte farvepalet gengives klart, farvemættet og veldefineret, mens også de mere mørke scener står flot med solid kontrast og flotte nuancer. Lydsporet er ligeledes en fornøjelse med sin dynamisk brug af både dialog, musik og øverigt lydlandskab. En sand Blu-ray-fornøjelse.
Ekstramaterialet er måske ikke just omfattende, men bestemt værd at bruge tid på. Her får man to featuretter, der blandt andet går i kødet på filmens tilblivelse, karakterne og det at skulle beskrive nogle i gruden ikke vildt sympatiske karakterer (17 min. og 11 min.), samt et interview med Scorsese, DiCaprio og Hill, der ligeledes snakker om deres samarbejde og produktionen (11 min.).
Ekstramateriale 3/6 

| Billede 6/6 

| Lyd 5/6

– Besøg Filmskribenten på Facebook HER. 

Samlet vurdering af Blu-ray-udgivelsen 4/6: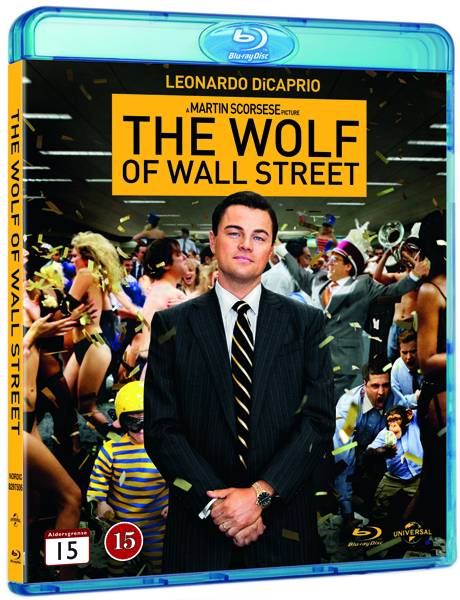 Originaltitel:
The Wolf of Wall Street
, USA, 2013
Premiere:
d. 30. maj 2014
Instruktion:
Martin Scorsese

Medvirkende:
Leonardo DiCaprio, Jonah Hill, Margot Robbie, Matthew McConaughey m.fl.
Spilletid:
179 timer
Distributør:
Universal Sony Pictures Home Entertainment