Anmeldelser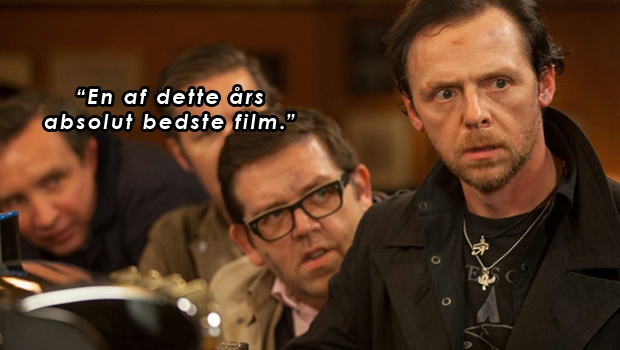 Published on november 14th, 2013 | by Bjarke Friis Kristensen
54
THE WORLD'S END: Jordens undergang er vittig og veloplagt
Jeg kan ligeså godt sige det med det samme, jeg har set utroligt meget frem til undergangskomedien The World's End. Og lad mig da også bare med det samme sige, at den indfrier alle mine forventninger. Det er sidste film i Edgar Wrights såkaldte Three Flavours Cornetto-trilogi, der desuden består af de forrygende komedier Shaun of the Dead og Hot Fuzz. Alle tre film har veloplagte Simon Pegg og Nick Frost i front.
Hvor de to andre film i trilogien tog hånd om henholdsvis zombie- og buddy cop-genren, er det denne gang science fiction-genren og intet mindre end Jordens undergang Edgar Wright tager et favntag med – vittig, veloplagt og velskrevet. For hvad der starter som fem venners pub crawl, ender som en kamp for overlevelse. Mere vil jeg ikke afsløre her – og drop for resten lige at se traileren, bare se filmen.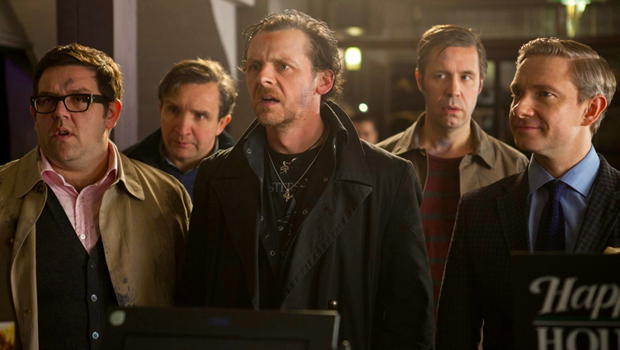 Simon Pegg spiller den hurtigsnakkende Gary King, der hænger fast i fortiden – dengang han og vennerne var teenagere med livet foran sig. De forsøgte 20 år tidligere at klare en legendarisk pub crawl i deres hjemby med hele 12 stop, men nåede aldrig at afslutte den. Gary har derfor samlet sine fire gamle venner for at give det endnu et forsøg. Men vennerne er modsat Gary kommet videre – du ved, kone, fast job og børn. De indvilger dog i at deltage for gammel venskabs skyld.
Her er altså tale om en film, der udover at være helt forrygende morsom også berører emner som venskab og nostalgi, hvilket er med til at give de medrivende løjer en fin dramatisk kant uden på nogen måde at miste hverken fremdrift eller komisk slagkraft. Det er dog ikke kun filmens manuskript, der leveres engagerende af det ligeså  veloplagte cast, også filmens actionscener sprutter af energi og overskud.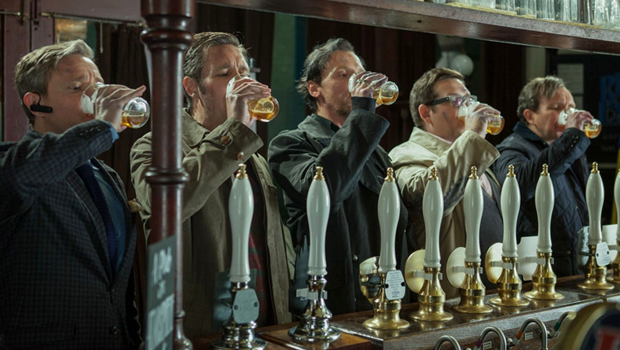 Simon Pegg balanceret fornemt som Gary King mellem det vittige og tragiske, mens Nick Frost som hans bedste ven giver dynamisk modspil med skarp og vittig ping pong – hvilket desuden også gør sig gældende for de øvrige venner i flokken, hvor man finder Paddy Considine, Martin Freeman og Eddie Marsan. Rosamund Pike agerer desuden sød flirt fra fortiden, mens man finder Pierce Brosnan i en herligt intellektuel birolle.
Her er altså tale om en mere end værdig afslutning på en helt forrygende trilogi. Så hvis du endnu ikke har stiftet bekendtskab med den, bør du straks gøre det – og ja, du kan passende starte med The World's End, der ikke alene er en af dette års absolut bedste film, men også en af de sjoveste komedier, jeg har set. Nå, men jeg smutter – har en aftale med vennerne om en pub crawl. Skål.
– 'Synes godt om' Filmskribenten på Facebook HER. 

Vurdering 5/6: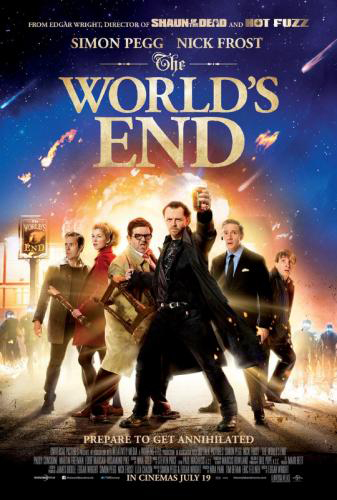 Originaltitel:
The World's End
, Endgland, 2013
Premiere:
d. 14. november 2013
Instruktion:
Edgar Wright
Medvirkende:
Simon Pegg, Nick Frost, Martin Freeman m.fl.
Spilletid:
  107 min.
Distributør:
UIP