Anmeldelser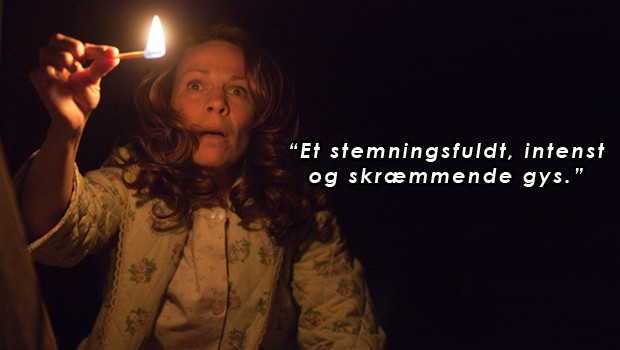 Published on september 11th, 2013 | by Bjarke Friis Kristensen
106
NATTENS DÆMONER: Olmt hauted house gys kryber koldt ind under huden
Du kan godt allerede nu begynde at forberede dig på urolige nætter, for hauted house gyset Nattens Dæmoner – eller The Conjuring, der er filmens originaltitel – serverer i den grad olm stemning og isnende uhygge. For da familien Perron flytter ind i et stort og afsidesliggende hus bliver det starten på ét langt mareridt. Huset gemmer nemlig på en dyster fortid, hvilket først går op for familien alt for sent.
Filmen er hensat til 1971 og baseret på de grufulde begivenheder, som udspillede i den periode. Men selvom her uden tvivl er blevet hevet og trukket i virkelighedens dæmonbesatte historie, gør det ikke filmen mindre nervepirrende. Gentagende gange må man nemlig knibe øjnene nervøst sammen og mærke hvorledes håndfladerne bliver fugtige. Instruktør James Wan kan så absolut sit håndværk og sin horror-ABC.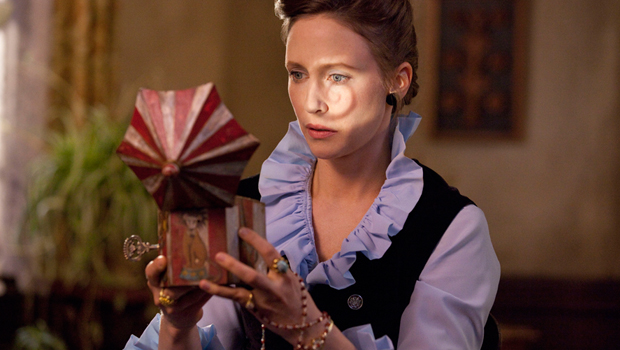 Filmen lægger sig op af skrækfilm, der fungerer i kraft af alt det, man ikke ser. Fantasien får altså lov til selv at arbejde – og den kommer her på overarbejde. For det er yderst effektivt den måde James Wan med brug af dynamisk kameraarbejde, et stemningsfuldt score og husets skyggefulde setting stabler op til flere intense scener på benene. Som når familiens piger leger gemmeleg i de mørke gange eller når faderen bevæger sig ned i husets dunkle kælder.
Men selvom det er lyde i mørket og skumle skygger, der langt hen af vejen er årsagen til hvide knoer, så serveres der også mere eksplicitte grusomheder. Det gøres dog med måde og så pokkers elegant, at det kun tilføjer ekstra pondus til den uro, der konstant ulmer i filmen. Gyset fungerer altså virkelig godt – det gør dramaet i familien også. Karaktererne er fornemt tegnet op og man engageres i deres kamp for at overvinde ondskaben – derfor bliver gyset også kun det mere medrivende.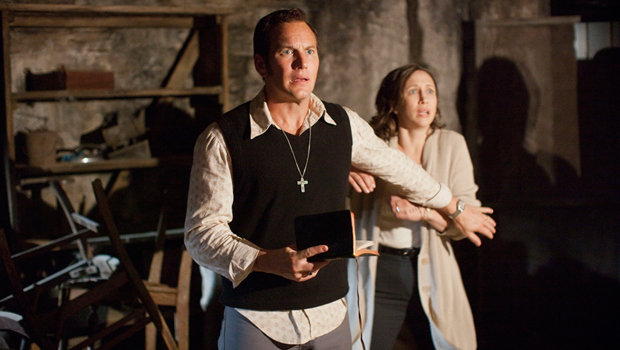 Der er ganske vist et par gentagelser undervejs og der er heller ikke meget nyt under solen. Fortællingen spindes over den velkendte skrækskabelon – optrapning af underlige begivenheder, der snart udvikler sig så voldsomt, at de overnaturlige fænomener ikke kan negligeres og man derfor må tilkalde eksperter i det paranormale. I dette tilfælde er det ægteparret Warren, hvis oplevelser filmen er baseret på.
Warren-parret får man ligeledes et nærværende forhold til, hvilket kun giver dramaet mere tyngde. Men selvom gyset gemmer på et par onde overraskelser, er det altså ikke historiemæssig originalitet, der er filmens styrke. Det er derimod dens evne til at fremkalde oprigtig gru og at familiedramaet fornemt komplimenterer gyset. James Wan, manden bag den effektive Insidious og succesen Saw, har således skabt et både stemningsfuldt, intenst og skræmmende gys, der vil sikre dig urolige nætter.
– Bliv ven med Filmskribenten på Facebook HER. 

Vurdering 5/6: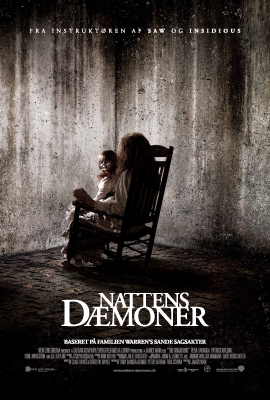 Originaltitel:
The Conjuring
, USA, 2013
Premiere:
d. 12. september 2013
Instruktion:
James Wan
Medvirkende:
Vera Farmiga, Patrick Wilson, Ron Livingston, Lili Taylor m.fl.
Spilletid:
112 min.
Distributør:
Warner Bros.