Anmeldelser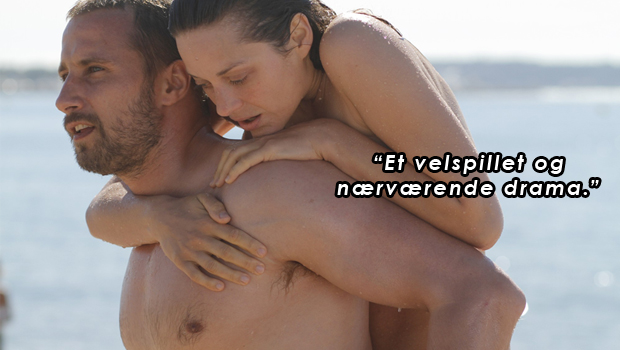 Published on august 19th, 2013 | by Bjarke Friis Kristensen
1.289
SMAGEN AF RUST OG BEN: En kamp tilbage til livet
I det fine franske drama Smagen af rust og ben møder vi to hårdtprøvede skæbner, der på hver deres måde kæmper sig vej gennem livet. Alenefaren Alain og Stéphanie, der efter en voldsom ulykke er endt i en kørestol. En brutal historie, men også med plads til ømhed og nærvær. For selv i de mørkeste tider, finder lyset vej ind.
Det er i mødet med og mellem dette umage par, at filmens fængslende drama tager fat – der hvor det gør mest ondt, mens både fortvivlelsen samt heldigvis også det spinkle håb finder plads i maven på publikum. Ja, Marion Cotillard og Matthias Schoenaerts formår i hovedrollerne vedkommende at formidle oprigtige og komplekse følelser.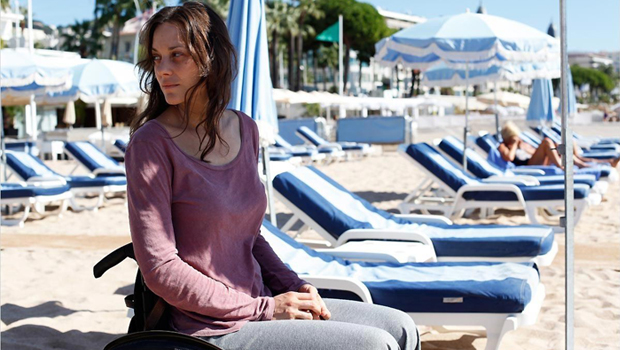 Et tilfældigt møde i nattelivet bliver starten på deres uventede forhold. For efter hun invalideres, finder de to søgende sjæle hos hinanden en uforudset samhørighed – deres forskellige situationer og personligheder til trods. Han er ligefrem og uforsigtig, mens hun helst bare vil gemme sig selv væk efter ulykken.
Men hey, nu skal der heller ikke gå alt for meget fransk drama i den. For selvom her ganske vist er patos på drengen og det er tunge eksistentialistiske tanker, der luftes, så er her ganske enkelt tale om et velspillet og nærværende drama om to mennesker, hvis liv vi her får lov at tage del i. Og så kan man måske endda også blive lidt klogere på sig selv og ens værdier i livet undervejs.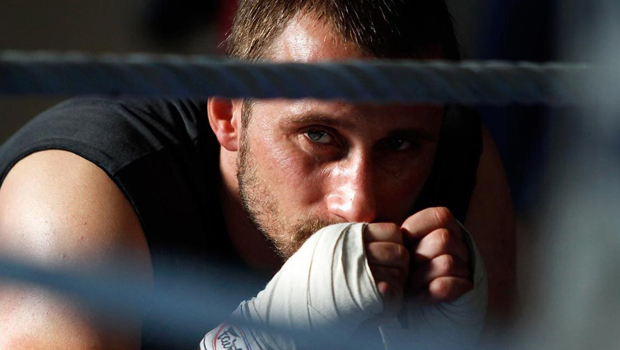 At finalen så skruer en tand for meget på følelserne er til at leve med, når nu karaktererne er så velbalanceret og ublufærdigt leveret. Jacques Audiard har med sikker hånd om fortællingen og sine karakterer instrueret – han er også manden bag den blændende gode Profeten. Helt samme højder nås der dog ikke her – uden sammenligning i øvrigt.
Men med et godt øje for mennesker og de uforudsete følelser, der kan opstå, når livet spænder ben, lykkedes Smagen af rust og ben med indtagende troværdighed og ægte tilstedeværelse at fortælle sin historie. Smerteligt og smukt. Ja, den bør du se.

Filmen 4/6:

Ekstramateriale, billede og lyd:
Filmen er desværre ikke udgivet på Blu-ray her i landet, men dvd-udgivelsen tager sig nu også virkelig godt ud. Billedet står skarpt, nuanceret og med flotte farver hele vejen, mens også lydsporet går klart og velbalanceret igennem. Desværre medfølger der intet ekstramateriale, men filmen er stærk nok til, at udgivelsen trods alt bevarer en samlet vurdering over middel.
Ekstramateriale 0/6 

| Billede 5/6

| Lyd 5/6

– Bliv ven med Filmskribenten på Facebook HER.
Samlet vurdering: 4/6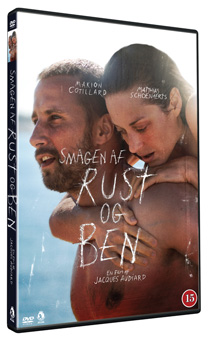 Originaltitel: De rouille et d'os, Frankrig/Belgien, 2012
Release: d. 1. august 2013
Instruktion: Jacques Audiard
Medvirkende: Marion Cotillard, Matthias Schoenaerts, Armand Verdure m.fl.
Spilletid: 120 min.
Udgiver: Midget Entertainment