Anmeldelser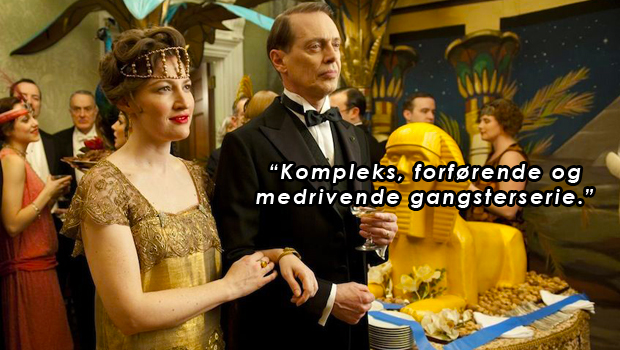 Published on august 21st, 2013 | by Bjarke Friis Kristensen
365
BOARDWALK EMPIRE SÆSON 3: Forrygende gangsterserie er fortsat fyrstelig underholdning
Blu-ray-anmeldelse: Jeg har med spænding set frem til atter at kunne slentre langs promenaden i Atlantic City – og 3. sæson af HBOs gangsterserie Boardwalk Empire skuffer bestemt ikke. Produktionsværdien er stadig tornhøj med sin flotte genskabelse af 1920'ernes USA under spiritusforbudet. Det er dog fortsat den medrivende fortælling og de komplekse karakterer, der gør serien så pokkers engagerende.
Steve Buscemi bærer fortsat rollen som den magtfulde og korrupte Nucky Thompson med nerve og nærvær, mens han forsøger at bevare sin magtfulde position og holde sin pressede spiritusforretning kørende. Men nye spillere melder sig på banen og er med til at sætte alliancerne på prøve og forrykke magtbalancen, mens der også er ved at komme gang i salget af heroin. Nej, Nucky har aldrig et roligt øjeblik.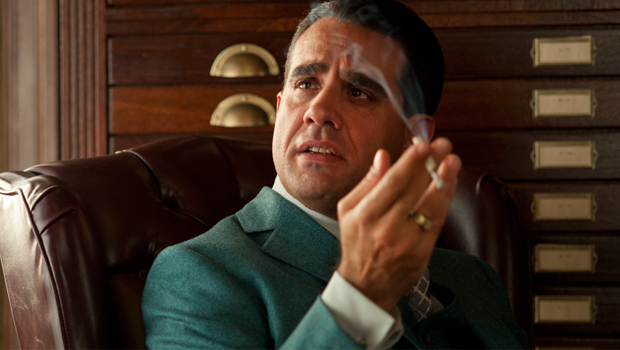 Den skånselsløse New York-gangster Gyp Rosetti gør en hårdtslående entré i denne 3. sæson og stikker en voldelig kæp i hjulet for Nuckys forretning. En ny og uforudsigelige modstander, der spilles veloplagt af en koldt charmerende Bobby Cannavale, der dog mest af alt er en psykopat med storhedsvanvid. En mand i følelsernes vold og altså på flere måder en diametral modsætning til den kontrollerede Nucky.
På hjemmefronten er Nuckys ægteskab ikke andet end en facade, hvor en fortsat stålsat og stærk Kelly Macdonald forsøger at bevare modet, mens Nuckys forhold til sin fortvivlede bror Elias (Shea Whigham) mildest talt er anspændt. Michael Shannon er stadig en fornøjelse at følge som den konstant uheldige eks-agent Nelson Van Alden, der nu lever som kuet dørsælger – en skøn karakter, også selvom han står en smule løsrevet fra det øvrige plot.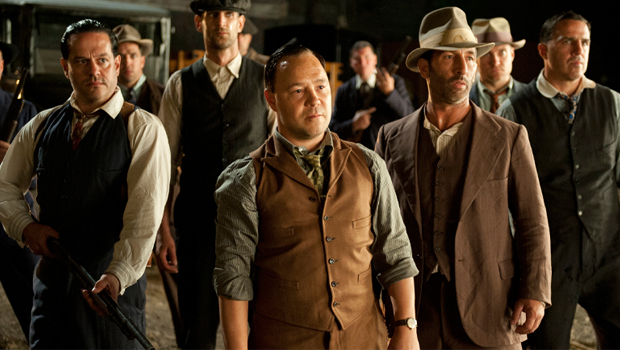 Overordnet balanceres de mange karakterer, intriger og forhold dog med et medrivende overblik, der gennem sæsonens 12 afsnit holder gryden dramatisk i kog. Man stifter blandt andet igen bekendtskab med en forrygende Stephen Graham som den på en gang voldelige og omsorgsfulde Al Capone, mens Gretchen Mol som den sindsforvirrede bordelmutter Gillian Darmody har sit at slås med.
Boardwalk Empire sæson 3 holder med andre ord det høje niveau og spæder som sædvanlig til med sin del af sex og ikke mindst brutal vold – begge dele også brugt som magtværktøjer. Intensiteten holdes fornemt ved lige sæsonen igennem, mens både nye og tilbagevendende karakterer får fortsat nye lag. Kompleks, forførende, medrivende og med op til flere dramatiske højdepunkter frem mod den nervepirrende finale. Ja, nu er det så 4. sæson, jeg med spænding ser frem til.
Sæson 3 – 5/6: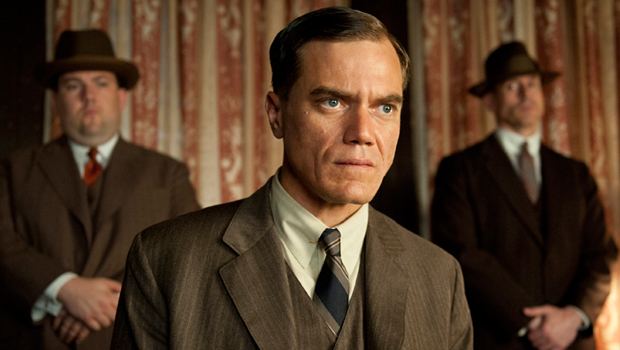 Ekstramateriale, billede og lyd:
Som de foregående Blu-ray-udgivelser af serien ser tredje sæson også virkelig godt ud. Billedet står igennem de 12 episoder skarpt, farvemættet og veldefineret, mens også lydsporet spiller dynamisk og velbalanceret. En fornøjelse. Der medfølger en solid og interessant omgang ekstramateriale. Her får man seks kommentarspor med cast og crew, hvor den pågældende episode og serien generelt diskuteres på både informativ og engagerende vis – selvom ikke alle spor er lige gode.
Herudover kan man gå på opdagelse i datidens gangstere, byer og forhold i en omfattende, interaktiv feature, mens man også har mulighed for at se hvert afsnit med diverse info, der popper om omkring locations, cast, historisk baggrund med mere. Videre er der 24 gode og spændende featuretter fordelt med to styk på hver episode, hvor man blandt andet ser på den historiske inspiration (i alt ca. 62 min.).
I den interessante Director's Chair fortæller to af seriens instruktører om arbejdet med serien, både overordnet samt om både episoder og specifikke scener (30 min.). Slutteligt er der tre korte indslag – Martin Scorsese, en af seriens executive producere, der giver sit besyv med om sæson 3 (5 min.), et kig på sæsonens nye karakterer (5 min.) samt en opsummering af sæson 2 (14 min.). Altså et grundigt og godt ekstramateriale.
Ekstramateriale 5/6 

| Billede 5/6

| Lyd 5/6

– Bliv ven med Filmskribenten på Facebook HER.
Samlet vurdering: 5/6


Originaltitel: Boardwalk Empire Third Season, USA, 2012
Udgivelse: d. 6. august 2013
Instruktion: Tim Van Patten m.fl.
Medvirkende: Steve Buscemi, Kelly Macdonald, Michael Shannon, Shea Whigham, Michael Stuhlbarg, Stephen Graham, Michael Kenneth Williams, Jack Huston, Charlie Cox, Bobby Cannavale, Gretchen Mol m.fl.
Spilletid: 674 min.
Distributør: Warner Home Entertainment