Anmeldelser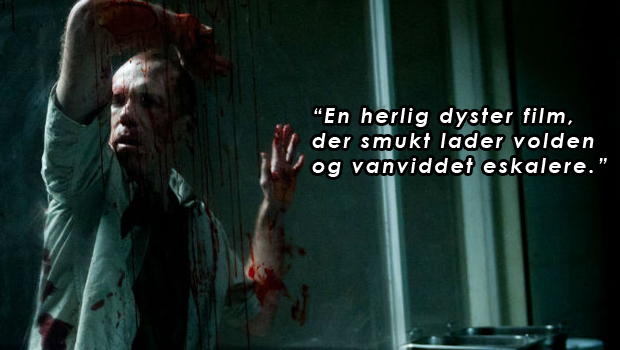 Published on februar 2nd, 2013 | by Bjarke Friis Kristensen
1.039
THE INCIDENT: brutal og klaustrofobisk isolationsgys
Turen går ind i et sindssygehospitals mørke gange med den atmosfærefulde The Incident. Stormen raser og regnen siler tungt ned på den betontunge bygning – men da strømmen går, bryder den daglige rutine sammen. De psykopatiske patienter starter et brutalt oprør og kaster sig nu voldeligt over personalet.
Fanget som i et ondt mareridt inde bag de solide mure må tre venner, der arbejder i køkkenet forsøge at overleve det blodige amokløb samme med de ligeledes udsatte fangevogtere. Klaustrofobien sniger sig sikkert ind på de ansatte, mens deres chancer for overlevelse bliver mindre og mindre for hvert grumt minut, der går.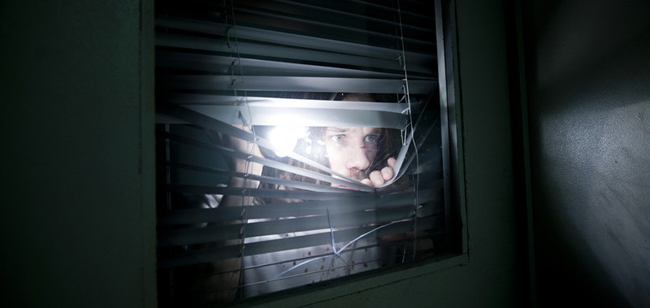 The Incident er en herlig dyster film, der smukt lader volden og vanviddet eskalere hele vejen mod den intense finale. Det er isoleret gru, som peppes ondt op af bl.a. Richard Brake som karismatisk skurk. For ja, det er the bad guys, der stjæler showet foran de tre fyre, som hænger håbløst fast i rockstjernedrømme, mens de snitter grønsager i køkkenet.
Men en karismatisk skurk eller ej, så vakler løjerne sig momentvis en smule langsomt afsted. Det er imidlertid ikke noget, der for alvor fravrister filmen sin intensitet. For en af filmens store styrker er nemlig den olme stemning, der emmer ud af hvert mørklagt hjørne i den store bygning. Instruktøren Alexandre Courtès giver her fornemt plads til at atmosfæren kan slå rod, frem for at jage plottet igennem.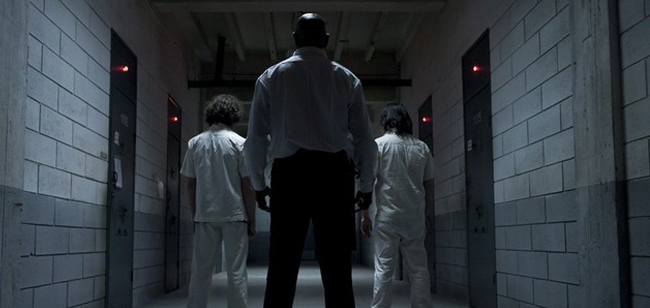 Filmen bæres således fængslende frem af sin ubehagelige stemning og sætter ligeledes ind med veldoserede slag af rå vold, der giver mareridtet det sidste sikre stød i mellemgulvet. The Incident får med andre ord udfoldet sin simple præmis med godt flair for både overraskelser, blodsudgydelser og tung klaustrofobi.
Filmen: 4/6

Ekstramateriale, billede og lyd
Der medfølger et kort interview med Alexandre Courtès, der blev lavet under sidste års Blodig Weekend i København – en horrorfilms-festival, hvor The Incident blev vist. Der sniksnakkes lidt om hans baggrund og kommende film. En skam interviewet ikke er længere, for det er begrænset, hvad der presses ud af den formælte instruktør (5 min.). Herudover får man filmens trailer samt et 3 minutters-slideshow med stills fra filmen.
Filmens dunkle billedside gør sig godt på Blu-ray. De mange skyggefulde settings står nuanceret og farvemættet, mens kontrasten langt overvejende er solid og skaber indtagende dybde. Lydsiden fungerer ligeledes godt og spiller stemningsfuldt op mod de grumme begivenheder med indtagende niveauer og flot rum. En fornøjelse.
– Læs om mine filmoplevelser på Blodig Weekend: DAG 1 | DAG 2 | DAG 3 | DAG 4.
Billede: 5/6

| Lyd: 5/6

| Ekstramateriale: 2/6