Anmeldelser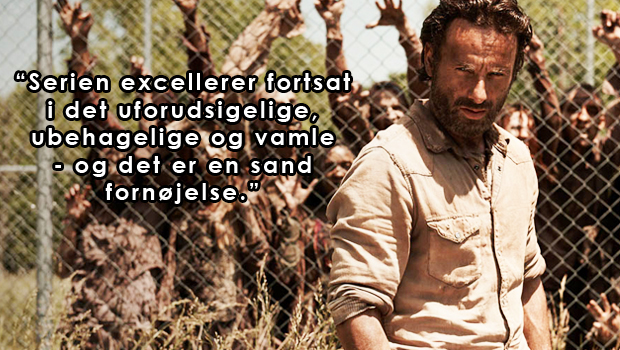 Published on september 24th, 2014 | by Bjarke Friis Kristensen
60
THE WALKING DEAD SÆSON 4: Zombierne gnaver intenst videre i menneskeheden
Blu-ray-anmeldelse: Zombieserien The Walking Dead fortsætter ufortrødent med at levere postapokalyptisk håbløshed og menneskelig desperation i fjerde sæson. En sæson, der i den grad rykker rundt på persongalleriet og situationen for de overlevende. Folk dør, nye kommer til og de blodsjaskende zombier truer konstant med at gnave sig igennem samtlige medvirkende.
Der er altså ikke mange rolige øjeblikke for de hårdtprøvede helte, antihelte og skurke. Særligt i anden del af sæsonens 16 afsnit, bliver der i den grad rykket rundt på det hele. En art nulstilling af serien, hvor alt igen er på spil og intet bliver som det var før. Serien excellerer altså fortsat i det uforudsigelige og ubehagelige – og det er en sand fornøjelse.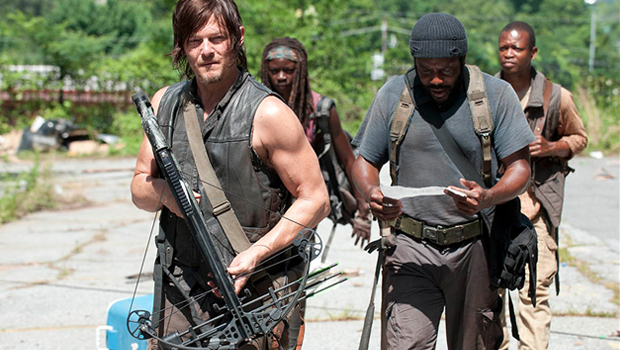 Godt nok er det en zombieserie, men det handler egentlig slet ikke om de blodsjaskende og stavrende kadavere, men om menneskene. Zombierne danner blot et yderst foruroligende bagtæppe, hvor døden og undergangen konstant lurer. Og som man allerede har erfaret i forrige sæsoner, er menneskene mindst lige så stor en trussel som de menneskeædende døde.
Man finder igen Norman Reedus som den mutte, evigt seje og armbryst-skydende Daryl Dixon, mens Steven Yeun og Lauren Cohan stadig er det elskende par, der må kæmpe for livet. Og som de øvrige medvirkende, kommer der også flere nuancer i spil hos den samuraisværdssvingende og ellers lukkede Michonne (Danai Gurira). I det hele taget er det interessant at følge hver og en af karaktererne, og hvordan de håndterer det umenneskelig pres, de er under.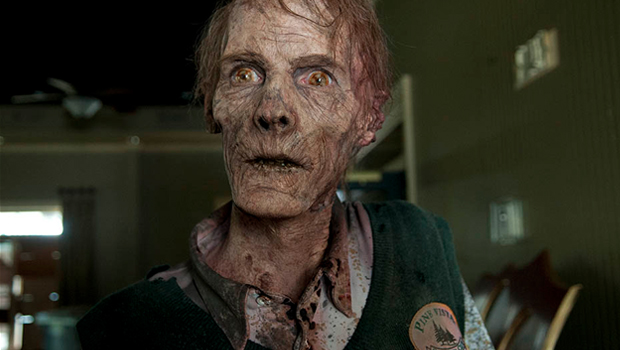 Hvor det hidtil har været den stålsatte sherif Rick Grimes (Andrew Lincoln), der har været den rolige leder, bliver han i denne sæson i den grad skudt ud af kurs, hvor også forholdet til hans søn (Chandler Riggs) når til et nervepirrende vendepunkt. Men fordi, gruppen i denne sæson bliver brudt op, har den også en noget fragmentarisk struktur. Det er med til at understrege håbløsheden, men det suger også af og til lidt momentum ud af dramaet og relationerne.
Sæsonen bevarer dog sit brutale sortsyn, hvor følelserne banker løs, så man helt udmattes af de grumme begivenheder. Det følelsesmæssige engagement fastholdes i zombiegnaskerierne. Sæsonen fungerer blandt andet netop fordi, den ikke er bange for at udsætte sine karakterer for situationer, der ændrer dem radikalt. Ja, og aflive nøglekarakterer. Jeg ser bestemt frem til femte sæson.
The Walking Dead sæson 3 – 4/6: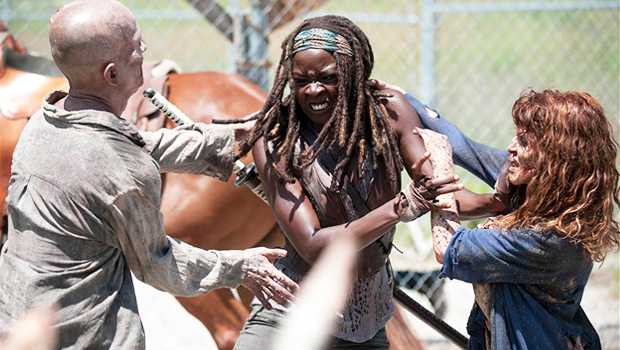 Ekstramateriale, billede og lyd:
Både de sjaskede zombier, blodsprøjt og det dystre univers gengives virkelig flot og med en lækker stoflighed – der af og til gør at billedet fremstår lidt, det er dog ikke graverende. For generelt er billedet både skarpt, detaljerigt og farvemættet. Lydsporet er ligeledes godt og dynamisk og i den med til at underbygge uhyggen og den trykkede stemning. Ekstramaterialet er både informativt og spændende.
Her får man seks både veloplagte og informative kommentarspor til seks afsnit med blandt andet producere, instruktører, effektfolk, skuespillere, forfattere. De er værd at bruge tid på. Videre er der indslag om hvert snit af omkring fem minutters varighed hver, hvor seriens temaer, historien og karaktererne diskuteres (i alt 90 min.). Videre er det en 'making of', der på samme måde kommer omkring afsnittene med behind the scenes-materiale og kig på blandt andet action-sekvensers tilblivelse (i alt 75 min.).
Vindere finder man fearuretter, der kigger på seriens inspiration fra Robert Kirkman og Tony Moores tegneserier, som serien er baseret på (6 min.), et kig å karakteren Hershel (8 min.), guvernøren (9 min.), akademikere og professorer, der diskuterer serien ud fra et videnskabeligt synspunkt (6 min.), et kig på seriens splattede effekter, blandt andet de forskellige zombier (18 min.), et kig på Rick Grimes samt en håndfuld slettede scener (11 min.). Alt i alt et både et solidt supplement til serien.
Ekstramateriale 4/6 

| Billede 5/6

| Lyd 5/6

Samlet vurdering af Blu-ray-udgivelsen 4/6: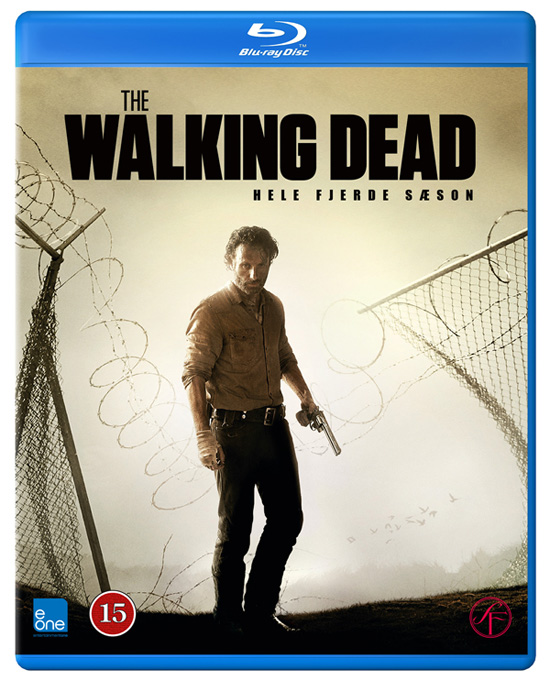 Originaltitel:
The Walking Dead fourth season, USA, 2013-2014
Release:
d. 4. september 2014
Instruktion:
Greg Nicotero m.fl.
Medvirkende:
Daryl Dixon, Yeun, Lauren Cohan, Danai Gurira, Andrew Lincoln, Chandler Riggs m.fl.
Spilletid:
696 min.
Udgiver:
SF Film