Anmeldelser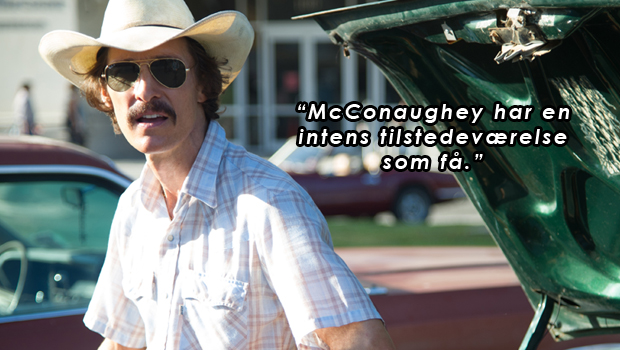 Published on juni 16th, 2014 | by Bjarke Friis Kristensen
67
DALLAS BUYERS CLUB: Matthew McConaughey ejer hver en scene i dette fremragende drama
Blu-ray-anmeldelse: Det er umuligt ikke at have lagt mærke til Matthew McConaughey de seneste par år. For fra at have haft sin gang i mere eller mindre ligegyldige dramaer, har han nærmest som ved et trylleslag indtaget den ene forrygende rolle efter den anden, blandt andet i The Wolf of Wall Street, Magic Mike, Mud, Killer Joe og True Detective. Dallas Buyers Club er ingen undtagelse.
Filmen er en udsøgt fornøjelse, det samme er McConaugheys præstation som småsvindleren og rodeorytteren Ron Woodroof, der nedlægger damer, sniffer coke og i det hele taget indgår i et über maskulint miljø i et varmt Texas. Så da han smittes med HIV og får at vide, han kun har 30 dage tilbage at leve i, ændres hans verden selv sagt radikalt, og han må tage sit liv til revision.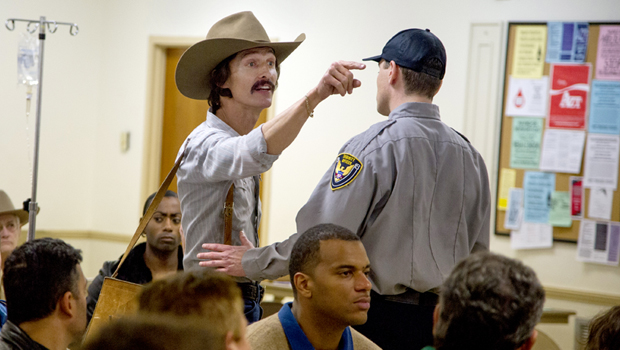 Året er 1985 og kendskabet til sygdommen sparsom. Ron og hans brovnte venner ser således HIV som en homoseksuel sygdom, hvorfor de homofobisk vender ham ryggen. Ron er således alene med sygdommen og sine mange tanker. Han bliver dog uventet venner med den homoseksuelle AIDS-patient Rayon, en tynd Jared Leto, samt den omsorgsfulde læge Eve, spillet af en sød Jennifer Garner.
Ron er dog ikke en mand, der giver op. Han begynder derfor en kamp for overlevelse, hvilket blandt andet indebærer indtagelse af betragtelige mængder af endnu ikke-godkendt medicin samt andre lægemidler – og det virker. Hans 30 dage bliver udsat på ubestemt tid, og som den virksomme mand han er, begynder Ron nu at smugle medicinen ind i Texas, hvor efterspørgslen er enorm.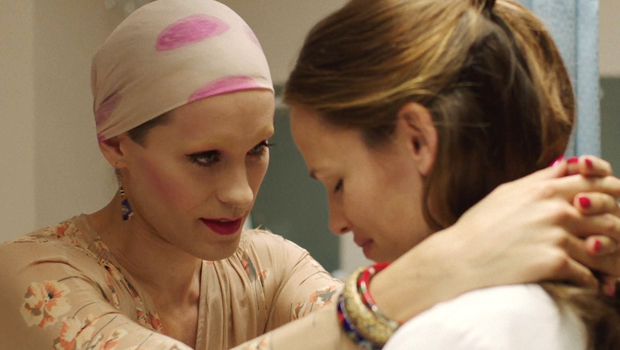 Selvfølgelig ender Rons forretning som andet end en jagt på kontanter og overlevelse. Hans homofobi udfordres og lysten til at hjælpe andre syge vokser samt hans kamp mod lovgivningen omkring medicinen bliver motivationen. Ja, jeg var medrivende med hele vejen sammen med en fremragende McConaughey, der til rollen har undergået en fysisk forandring og tabt hele 21 kilo. Ja, Dallas Buyers Club er Oscar bait, men af den fineste slags.
McConaughey og Leto hev da også Oscars hjem for bedste mandlige hovedrolle og bedste mandlige birolle. Her er ganske enkelt tale om et pokkers engagerende drama, der aldrig bliver sentimentalt, men forbliver oprigtigt og ærligt. Det skyldes ikke mindst McConaugheys præstation. Han er intens og med en tilstedeværende som få. Ron Woodroof er i filmen et menneske af kød og blod, man ikke kan tage øjnene fra.
Filmen – Dallas Buyers Club, 5/6:

Ekstramateriale, billede og lyd:
Film tager sig ligeles fremragende godt ud på Blu-ray. Her kommer filmens stemningsfulde billeder og McConaugheys forpinte Ron virkelig til deres ret med et klart, skarpt og veldefineret billede. Lydsiden spiller lige ledes dynamisk, hvor alle elementer får plads med fint balancerede niveauer. Desværre er ekstramaterialet så godt som ligegyldigt. Et promo-agtigt indslag (4 min.) om filmen samt tre slettede scener, man dog godt kan bruge tid på (5 min.).
Ekstramateriale 1/6 

| Billede 5/6

| Lyd 5/6

– Besøg Filmskribenten på Facebook HER. 

Samlet vurdering af Blu-ray-udgivelsen 4/6:

Originaltitel:
Dallas Buyers Club
, USA, 2014
Premiere:
d. 12. juni 2014
Instruktion:
Jean-Marc Vallée

Medvirkende:
Matthew McConaughey, Jennifer Garner, Jared Leto m.fl.
Spilletid:
116 min
Distributør:
Midget Entertainment