Anmeldelser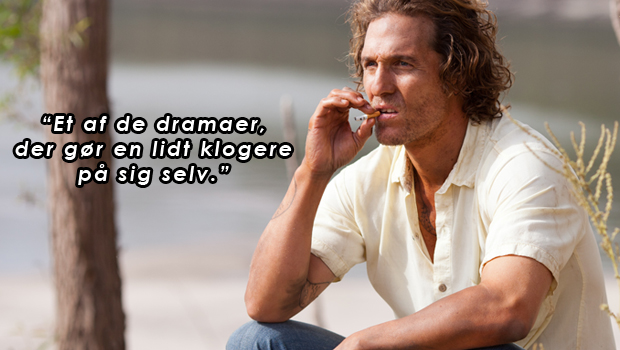 Published on november 20th, 2013 | by Bjarke Friis Kristensen
56
MUD: Et ærligt drama om kærlighed og venskab ved den Mississippi-beskidte flodbred
Biograf-anmeldelse: Jeg gik helt på røven over Jeff Nichols' intense dommedagsdrama Take Shelter. Ja, den indtog oven i købet førstepladsen på min top 10 over de bedste film i 2012 (se selv her). Derfor har jeg selvsagt set meget frem til hans nye film, det Mississippi-beskidte coming of age-drama Mud. Og for at bruge et par floskler, men bestemt oprigtige floskler, så er det på mange måder et både rørende, ærligt og nærværende drama om barndom, kærlighed og venskab.
Store og almene temaer, der tager form hos den 14-årige Ellis og hans bedste ven Neckbone. De støder på Mud, der næsten helt mytisk synes at dukke op ud af det bare ingenting på en lille ø i Mississippifloden. Han er dog helt og aldeles ægte – et menneske på godt og ondt, men med uskylden intakt bag alle de forkerte beslutninger. For han har slået en mand ihjel, der kom på tværs af ham og hans udkårne. Han lever derfor på flugt, mens han håber på at kunne stikke af med sin elskede Juniper.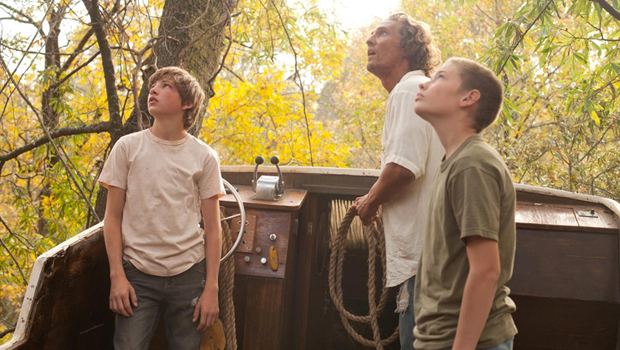 Mud er en dragende skikkelse, ikke mindst for et par eventyrlystne knægte. De indvilliger derfor nysgerrigt i at hjælpe ham. Eventyret overtages dog – som det altid sker – af de barske realiteter. Men da er det for sent for de to drenge og Mud at vende om. For hvor meget af det som Mud har snakket om er sandt, og hvilke konsekvenser har sandheden? Det er i dette møde mellem eventyr og virkelighed, mellem barndom og voksenlivet, at historien tager fat og fastholder sit drama.
Det handler om at turde stole på hinanden, at tro på, der vil være nogen, hvis man selv falder. Og det handler i høj grad også om kærlighed – den evige og naive, den brændende og opslidende kærlighed. Både Muds romantiske idé om at kunne stikke af med ungdomsflammen Juniper, og Ellis, der via et flygtigt møde med en af skolens piger oplever sin første kærlighed. Men det er også en umulig kærlighed. En drøm virkeligheden vækker en fra – og hvad gør man så?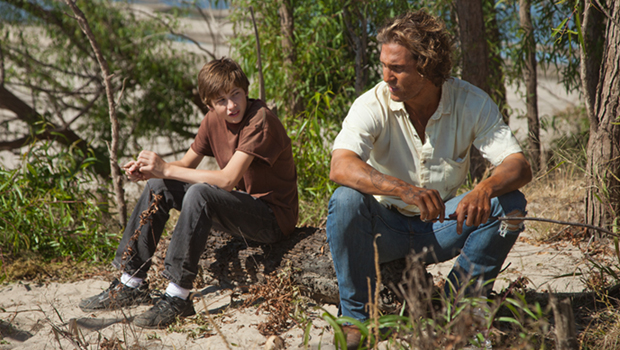 Matthew McConaughey indtager med liv og død rollen som den mystiske Mud, der med sin slangetatovering og pistol i buksekanten er lige så fascinerende og farlig som de to drenge oplever ham. Tye Sheridan spiller med uforfalskede følelser Ellis, mens Jacob Lofland er den mere ligefremme Neckbone. Begge leverer de usentimentale og oprigtige præstationer.
Så selvom filmens uundgåelige og højspændte finale måske er en tand for meget ramasjang, gør det den ikke mindre intens – og den er desuden en nødvendig konsekvens af historien. Ja, Mud er et af de dramaer, der gør en lidt klogere på sig selv, mens man også er godt og gammeldags engageret i de liv, der udspiller sig på lærredet, hvor det på en gang smukke og barske liv ved Mississippifloden giver dramaet en uragtig og ægte resonans. Den skal du se, hvis du var i tvivl.
– 'Synes godt om' Filmskribenten på Facebook HER. 

Vurdering 5/6: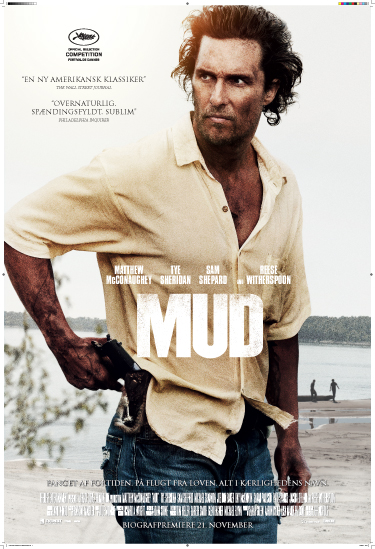 Originaltitel:
Mud
, USA, 2013
Premiere:
d. 21. november 2013
Instruktion:
Jeff Nichols
Medvirkende:
Matthew McConaughey, Tye Sheridan, Sam Shepard, Resee Witherspoon, Michael Shannon m.fl.
Spilletid:
130 min.
Distributør:
Scanbox Vision