Anmeldelser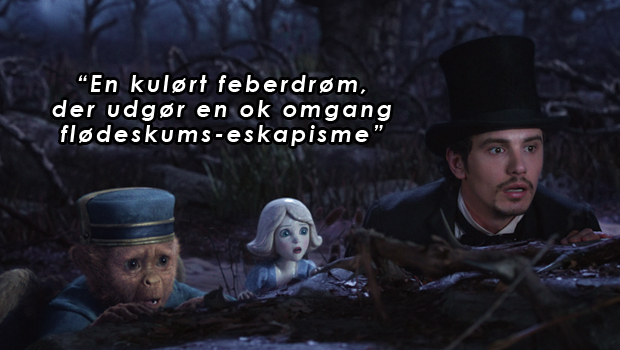 Published on august 13th, 2013 | by Bjarke Friis Kristensen
29
OZ THE GREAT AND THE POWERFUL: Kulørt eventyr mangler mere magi
Med Sam Raimis Oz the Great and the Powerful lander vi langt fra hans herlige Evil Dead-trilogi, nemlig i det magiske eventyrland Oz. Her truer den onde heks freden, mens fabeldyr, dværge og fortryllende scenerier danner farvestrålende bagtæppe for de end kende kedelige strabadser.
Men hey, det er bestemt en flot rejse og alene visuelt klarer eventyret sig det meste af vejen fornuftigt igennem sine kulørte landskaber. James Franco er mere eller mindre quirky og en smule ved siden af sig selv som den charmerende tryllekunstner og fupmager Oz, der havner i det fortryllede land.
Her bliver han hilst velkommen som troldmanden, der skal redde indbyggerne fra heksens onde favntag. Uden tøven udgiver Oz sig nu for at være netop den frelsende magiker, men hvor langt kan han komme med sit fupnummer – og er en høj hat og fyrværkeri overhovedet nok til at klare skærene? Du får ét gæt.
Oz møder blandt andet en bevinget abe og en porcelænspige, der hjælper ham på sin vej mod opgøret med heksen. Men ikke alt er, hvad det giver sig ud for – selvfølgelig ikke. De plotmæssige overraskelser er dog ikke nok til at holde den noget tamme historie flyvende. For der synes aldrig rigtig at være fare på færde, selvom skyggerne tager til – og så savner jeg karakterer med mere pondus.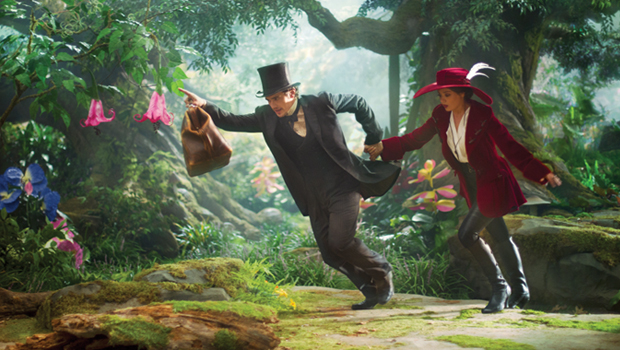 Blandt andet mangler James Franco ordentligt modspil. Ja, den flyvende abe og porcelænspigen er charmerende, men en ordentlig skurk bliver det aldrig til. Og selvom det kvindelige trekløver Mila Kunis, Rachel Weisz og Michelle Williams bestemt pynter på sagerne, så klinger magien desværre også en kende hult i det overdådigt computergenerede univers.
Der er altså ingen risiko for, at Sam Raimi slår Victor Flemings The Wizard of Oz fra 1939 af pinden som den film, man også fremover i første omgang vil forbinde med L. Frank Baums sprudlende univers. Det er altså på eget ansvar, at følge the yellow brick road, for der venter desværre ikke det store eventyrlige sus, men en kulørt feberdrøm, der udgør en ok omgang flødeskums-eskapisme. Det er nu også helt cool.
Filmen 3/6: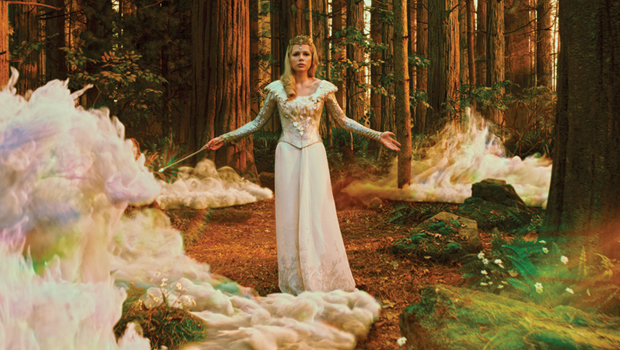 Ekstramateriale, billede og lyd:
Det farvestrålende univers kommer flot til sin ret på Blu-ray-udgivelsen. Farverne står klare, veldefinerede og med indtagende detaljegrad, mens også de mere dunkle scener fremstår skarpe og med solid kontrast. Lydsporet er ligeledes en fornøjelse med sine velbalancerede niveauer, der giver medrivende plads til både dialog, bulder og brag samt Danny Elfmans eventyrlige score. Desuden medføler en ok, men også lidt ujævn omgang ekstramateriale.
En featurette om Walt Disneys fascination af fortællingerne om Oz og hans forskellige forsøg på at bringe forfatteren L. Frank Baums historier til live (10 min.), behind-the-scenes, hvor Franco fortæller om arbejdet med filmen og selv interviewer skuespillere og instruktør, hvilket giver en fin intimitet og mere personlig oplevelse (22 min.), et kig på skabelsen af porcelænspigen (5 min.), et indblik i filmens production design og univers (11 min.), Mila Kunis' forvandling til heks (8 min.), en gængs omgang bloopers (5 min.) samt en featurette om Elfmans score (7 min.). Uden at være lige interessant hele vejen, kan man fint bruge tid på ekstramaterialet.
Ekstramateriale 3/6 

| Billede 5/6 

| Lyd 5/6

– Bliv ven med Filmskribenten på Facebook her. 

Samlet vurdering 3/6:

Originaltitel:
Oz the Great and the Powerful
, USA, 2012
Premiere:
d. 16. juli 2013
Instruktion:
Sam Raimi
Medvirkende:
James Franco, Michelle Williams, Rachel Weisz, Mila Kunis, Zach Braff m.fl.
Spilletid:
130 min.
Distributør:
Walt Disney Studios Motion Pictures