Anmeldelser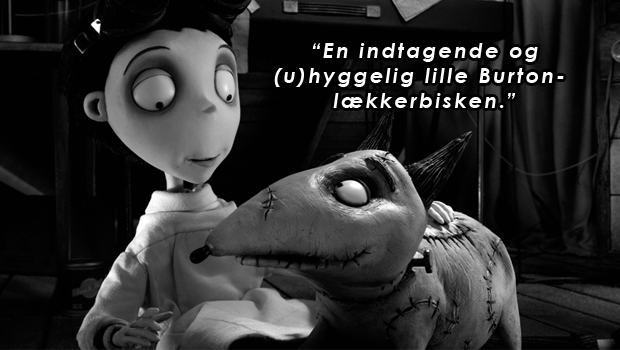 Published on juni 9th, 2013 | by Bjarke Friis Kristensen
134
FRANKENWEENIE: Tim Burton rammer plet med genoplivet hund
Om det er på grund af en kreativ krise, at Tim Burton med Frankenweenie har valgt at trække på en sin kortfilm af samme navn fra 1984 skal jeg ikke kunne sige – men ser man på den krølledes instruktørs par forrige film, kunnet noget godt tyde på det. Uanset hvad, så rammer denne søde stop motion-film i sort/hvid plet. En elskelig og underholde film om venskabet mellem en dreng og hans hund.
Her er dog ikke tale om en almindelig hund – eller dreng for den sags skyld. For efter Victors hund Sparky dør i en ulykke, vælger den opfindsomme dreng inspireret af Dr. Frankenstein at genoplive sin elskede hund. Nej, det er ikke sådan at give slip på en, man holder af. Genoplivningen lykkedes – men det giver også problemer at bringe en hund tilbage fra de døde og snart er hele byen på den anden ende.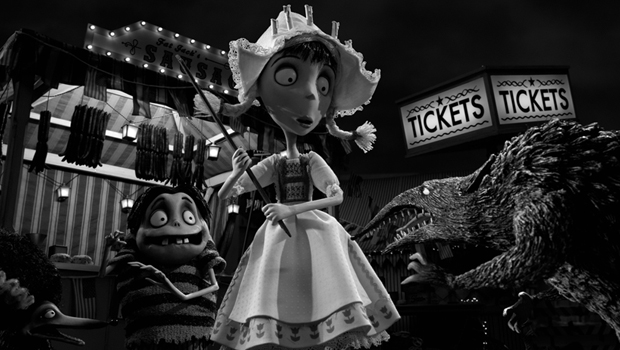 En sød og charmerende bizar historie, der udover at være en kærlig hyldest til venskaber også hylder gamle skrækfilm som netop Frankenstein samt japanske monsterfilm. Nej, Frankenweenie er ikke uden en hvis portion nostalgi og dertilhørende sentimentalitet. Men det gør bestemt ikke noget, for karaktererne er elskelige og filmen veloplagt fortalt.
Ja, Tim Burton kan så absolut godt klare sig uden at have Johnny Depp og Helena Bonham Carter på rollelisten. ja, hvem skulle efterhånden have troet det. Til gengæld har han så hevet gamle kendelige som Winona Ryder og Catherine O'Hara med ind i legen – dem arbejde han blandt andet sammen med på den forrygende Beetlejuice fra 1988. Her søges tilbage til rødderne – og det virker.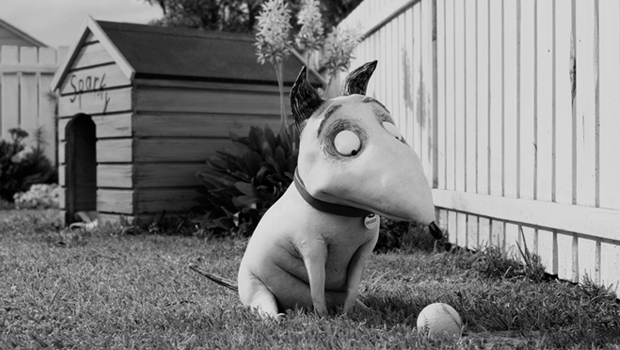 Så selvom Frankenweenie ikke er nogen Burtonsk åbenbaring, besidder den noget af den vildskab og påhitsomhed hans seneste produktioner har manglet. Her er ganske enkelt tale om en indtagende og (u)hyggelig lille Burton-lækkerbisken, der med sine skæve karakterer og krøllede univers på ny fanger en fan som mig og forhåbentlig vil indfange nye Burton-fans, der så kan gå på opdagelse i instruktørens ældre titler.
Filmen 4/6:



Billede, lyd og ekstramateriale:
Filmen ser virkelig godt ud på Blu-ray. Her står det sort/hvide-univers knivskarpt og veldefineret hele vejen med både indtagende detaljegrad, smukke nuancer og solid kontrast. Lydsporet spiller upåklageligt, hvor både bulder og brag samt diaologen går klart og tydeligt igennem, men man atter kan nyde et samarbejde mellem Burton og hans hofkomponist Danny Elfman.
Der medfølger en fin omgang ekstramateriale. Man får den oprindelige og søde kortfilm (30 min.), et spændende, men også for kort kig på tilblivelsen af filmen med interview af cast og crew, hvor blandt andet arbejdet med at udvide kortfilmen til en spillefilm berøres (23 min.), et kig på en udstilling med figurerer og andet materiale fra filmen (5 min.), den kortfilm, Victor laver i filmen med ham og Sparky (2 min) samt en musikvideo med The Plain White T's' cover af The Ramones-sangen Pet Sematary. Ja, kortfilmen hiver lige akkurat karakteren op på fire stjerner.
Billede: 6/6 

| Lyd: 5/6 

| Ekstramateriale: 4/6

Samlet vurdering: 4/6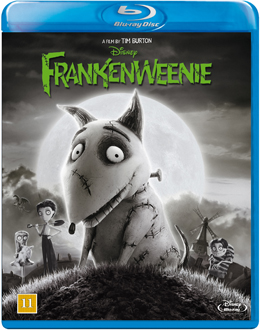 Originaltitel:
Frankenweenie
, USA, 2012
Udgivelse:
d. 14. maj 2013.

Instruktion:
Tim Buton
Medvirkende:
Charlie Tahan, Catherine O'Hara, Martin Short, Martin Landau m.fl.
Spilletid:
1 time 27 min.
Distributør:
Walt Disney Home Entertainment