Anmeldelser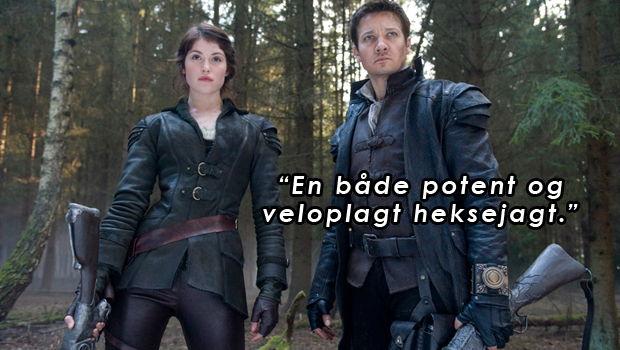 Published on februar 6th, 2013 | by Bjarke Friis Kristensen
105
WITCH HUNTERS: Hans og Grete versus vamle hekse
Brødrenes Grimms klassiske eventyr om Hans og Grete bliver taget under blodig behandling med den heksemassakrerende Witch Hunters. For hvad skete der egentlig med de to søskende, efter de undslap den onde heks i pandekagehuset? Jo, de blev hårdtslående heksejægere – selvfølgelig.
Nu er de så på nakken af en flok hekse, der truer en landsby med bål, brand og døde børn. Søskendeparret må derfor hive armbrøst og hagelgevær frem, for at dræbe hekse så blodet sjasker skovbryn og trækroner til. Ja, det er både fjollet, over the top og ikke mindst herligt underholdende, når de vilde nedslagtninger flyver sprælsk over lærredet i pågående 3D.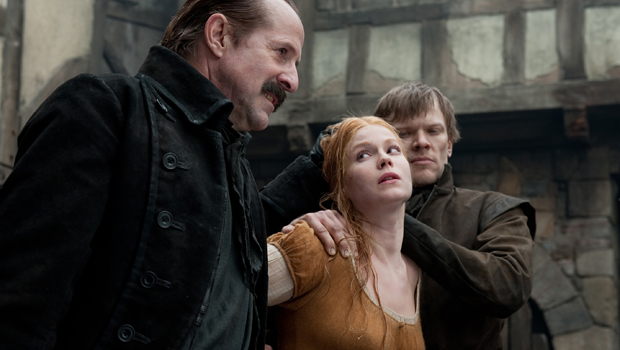 Jeremy Renner og Gemma Arterton indtager læderpåklædt hovedrollerne med hårdkogt mine og nogenlunde træfsikkerhed med både skarpladte våben og kække one-liners. De passer altså fint ind i den simple historie, der dog byder på nok med twists and turns til at de skønne og mindre skønne blodspøjt ryger ubesværet ned.
Her er med andre ord tale om rendyrket sjov og ballade, der takket være godt humør, vamle hekse og en forrygende trold sikkert skyder sine ujævnheder ned. Tempoet er desuden pænt og så serveres løjerne også med flere lækre old school-effekter. Der sniger sig dog også sin del af cheesy CGI ind i blodsudgydelserne, men det er bestemt til at leve med, når først arme og ben rives af de sagesløse ofre.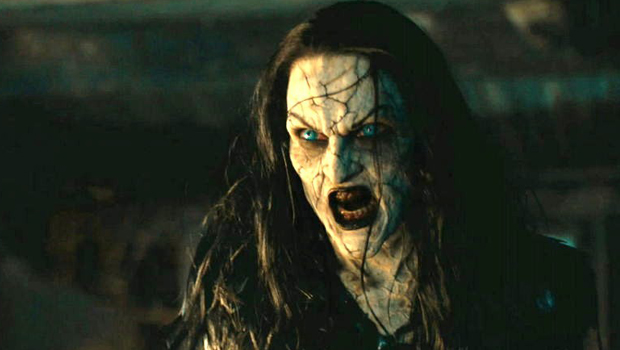 Man får desuden en olm Peter Stomare som hævngerrig sherif og så er filmen heller ikke bleg for at dele tørre tæsk ud til både Grete og de onde hekse – heriblandt den grumme Muriel, der med fryd overspilles af en hidsig Famke Janssen. Herligt.
Filmens instruktør og manusforfatter, norske Tommy Wirkola holder altså med sin første engelsksprogede film næsten den både fjollede, veloplagte og splattede kadence i forhold til sin underholdende nazi-zombie-sjasker Død Sne.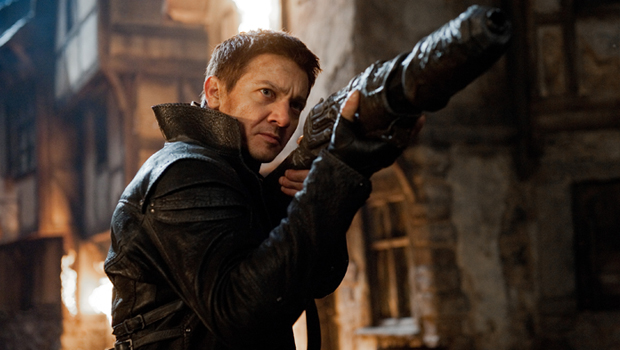 For selvom her bestemt er tale om både blodig og stemningsfuld action-horror, så synes linen ikke gået ud i helt samme omfang som med de tarmudrivende zombier. Det ændrer dog ikke på, at Witch Hunters er en både potent og veloplagt heksejagt med viril action, blodig splat og et indtagende mørkt univers. Lad jagten begynde… 

Vurdering:
4/6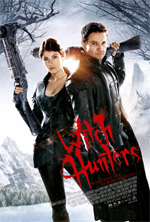 Originaltitel:
Hansel and Gretel: Witch Hunters
, USA, 2013
Premiere:
d. 7. februar 2013
Instruktion:
Tommy Wirkola
Medvirkende:
Jeremy Renner, Gemma Arterton, Famke Janssen, Peter Stormare m.fl.
Spilletid:
88 min.
Distributør:
SF Film