7 fremragende film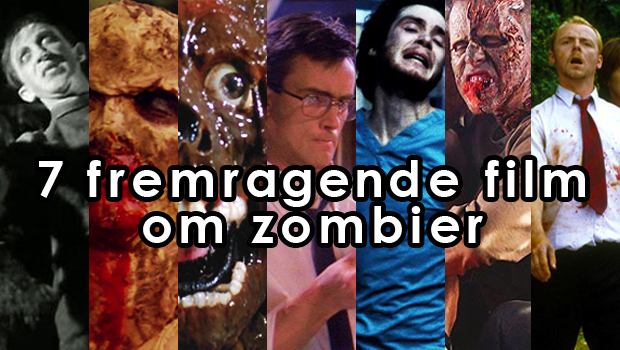 Published on februar 11th, 2013 | by Bjarke Friis Kristensen
147
7 fremragende film om zombier
Zombier har i efterhånden mange år rejst sig fra graven for at frastøde, underholde og gnaske sig igennem publikum. Genren har bestemt også en umiddelbare visuel appel med sine forgnaskede kranier og blodige headshots. Nu har zombierne igen indtaget biograferne – denne gang med den kærlighedsramte Warm Bodies. I den forbindelse anbefaler jeg en 7 fremragende zombiefilm. Du finder man anmeldelse af Warm Bodies her.
NIGHT OF THE LIVING DEAD (instruktør: George A. Romero, 1968)
Den sultne zombie med åbenstående mavesæk blev bragt til live af George A. Romero med dette sort/hvide mesterværk. Stemningsfuld og grum gru, der stadig holder. Husk også de fremragende efterfølgere, Dawn of the Dead (1978) og Day of the Dead (1985). Romero har fulgt trilogien op med de mindre vellykkede Land of the Dead (2005), Diary of the Dead (2007) og Survival of the Dead (2010).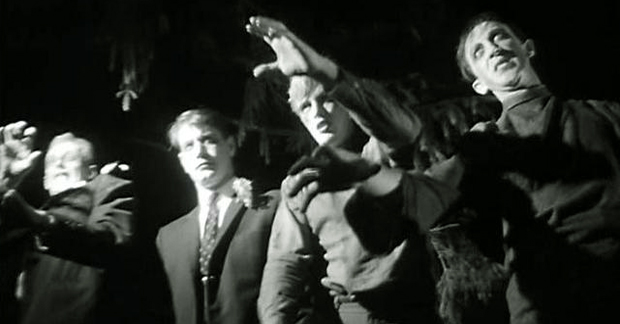 RÆDSLERNES GRØNNE Ø (Instruktør: Lucio Fulci, 1979)
Italienske Lucio Fulcis zombie-sjasker Rædslernes grønne ø (aka Zombi 2 aka Zombie Flesh Eaters) er en både bizar og vammel omgang voodoo-splat. Her diskes der blandt andet op med ormebefængte levende lig, bare bryster og den legendarisk kamp mellem en sulten zombie og en glubsk haj (!?!). Ja, det er både vanvittigt og vanvittigt underholdende zombie-sleaze.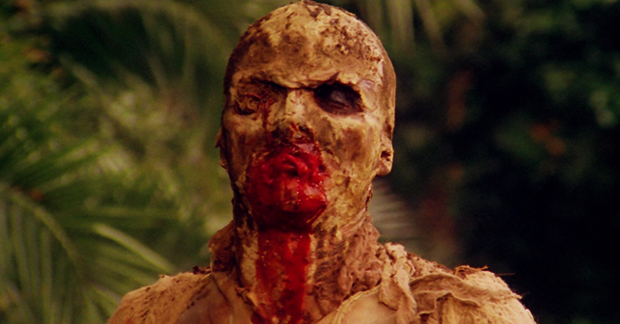 THE RETURN OF THE LIVING DEAD (Instruktør: Dan O'Bannon, 1985)
"Braaaaains…!!!", lyder det sultent fra zombierne i denne skønne 80'er-film, hvor punkere fester på en kirkegård, regnen siler fareturende ned og de døde rejser sig muddertilsølet fra gravene. Tilsæt videre en afgnavet zombie-afhøring, en nøgen punker-tøs samt et herligt synth-score og du har The Return of the Living Dead – eller Ligene er ligeglade, som er den oprindelige danske titel.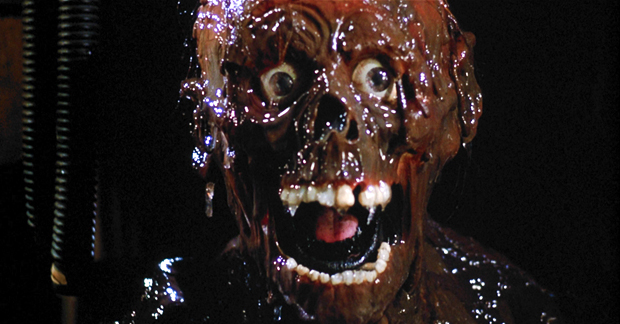 RE-ANIMATOR (instruktør: Stuart Gordon, 1985)
Her er ikke tale om zombier i klassisk Romero-forstand,  men det afholder heldigvis ikke de døde fra at rejse sig. En manisk Jeffrey Combs spiller den medicinstuderende Herbert West, der eksperimenter med at bringe de døde tilbage til livet – og det med grufuld succes. Det er altså ikke mæskende smittefare, men en gal doktor, der er på spil. Ikke desto mindre er det en grotesk og yderst underholdende 80'er-perle.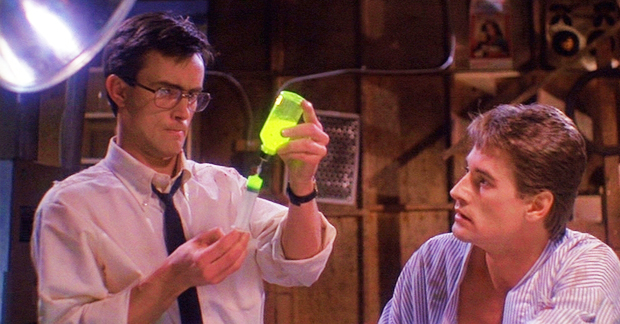 28 DAYS LATER (Instruktør: Danny Boyle, 2002)
Den langsomt stavrende zombie er i nyere film blevet udfordret af mere moderne afarter. Specielt var Danny Boyles dystopiske 28 Days Later med til at træde speederen i bund på de levende døde, der her løber sig ind på de skrigende ofre. Ja, man kan så diskutere, om det overhovedet er zombier – men den tager vi lige en anden gang. Husk også den herligt splattede sequel, 28 Weeks Later.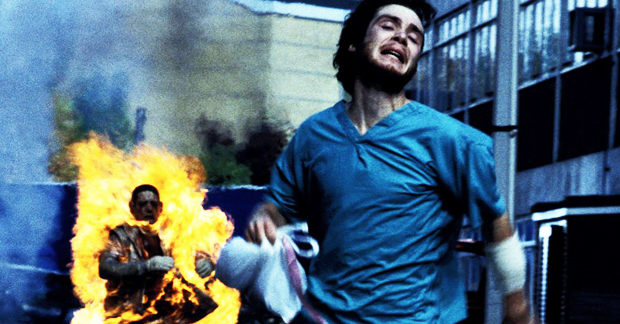 DAWN OF THE DEAD (Instruktør: Zack Snyder, 2004)
Zack Snyders effektive Dawn of the Dead byder også på zombier i topfart – et for en gangs skyld vellykket remake. En tempofyldt, blodig og underholdende omgang horror-action med både zombie-babyer og blodindsmurte kadavere. Det er måske ikke vildt uhyggeligt, men det er bestemt både medrivende og splattet zombie-sjov.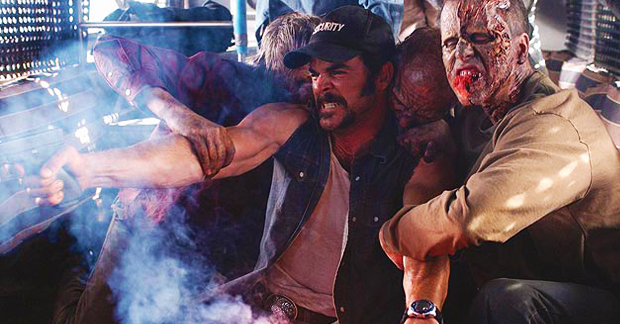 SHAUN OF THE DEAD (Instruktør: Edgar Wright, 2004)
Lige så gruopvækkende det kan være at se sine medmennesker blive revet midt over af sultne zombier, lige så morsomt kan de sultne døde også være. Det mere end beviser Edgar Wright med den fantastiske zombie-komedie Shaun of Dead. Fyldt med veltimet tør humor, filmreferencer og ikke mindst medrivende splat indtager den også en sikker plads blandt mine all time-filmfavoritter.