Anmeldelser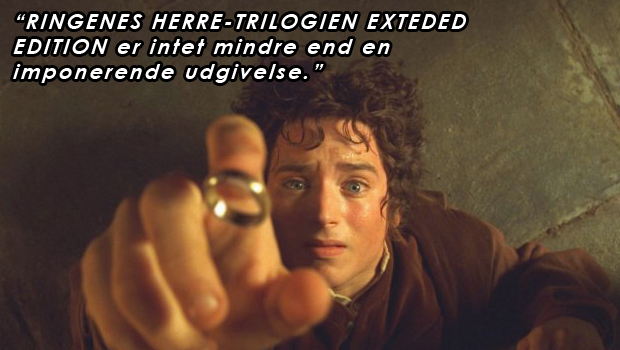 Published on juli 22nd, 2011 | by Bjarke Friis Kristensen
104
Forlænget 'Ringenes Herre'-trilogi imponerer på Blu-ray
10 år efter, at den første film i den eventyrlige trilogi baseret på J.R.R. Tolkiens bøger ramte biografer verden over, lander de tre film nu endelig på Blu-ray i de forlængede udgaver – plus timevis af dybdegående ekstramateriale. Ringenes Herre-trilogien – Extended Edition er intet mindre end en imponerende udgivelse.
Den episke og farefylde rejse starter med Eventyret om Ringen, hvor Frodo sammen med bl.a. tre hobbit-venner begiver sig mod Mordor for at tilintetgøre Ringen, der kan kontrollere verdens skæbne. En ring, der er farlig i de forkerte hænder – ikke mindst den onde fyrst Sauron, der er ude efter den med ønsket om verdensherredømmet.

Den første film er virkelig stærk. Venskabet mellem hobbitterne er rørende og medrivende, hvor Elijah Wood som den hårdtprøvede Frodo går i et med sin rolle. Det er også her det store univers etableres og flere af historiens mange karakterer præsenteres – og instruktøren Peter Jackson lykkedes elegant med dette. Jeg er dog en af de få, som ikke har læst bøgerne, så jeg skal ikke gøre mig klog på mangler, men kan blot konstatere, at som film fungerer historien og universet helstøbt.
Med De to Tårne skrues der op for action-delen, mens kampen mellem de gode og de onde tropper intensiveres. Den lille gruppe med Frodo i front splittes op og den uforudsigelige Gollum kommer for alvor i spil. Karaktererne kommer til at stå en smule i skyggen af de storslåede action-scener, men som et vildt eventyr-drøn, lever dette andet kapitel ubesværet.
Den helt store finale venter i Kongen vender tilbage. Her skal det sidste slag stå og Frodos rejse for at tilintetgøre Ringen ender. Her er mange plottråde, der skal afsluttes og selvom spilletiden runder de fire timer, så imponeres man hele vejen over de episke scenerier og de medvirkendes strabadser. Filmen synes dog efter sit store klimaks at fortsætte en tand for længe. Det ændrer dog ikke ved, at dette er et tilfredsstillende sidste kapitel i sagaen.
Nogle af trilogiens effekter fremstår ganske vist en smule forældede og humoren er til tider irriterende, men historien er stadig stærk og medrivende leveret – og får endog mere vægt i disse forlængede udgaver, der i snit tilføjer ca. 40 minutter til hver film. Et medrivende eventyr om det gode mod det onde, at finde sig selv og troen på at lykkedes, selv imod alle odds – selvfølgelig tilsat godt med glubske monstre, smukke elvere og et skud udødelig kærlighed.
Ja, da Peter Jackson i sin tid jonglerede med spandevis af blod og ulækre rumvæsner i de underholdende splatter-fester Bad Taste og Braindead, lå det ikke umiddelbart i kortene, at han skulle komme til at stå bag en af filmhistoriens mest ambitiøse og omfattende produktioner. Men han levede bestemt op til opgaven med denne både bjergtagende og imponerende filmtrilogi.
Billede og lyd:
Udgivelsen indeholder hele 15 skiver. Hver film er fordelt på to og suppleret af tre med ekstramateriale. Billede og lyd er pudset af – også i forhold til sidste års Blu-ray-udgivelse af biografudgaverne. Billedet står virkelig flot, hvor især den første film synes bedre end biografudgaven. Detaljerne er indtagende, farverne mættede og veldefinerede med flotte nuancer og gode kontraster filmene igennem.
Lydsporene fremstår om muligt endnu mere helstøbte end billedsiden. Her er solid bund, medrivende panoreringer og velbalancerede niveauer over hele linien – lige fra Midgård til Mordor.
Ekstramateriale:
Udgivelsens ekstramateriale er et kapitel for sig – eneste anke er, at det ikke er opgraderet til HD, men medfølger på almindelige dvd-skiver. Men det til side, så er det et yderst omfattende og spændende ekstramateriale, der løber op i godt 26 timer.
Hver film kommer med fire forskellige kommentarspor, bl.a. med Peter Jackson og castet. Herudover finder man en lang række features og dokumentarfilm, der på alle tænkelig leder og kanter går i kødet på den enorme filmproduktion og eventyrlige univers. Her er alt hvad man kunne ønske sig og mere til.
Her er interviews med folkene bag, fra Peter Jackson til castet og videre til dem der har stået for bl.a. speciel effects og production design. Her er sammenligninger mellem filmene og bøgerne, et kig på musikken og lyddesignet. Man er med på settet og kommer tæt på produktionen samt logistikken bag at få de tre film i kassen. En overvældende produktion, som man her får et omfangsrigt indblik i.
Konklusion:
Hvis man allerede har filmene på dvd eller Blu-ray-udgivelsen fra sidste år, kan man dog roligt opgradere. Billede og lyd imponerer og så medfølger der timevis af spændende ekstramateriale, som ganske vist har været at finde fordelt på tidligere udsendte versioner af trilogien, men altså her for første gang samlet i én boks.
Ringenes Herre-trilogien –Extended Edition er uden tvivl en udgivelse, man straks bør slå klørene – og i selskab med Frodo, Aragon, Gandalf og resten af slænget kan denne imponerende udgivelse uden tvivl slå noget af tiden ihjel hos de mange fans, inden den første af to 'Hobbitten'-film får premiere til december næste år.
Originaltitel: The Lord of the Rings, The Motion Picture Trilogy – Extended Edition, 2011 (The Fellowship of the Ring, 2001. The Two Towers, 2002. The Return of the King, 2003).
Instruktion: Peter Jackson
Medvirkende: Elijah Wood, Ian McKellen, Viggo Mortensen, Sean Astin, Liv Tyler, Cate Blanchett, John Rhys-Davies, Billy Boyd, Dominic Monaghan, Orlando Bloom, Hugo Weaving, Sean Bean, Ian Holm, Andy Serkis, Sala Baker m.fl.
Spilletid: 228 min., 235 min., 263 min.
Udgiver: SF Film