Anmeldelser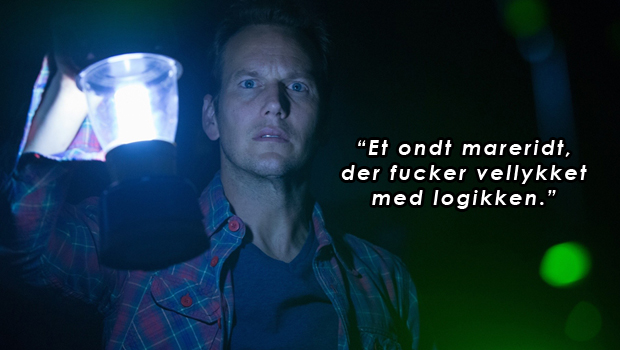 Published on november 27th, 2013 | by Bjarke Friis Kristensen
141
INSIDIOUS 2: Skræmmende to'er giver en fuck for logik
Okay, hør lige her engang, jeg er skrækfilmsfan med stort S og er normalt ret svær at skræmme. Men James Wan får sgu skovlen under mig igen og igen. Senest med hans isnende uhyggelige The Conjuring (læs min anmeldelse her) og nu med fortsættelsen til hans ulmende onde Insidious fra 2011. Insidious 2 fortsætter lige efter, den første film slap… og gruen fortsætter i den grad.
For godt nok blev familien Lamberts søn i sidste øjeblik reddet ud af kløerne på en fæl dæmon, men ondskaben er langt fra færdig med at hjemsøge familien. Faderen Josh har nemlig – som vi erfarede i den første film – fra barnsben været udsat for lignende grusomheder. Derfor må familien nu med hjælp fra eksperter ud i det overnaturlige kigge tilbage i tiden for finde en måde at stoppe de fæle gespenster på.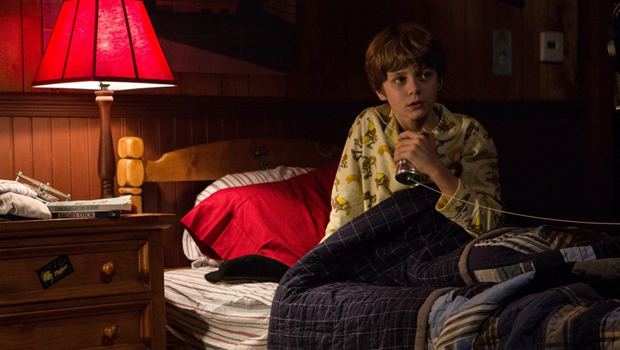 Historien bugter sig således sprælsk mellem fortid og nutid, mens man selvfølgelig også kommer en tur ind i det mystiske The Further, som man blev præsenteret for i forgængeren – en art limbo mellem de levende og dødes verden. Således udbygges filmens univers og mytologi, mens ens håndflader bliver fortsat fugtigere. Men hvor den første film var relativt stramt fortalt, skejer to'eren helt ud – og det holder.
For plottet slår flere krøller end jeg her kan ridse op, mens logikken også bliver sendt på porten op til flere gange. Der hersker med andre ord en nervepirrende uforudsigelighed, hvilket også gør, at det i højere grad er den urovækkende stemning, der bærer filmen, end et fuldt forståeligt plot. Filmen agerer altså oftere som et ondt mareridt, der fucker vellykket med logikken og lever af frygten alene.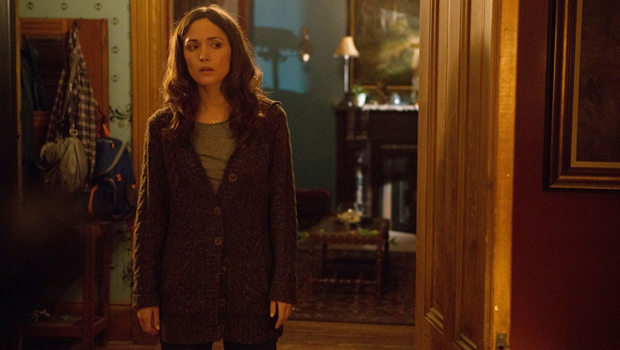 For den får alt, hvad den kan trække af knirkende døre, vamle skygger, øde huse og mørke kældre. Men selvom James Wan kan sin horror-ABC, rammer han ikke hele vejen alle toner lige rent, mens dialogen til tider bliver en smule stivbenet. Det ændrer imidlertid ikke på, at her er tale om en gyserfilm, der rent faktisk er pisseuhyggelig og formår at fastholde gruen – hvilket desværre gælder alt for få skrækfilm.
Ganske vist er klichéerne til at få øje på, men de er en del af charmen og virker ikke bedagede, men er derimod veloplagt og skræmmende godt leveret. For gyset fungerer så absolut, når James Wan spiller op til sprælsk dødedans med velkoreograferede kamerature, der guider publikum forskræmte ind i mørket, mens musikken kryber koldt ned af ryggen. Ja, Held og lykke med din nattesøvn, efter du har set Insidious 2.
– 'Synes godt om' Filmskribenten på Facebook HER. 

Vurdering 4/6: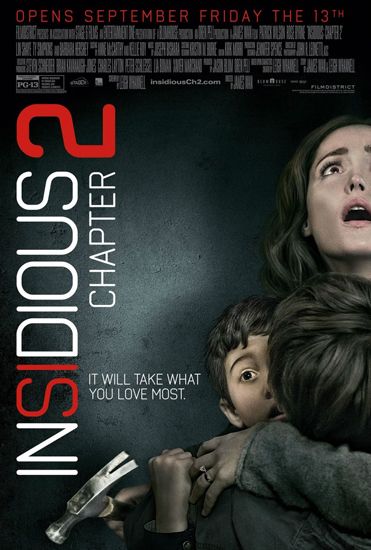 Originaltitel:
Insidious: Chapter 2
, USA, 2013
Premiere:
d. 28. november 2013
Instruktion:
James Wan
Medvirkende:
Patrick Wilson, Rose Byrne, Lin Shaye, Ty Simpkins, Barbara Hershey m.fl.
Spilletid:
106 min.
Distributør:
UIP