Anmeldelser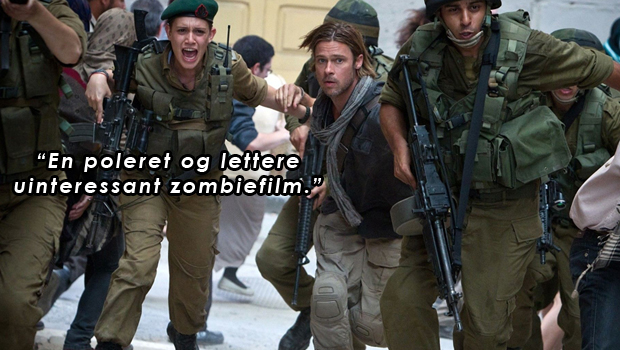 Published on juli 10th, 2013 | by Bjarke Friis Kristensen
530
WORLD WAR Z: Brad Pitt på flugt fra sultne zombier
Det er bare med at få benene på nakken, hvis man skal have en chance for at slippe fra horderne af frådende zombier i Marc Forsters stort opsatte World War Z. Så ja, det er præcis hvad Brad Pitt gør, mens han rejser Jorden rundt i forsøget på at finde en måde at stoppe de aggressive bæster på. Der er selvfølgelig også lige tid til at smide en af de mest akavede product placement-øjeblikke længe set ind i filmens finale, Jesus.
Filmen lægger veloplagt og effektivt ud med en intens første halve time, hvor zombie-apokalypsen bryder ud globalt og skræmmende hurtigt. Pitt, hans kone og deres to søde piger ender således midt kaosset, da smitten ud af det blå bryder løs i Philadelphias gader. Her fornemmer man reel panik og håbløshed, mens butikkerne tømmes, den lokale ordensmagt giver op og zombierne bruser ustoppeligt frem.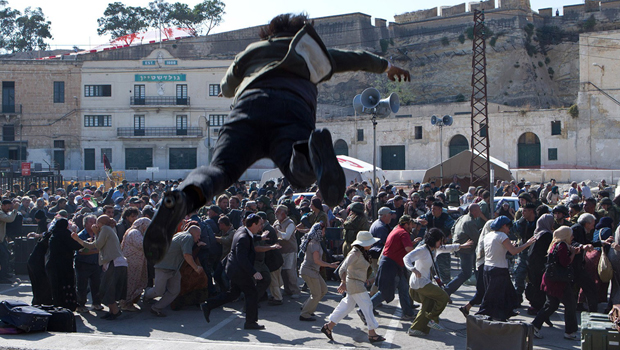 Desværre mister filmen pondus og nerve herefter, selvom der diskes op med den ene zombiefulde actionscene efter den anden. Men helt ueffen er filmen bestemt ikke. Der holdes et fint, om end ujævnt tempo, mens de panoramiske skud af byer i brænd er ganske flotte og en smule urovækkende – men aldrig for alvor gribende.
Rigtig skræmmende bliver filmen heller aldrig og utroligt nok, er den på det nærmeste uden blod – og det selvom zombier skydes ned i tusindvis (nej, ikke et eneste splattet headshot bliver det til), mens menneskene agerer tagselvbord for de levende døde. Ja, der er altså bare noget selvmodsigende i at lave en børnevenlig film med en så voldsom præmis – well, en zombieapokalypse for hele familien.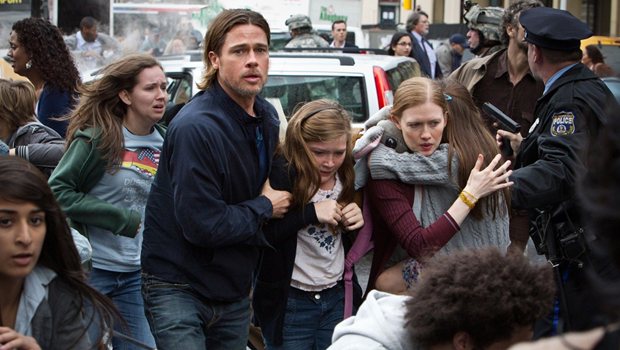 Men man savner karakterer at engagere sig i – noget, der kunne give actionscenerne mere nerve og nærvær. Pitt gør det bestemt godt som den godhjertede FN-arbejder, der må efterlade sin familie for at drage i felten. Ja, der bliver plads til et par Jesus-referencer til Pitt undervejs. Men båndet til familien kommer aldrig for alvor til at udgøre en dramatisk medrivende modvægt til zombieballaden – der desuden kan opleves i 3D, hvilket i dette tilfælde er en totalt ligegyldig gimmick.
Det er altså mere action end gys og menneskeligt drama, der skal holde pulsen oppe og engagementet ved lige. Det lykkedes også et stykke af vejen. Men som filmen skrider frem bliver det også en smule repetitativt at følge Pitt fra den ene dødsfælde til den næste, mens tematikker som menneskelighed og civilisation aldrig kommer i spil. Ja, en poleret og lettere uinteressant zombiefilm med et par gode actionscener.
– Bliv ven med Filmskribenten på Facebook her.
– Se også: 7 fremragende film om zombier. 

Vurdering 3/6: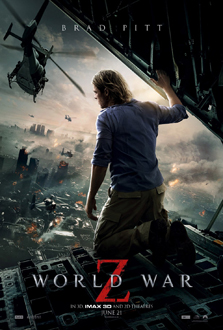 Originaltitel: World War Z, USA, 2013
Premiere: d. 11. juli 2013
Instruktion: Marc Forster
Medvirkende: Brad Pitt, Mireille Enos, Daniella Kertesz m.fl.
Spilletid: 116 min.
Distributør: UIP