Anmeldelser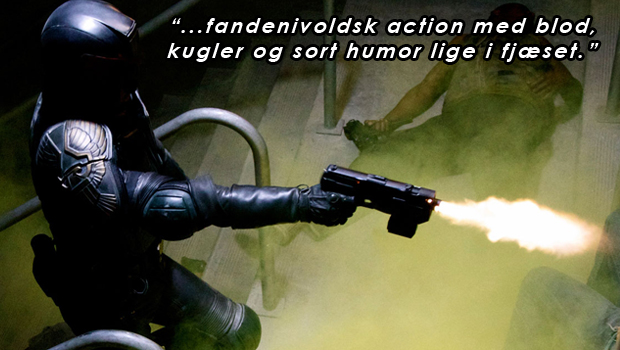 Published on september 27th, 2012 | by Bjarke Friis Kristensen
78
Der er smæk på den übervoldelige 'Dredd'
Man er ikke i tvivl om, hvad der skal ske, når først filmens blodrøde titel banker buldrende ud af lærredet i dundrende 3D. Og ja, det første uskyldige offer jordes da også lige splattet ned af brutale kriminelle, allerede inden man når at sætte sig til rette. Jep, Dredd er fandenivoldsk action med blod, kugler og sort humor lige i fjæset.
Filmen foregår i en dystopisk fremtid, hvor megabyer tordner sig gråt op mod en håbløs himmel af aske og et udsigtsløst intet. Vi befinder os i Mega-City One, hvor kriminaliteten er høj og dødsraten endnu højere. Her forsøger de såkaldte 'Judges' at opretholde lov og orden ved at agere jury, dommer og om nødvendigt også bøddel.
Den konstant snerrende Judge Dredd får dog sin sag for, da han og ung kvindelig rekrut bliver fanget i en enorm boligblok. For udover civile, huser blokken også en djævelsk gangsterboss – den nådesløse Ma-Ma. Hun styrer med hård hånd sin klan af morderiske bøller, der nu får til ordre at sende de to betjente i graven…
En af grundene til, at Dredd lykkedes så medrivende godt, er bl.a. fordi, den holder skidtet simpelt. Her er ikke læssevis af subplots, biroller og plot-twists til at sende det voldelige bæsts momentum til tælling, men blot fuld smadder på store guns, bastante one-liners og blodige kills. Brutalt, lige til og ganske enkelt ren fysisk filmfryd for fuld hammer – dog ikke uden et par ujævne bumps undervejs.
For selvom Dredd er en yderst underholdende omgang tegneserievold, så bruges der også nogle lige lovligt letkøbte løsninger i plottets afvikling. Men selv et par halvklodsede manuskriptløsninger er ikke noget, der skubber denne action-tonser  – der desuden er herligt befriet for romancer – nævneværdigt ud af kurs. Heldigvis.
Filmen bygger på den groteske og blodige tegneseriekarakter Judge Dredd, der så dagens lys tilbage i 1977. Samfundssatiren fra de kulørte hæfter er dog ikke så fremherskende i filmen, der har mere travlt med at nedskyde skurke og svælge i volden. Men fred med det, for satiren simrer trods alt lige under overfladen.
Judge Dredd blev også forsøgt filmatiseret i 1995 med Sylvester Stallone i titelrollen – ikke just en succes. Denne gang er det en ubarberet og herligt muggen Karl Urban, der bærer den ikoniske hjelm – som han selvfølgelig ikke tager af! Olivia Thirlby er det labre sidekick (heldigvis uden hjelm), mens Lena Headey indtager rollen som den rå Ma-Ma, hvilket hun til dels slipper godt fra med sit arrede ansigt og rådne tænder.
Filmen får endda også indskudt et par smukke åndehuller af svævende voldspoesi. Ikke mindst, når the bad guys indtager stoffet Slo-Mo, der meget belejligt har den effekt, at man oplever alt 100 gange langsommere. Det afføder nogle skønne 'over the top' kills i super slowmotion – hvilket man nok til dels kan tilskrive filmens fotograf, Anthony Dod Mantle. Jep, Dredd er et kulørt, herlig voldeligt og flot monstrum.
Som bonus tillader jeg mig også lige at anbefale den fremragende, indonesiske action-smasker The Raid: Redemption. Den har nemlig flere ligheder med Dredd. Her er det også et højhus fyldt med bøller og en ond boss, der skal indtages af et par betjente.


Originaltitel: Dredd 3D, USA/England/Indien, 2012
Premiere: d. 27. september
Instruktion: Pete Travis
Medvirkende: Karl Urban, Olivia Thirlby, Lena Headey m.fl.
Spilletid: 95 min.
Distributør: SF Film<