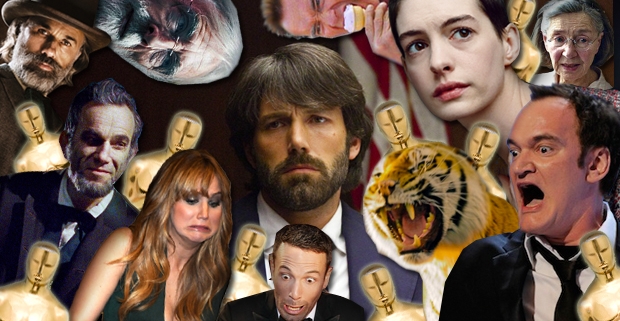 Der var få overraskelser imellem, da Oscar-statuetterne i nat dansk tid blev uddelt. Her løb Ben Afflecks Argo som forventet med prisen for bedste film samt priser for bedste adapterede manuskript og klipning. Igen må jeg sige, jeg ikke helt forstår den prisregn. Bestemt en hæderlig spændingsfilm, men ikke noget stort filmsus i min bog.
Det blev også som forventet og yderst velfortjent Michael Haneke, der løb med prisen for bedste udenlandske film for den fantastiske Amour – således gik En kongelig affære altså tomhændet fra festen.

Lidt mere overraskende var det, at Ang Lee nuppede prisen for bedste instruktør for Life of Pi – en film, der også fik priserne for bedste effekter, bedste originale score og bedste cinematografi. Det var også noget overraskende Jennifer Lawrence, der blev bedste skuespillerinde for Silver Linings Playbook.
Så var det slut på overraskelserne. Daniel Day-Lewis fik prisen for bedste skuespiller for Lincoln, bedste kvindelige birolle blev Anne Hathaway for Les Misérables, bedste mandlige skuespiller blev Christoph Waltz for Django Unchained, som Quentin Tarantino fik prisen for bedste originale manuskript for. Sådan!

Bedste dokumentarfilm blev Searching for Sugar Man og  bedste animationsfilm blev den fine Brave. Og så vil jeg lige på falderebet komme med et par utilfredse kvæk om, at Paul Thomas Andersons fremragende The Master blev forbigået – ikke mindst med fraværende nomineringer for bedste film og instruktør. Anyways, det er bare Oscars og de er som bekendt ikke nødvendigvis garant for noget som helt. Bum.
Læs også om andre prisuddelinger:
– 'Twilight' sejrer stort som årets dårligste film
– 'Argo' vinder for bedste film ved Golden Globes
– Ben Afflecks 'Operation Argo' sejrer ved Bafta-uddelingen
– 'Amour' er den store vinder ved London Critics' Circle Film Awards
Læs mine anmeldelser af andre Oscar-film:
– Amour: med kærligheden i live til det allersidste farvel
– The Master: mesterlig kultleder og fordrukken protegé
– Zero Dark Thirty: insisterende jagt på Osama bin Laden
– Operation Argo: falsk filmhold på redningsmission i Iran
– Django Unchained: Tarantino rammer plet med seksløberen
– Lincoln: Daniel Day-Lewis imponerer med høj hat og hageskæg
Bedste film: Argo
Beasts of the Southern Wild
Silver Linings Playbook
Zero Dark Thirty
Lincoln
Les Misérables
Life of Pi
Amour
Django Unchained
Bedste instruktør: Life of Pi, Ang Lee.
David O. Russell, Silver Linings Playbook
Steven Spielberg, Lincoln
Michael Haneke, Amour
Benh Zeitlin, Beasts of the Southern Wild
Bedste skuespillerinde: Jennifer Lawrence, Silver Linings Playbook
Naomi Watts, The Impossible
Jessica Chastain, Zero Dark Thirty
Emmanuelle Riva, Amour
Quvenzhané Wallis, Beasts of the Southern Wild
Bedste skuespiller: Daniel Day-Lewis, Lincoln
Denzel Washington, Flight
Hugh Jackman, Les Misérables
Bradley Cooper, Silver Linings Playbook
Joaquin Phoenix, The Master
Bedste animationsfilm: Brave
Frankenweenie
Pirates: Band of Misfits
Wreck-It-Ralph
Paranorman
Bedste: Amour (Østrig)
No (Chile)
War Witch (Canada)
En kongelig affære (Danmark)
Kon Tiki (Norge)
Bedste kvindelige birolle: Anne Hathaway, Les Misérables
Sally Field, Lincoln
Jacki Weaver, Silver Linings Playbook
Helen Hunt, The Sessions
Amy Adams, The Master
Bedste mandlige birolle: Christoph Waltz, Django Unchained
Phillip Seymour Hoffman, The Master
Robert de Niro, Silver Linings Playbook
Alan Arkin, Argo
Tommy Lee Jones, Lincoln
Bedste adapterede manuskript: Argo, Chris Terrio
Beasts of the Southern Wild, screenplay by Lucy Alibar & Benh Zeitlin
Life of Pi, written by David Magee
Lincoln, written by Tony Kushner
Silver Linings Playbook, written by David O. Russell
Bedste originale manuskript: Django Unchained, Quentin Tarantino
Amour, written by Michael Haneke
Flight, written by John Gatins
Moonrise Kingdom, written by Wes Anderson & Roman Coppola
Zero Dark Thirty, written by Mark Boal
Bedste originale sang: "Skyfall", Skyfall
"Before My Time", Chasing Ice
"Pi's Lullaby", Life of Pi
"Suddenly", Les Misérables
"Everybody Needs a Best Friend", Ted
Bedste cinematografi: Claudio Miranda, Life of Pi
 Seamus McGarvey, Anna Karenina
Robert Richardson, Django Unchained
Janusz Kaminski, Lincoln
Roger Deakins, Skyfall
Bedste costume design: Jacqueline Durran, Anna Karenina
Paco Delgado, Les Misérables
Joanna Johnston, Lincoln
Eiko Ishioka, Mirror Mirror
Colleen Atwood, Snow White and the Huntsman
Bedste dokumentarfilm: Searching for Sugar Man
5 Broken Cameras
The Gatekeepers
How to Survive a Plague
The Invisible War
Bedste dokumentarfilm, kort: Inocente, Sean Fine og Andrea Nix Fine
Kings Point, Sari Gilman and Jedd Wider
Mondays at Racine, Cynthia Wade and Robin Honan
Open Heart, Kief Davidson and Cori Shepherd Stern
Redemption, Jon Alpert and Matthew O'Neill
Bedste klipning: William Goldenberg, Argo
Tim Squyres, Life of Pi
Michael Kahn, Lincoln
Jay Cassidy and Crispin Struthers, Silver Linings Playbook
Dylan Tichenor and William Goldenberg, Zero Dark Thirty
Bedste originale score: Mychael Danna, Life of Pi
Dario Marianelli, Anna Karenina
Alexandre Desplat, Argo
John Williams, Lincoln
Thomas Newman, Skyfall
Bedste make-up og hår: Lisa Westcott og Julie Dartnell, Les Misérables
Howard Berger, Peter Montagna og Martin Samuel, Hitchcock
Peter Swords King, Rick Findlater og Tami Lane, The Hobbit: An Unexpected Journey

Bedste production design: Lincoln, Rick Carter (Production Design); Jim Erickson (Set Decoration)
Anna Karenina, Sarah Greenwood (Production Design) og Katie Spencer (Set Decoration)
The Hobbit: An Unexpected Journey, Dan Hennah (Production Design) og Ra Vincent og Simon Bright (Set Decoration)
Les Misérables, Eve Stewart (Production Design); Anna Lynch-Robinson (Set Decoration)
Life of Pi, David Gropman (Production Design); Anna Pinnock (Set Decoration)
Bedste animerede kortfilm: Paperman, John Kahrs
Adam and Dog, Minkyu Lee
Fresh Guacamole, PES
Head over Heels, Timothy Reckart og Fodhla Cronin O'Reilly
Maggie Simpson i "The Longest Daycare", David Silverman
Bedste kortfilm: Curfew, Shawn Christensen
Asad, Bryan Buckley and Mino Jarjoura
Buzkashi Boys, Sam French and Ariel Nasr
Death of a Shadow (Dood van een Schaduw), Tom Van Avermaet og Ellen De Waele
Henry, Yan England
Bedste sound editing: her er der to vindere: Skyfall, Per Hallberg og Karen Baker Landers samt Zero Dark Thirty, Paul N.J. Ottosson
Argo, Erik Aadahl and Ethan Van der Ryn
Django Unchained, Wylie Stateman
Life of Pi, Eugene Gearty and Philip Stockton
Bedste lydmix: Les Misérables, Andy Nelson, Mark Paterson og Simon Hayes
Argo, John Reitz, Gregg Rudloff og Jose Antonio Garcia
Life of Pi, Ron Bartlett, D.M. Hemphill og Drew Kunin
Lincoln, Andy Nelson, Gary Rydstrom og Ronald Judkins
Skyfall, Scott Millan, Greg P. Russell og Stuart Wilson
Bedste effekter: Life of Pi, Bill Westenhofer, Guillaume Rocheron, Erik-Jan De Boer og Donald R. Elliott
The Hobbit: An Unexpected Journey, Joe Letteri, Eric Saindon, David Clayton og R. Christopher White
Marvel's The Avengers, Janek Sirrs, Jeff White, Guy Williams og Dan Sudick
Prometheus, Richard Stammers, Trevor Wood, Charley Henley og Martin Hill
Snow White and the Huntsman, Cedric Nicolas-Troyan, Philip Brennan, Neil Corbould og Michael Dawson
https://filmskribenten.dk/wp-content/uploads/2013/02/oscars-2013-vinderne-thumb.jpg
350
620
Bjarke Friis Kristensen
https://filmskribenten.dk/wp-content/uploads/2018/11/logo.png
Bjarke Friis Kristensen
2013-02-25 11:35:29
2013-02-25 11:46:41
'Argo' vinder Oscar for bedste film