Anmeldelser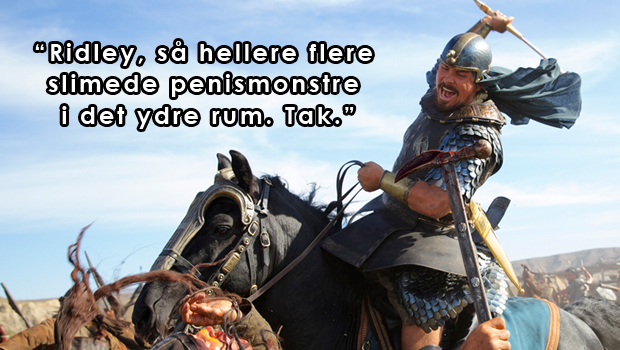 Published on december 25th, 2014 | by Bjarke Friis Kristensen
41
EXODUS: Kære Ridley, hellere flere slimede penismonstre i det ydre rum end bibelske Bale
Biografanmeldelse: For satan da, Ridley Scott. Du har sgu da helt mistet overblikket med den her. Eller også har du bare stolet blindt på, at det populære bogforlæg, mega meget CGI-ramasjang og Christian Bale i hovedrollen som Moses var nok til at hive det bibelske stik hjem. Det er det ikke. Exodus er simpelthen sløset fortalt og befolket af flade karakterer. Bøvs.
Christian Bale forsøger her at ryste sin Batman-dybe røst af sig. Det går ikke så godt. Til gengæld er han god til at have fuldskæg. Det er bare ikke helt nok. Og der er jo ellers vældigt godt med drama i karakteren Moses. Du ved, de undertrykte jøders færd mod deres fortabte land med Moses i front, de der 10 pokkers plager, Det Røde Hav, der splittes i to og så de 10 bud. Halløjsa.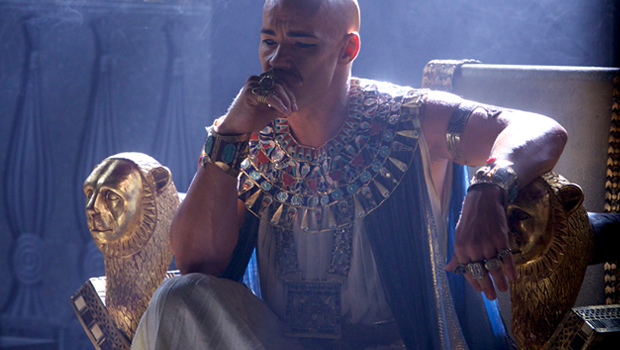 Men det hele er mere ren afvikling end engageret fortalt. Her er ikke følelser at blive grebet af eller karakterer at engageres i. Til gengæld er der fejlcastet for fuld skrue. Seriøst, John Turturro som faderlig farao? Snarere fjollet farao. Og Joel Edgerton ligner mest et bizart indslag i en forlystelsespark som Moses' forfængelige papbror Ramses. Autencitet? Næppe. For meget eyeliner? Så afgjort.
Du har nok luret, at filmens ellers centrale splid mellem netop Moses og Ramses ikke sætter nævneværdige følelser i sving hos undertegnede. Og helt ærligt, her er jo for fuck sake tale om magtkampe, grådighed, gudetro og et broderligt fjendskab af bibelske dimensioner. Men Ridley Scott formår ikke at puste vildt meget medrivende liv ind i den ellers potente fortælling, hvor en hævngerrig gud ellers giver kamp til stregen – Anden Mosebog–style, biaaaacth.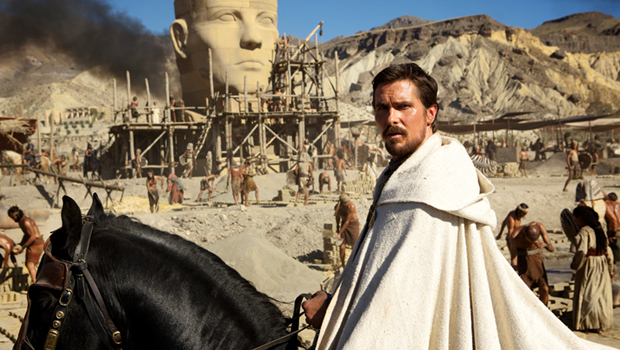 Christian Bale er mut, jordnær og cool som modvillig leder, men også kedelig. Nå ja, og så vælter troværdigheden for alvor i den fælt forcerede og overfortalte kærlighedshistorie til hans hustru Zipporah. Hun spilles af en pæn, men også bare helt vildt ligegyldig María Valverde. Gab, motherfucking gab. Ridley, så hellere flere slimede penismonstre i det ydre rum. Tak.
Men okay, der er sgu godt med knald på, når Ridley folder sine panoramaliderlige actionscener ud og lader de 10 plager være en pæn træls dag for oldtidens Egypten. Men det nytter desværre bare ikke meget, når karaktererne, historien og de ellers virile tematikker som gudsfrygt, tilgivelse og andre gode sager efterlades som slappe fodnoter i denne bibelske fuser.

– Besøg Filmskribenten på Facebook HER.