Anmeldelser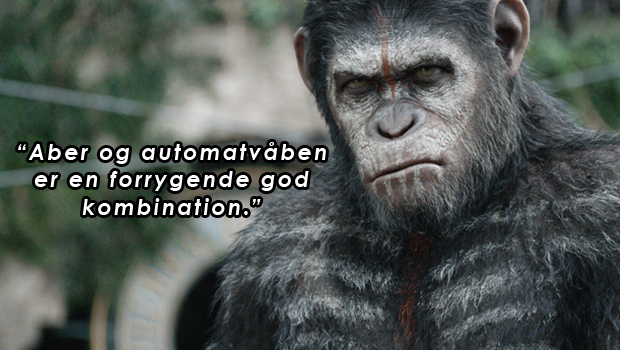 Published on november 27th, 2014 | by Bjarke Friis Kristensen
190
DAWN OF THE PLANET OF THE APES: Fuck yes, talende aber til hest med våben i hænderne
Blu-ray-anmeldelse: Hvis en anmeldelse skal fungere som en art salgstale for, om man skal eller ikke skal se en film, ville jeg lade denne anmeldelses rubrik være argumentet for, at du selvfølgelig skal se Dawn of the Planet of the Apes. Men lad mig lige uddybe, hvorfor aber og automatvåben er en så forrygende god kombination, som tilfældet er.
Filmen foregår 10 år efter begivenhederne i forgængeren, Rise of the Planet of the Apes, fra 2011. Den behøver du dog ikke at have set, da titelsekvensen her gør et eventuelt uindviet publikum ajour. Men se den alligevel. Den er god. Men okay, menneskeheden er sendt til apokalyptisk tælling grundet en dødelig virus, mens aberne har udviklet sig yderligere og opbygget et samfund ledet af overaben Caesar, der nærmest er eneste genganger fra forgængeren.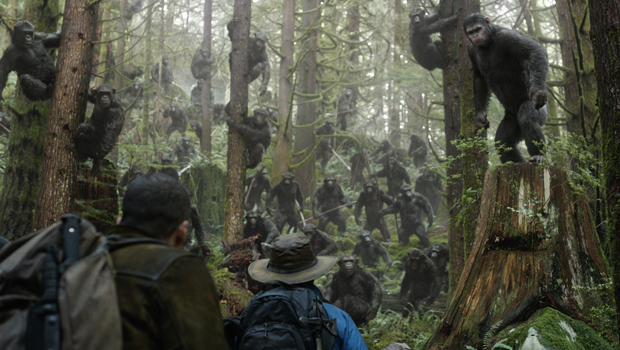 Det kommer atter til en konfrontation mellem mennesker og aber, hvor én dum handling udløser startskuddet til krigen. Men selvom løjerne i grunden er ret fjollede – du ved, aber og automatvåben – er her ikke tale om hjernedød abeaction. Actionscenerne er hele vejen motiveret af handlingen og har en følelsesmæssig pondus, der kun gør den dynamiske action gennem jungledyb og murbrokker endnu mere medrivende.
Det er i sig selv en bedrift at lave en film, der overbevisende bevarer sin alvorlige tone, selvom her er tale om en film med talende aber, der rider rundt på heste og skyder med maskinpistoler. En i hver hånd, selvfølgelig. Det er Andy 'Gollum' Serkis, der igen aber igennem som Caesar. Det gør han forrygende godt. Det gør CGI-troldmændene bag ham så absolut også.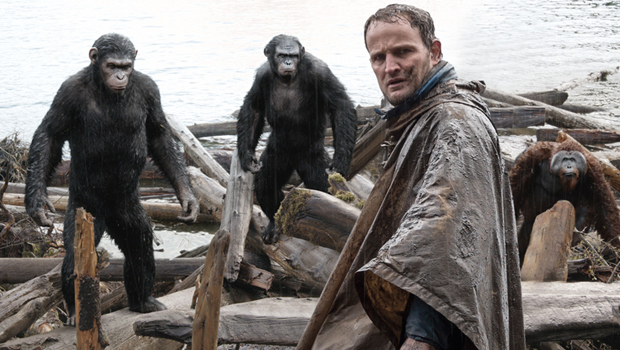 For der er oprigtige følelser på de computeranimerede aber – af og til mere end filmens mennesker. Blandt andet en sammenbidt Gary Oldman og humanisten Jason Clarke. Men selvom ikke alle karakterer måske er lige nuanceret optegnet, lykkedes filmen fornemt med at etablere begge sider af krigen, så handlingen konstant er følelsesmæssigt velfunderet i sine karakterer.
Det er muligt, at her er talende aber og maskinpistoler, men det er karaktererne, der er drivkraften. Ikke CGI-magi og eksplosioner. Så hul i, at tematikker som krig, forsoning, tilgivelse og hævn måske bliver en smule overfortalt, mens ikke alle plotdrejninger er fuldt ud troværdige. For her er tale om dyster, medrivende og karakterdrevet abeaction. For fuck sake, her er tale om en film med talende aber til hest med automatvåben i hænderne. Selvfølgelig skal du se den.
Filmen, Dawn of the Planet of the Apes, 5/6: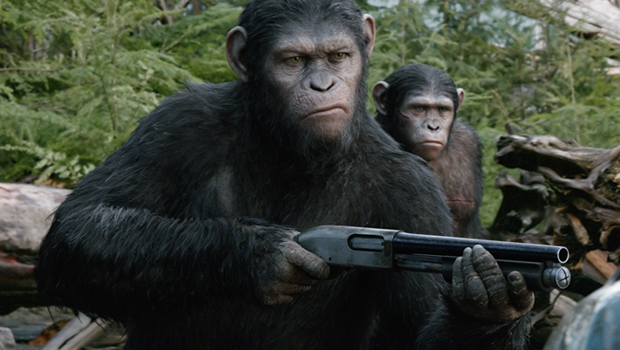 Ekstramateriale, billede og lyd:
Det er en sand fornøjelse at gense Dawn of the Planet of the Apes på Blu-ray. Billedet står farvemættet, skarpt og detaljerigt, hvor både animerede aber og rigtig menneskehud gengives velbalanceret og naturligt. Lydsporet bakker den medrivende billedside forrygende godt op med balancerede niveauer og et dynamisk lydbillede – medrivende, bastant og intenst.
Ekstramaterialet er ligeledes en fornøjelse og kommer tilfredsstillende og interessant omkring filmens tilblivelse med en række behind the scenes– og making of-featuretter på i alt små to timer. Her ser man både på historien, computereffekterne, universet, mens man også får slettede scener samt et engagerende kommentarspor med instruktør Matt Reeves.
Ekstramateriale 5/6 

| Billede 6/6

| Lyd 6/6

– Besøg Filmskribenten på Facebook HER. 

Samlet vurdering af Blu-ray-udgivelsen 5/6: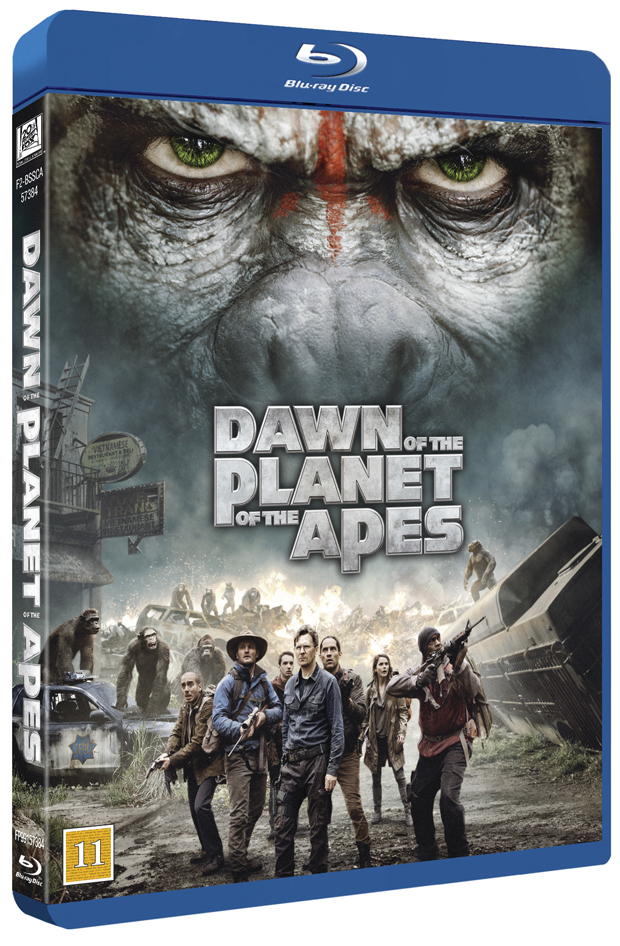 Originaltitel:
Dawn of the Planet of the Apes
, USA, 2014
Release:
den 27. november 2014
Instruktion:
Matt Reeves

Medvirkende:
Andy Serkis, Jason Clarke, Gary Oldman, Keri Russell, Toby Kebbell, Kodi Smit-McPhee m.fl.
Spilletid:
2 timer 10 min.
Udgiver:
20th Century Fox