Anmeldelser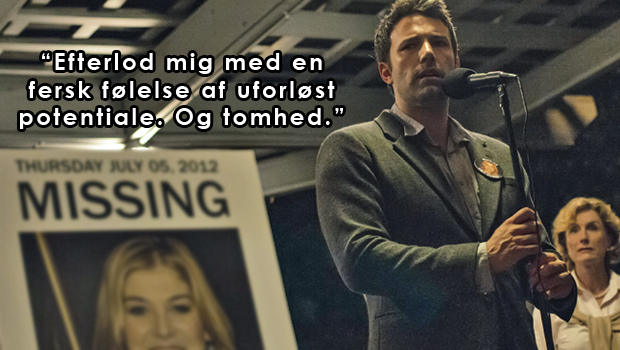 Published on oktober 23rd, 2014 | by Bjarke Friis Kristensen
54
KVINDEN DER FORSVANDT: Ben Affleck har nederen på, og jeg har det ferskt over, at Ben Affleck har nederen på
Biografanmeldelse: Jamen altså, David. Altså David Fincher. Nu har jeg gået her og glædet mig til din nye film – Kvinden der forsvandt – eller Gone Girl, som du har valgt at kalde den. Men David, nu sidder jeg så her med filmen et par timer på afstand. Og jeg sidder stadig med samme følelse, som da rulleteksterne ramte lærredet. En fersk følelse af uforløst potentiale. Og tomhed. Og træthed.
Men du har bestemt gjort dig umage. Det gør du altid. Det hele ser virkelig flot ud. Som en stilfuld krydsning mellem Zodiac og The Social Network. Kølige, kolde farver og kamerabevægelser, der glider gennem forstadens fintklippede haver og evigt nymalede huse. Og du har igen fået Trent Reznor til at stå for scoret. Det gør han igen elegant, foruroligende og tilbagelænet dramatisk.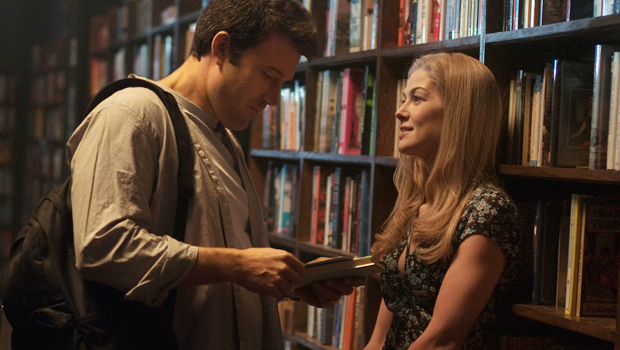 Et ulmende forstadsunivers, jeg synker ind i. Omfavnes af. Men jeg gribes ikke. Blodet forbliver i ro – det samme gør min puls. Og det er vel i grunden ikke meningen. Jeg mener, her er tale om en thriller. I hvert fald et stykke af vejen. For din film er mere end "blot" en thriller. Men filmen skydes i gang som en thriller. For en dag og ud af det blå forsvinder Nicks kone Amy. Hvad pokker er der sket?
Ben Affleck indtager med alvor over øjenbrynene rollen som Nick, der i kølvandet på sin konens forsvinden pludselig befinder sig i en mediestorm. Alle vil selv sagt have en bid af manden, der har mistet sin kone – hun spilles af en sart og selvsikker Rosamund Pike. Et simpelt setup, der roligt, tålmodigt og med sikker fremdrift foldes nuanceret, overraskende og komplekst ud.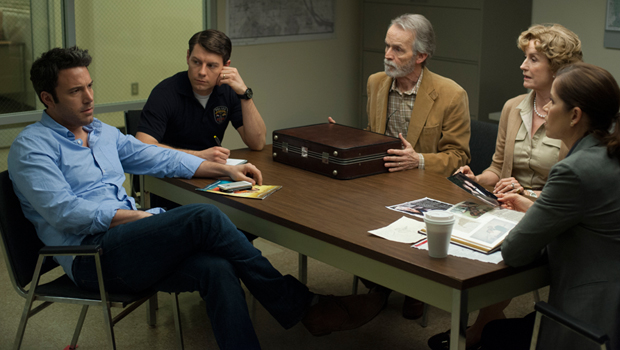 For selvfølgelig er alt ikke, hvad det giver sig ud for. Men selvom filmen har sin del af plottwists, forbliver det hele lidt for pænt. Lidt gnidningsløst. Lidt for sikkert. Både Nick og Amy forbliver for endimensionelle, for uengagerende. At det så kan være en pointe i sig selv i forhold til filmens satiriske tematikker som ægteskab, hemmeligheder og facade ændrer ikke på, at filmen er kedelig.
Men ja, David. Plottets afvikling i første del er besnærende, scoret dragende og filmens univers fuldendt. Og Ben Affleck formidler fint desperationen, mens her også er sin del af æggende krimitæft. Men det er altså bare ikke engagerende. Mest bare en stilsikker afvikling af manuskriptet. En flot konstruktion. Her er ingen følelser på spil for mig. Kære David, jeg blev sgu aldrig grebet, men forblev følelsesmæssigt upåvirket – og jeg er sgu ellers en følsom fyr. Øv.
– Besøg Filmskribenten på Facebook HER.