Blodig Weekend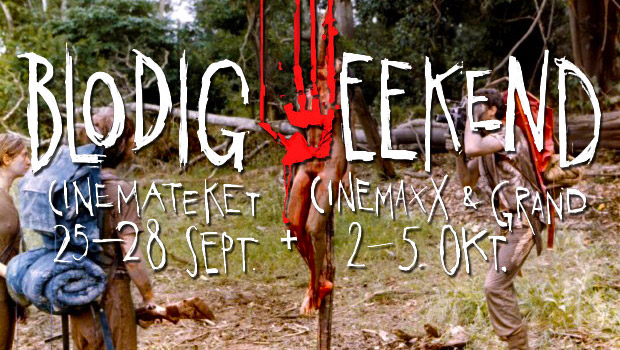 Published on september 30th, 2014 | by Bjarke Friis Kristensen
161
BLODIG WEEKEND 2014: Kannibal-legende, franske fristelser og en hel masse død
Blodig Weekend 2014: I år strækker genrefilmsfestivalen Blodig Weekend sig over to weekender. Første weekend, der fandt sted i Cinemateket i København, er nu veloverstået. Gruen fortsætter dog allerede fra onsdag den 2. oktober med visningen af den danske found footage-gyser Encounters, mens også Århus lægger krop til festivalen i weekend nummer to. Du finder programmet herunder og hos Blodig Weekend her.
Jeg har rapporteret fra festivalens to første dage her, men nu gælder det anden del af første weekend. Hvor fredagen ubetinget stod i Troma-kongen Llyod Kaufman og The Toxic Avengers navn, så ejede den kontroversielle Cannibal Holocaust aka Kannibalmassakren fra 1980 lørdagen, hvor den 75-årige, italienske instruktør Ruggero Deodato var til stede til en q&a.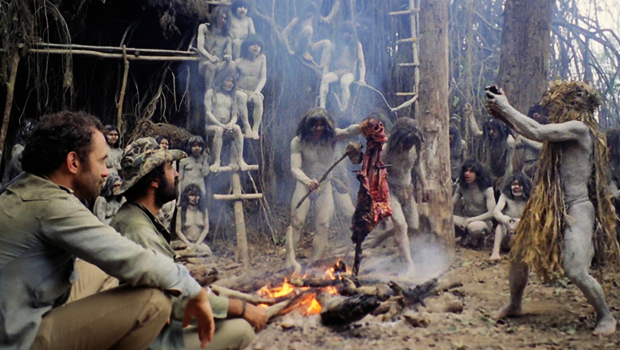 Der gnaskes løs i Cannibal Holocaust aka Kannibalmassakren fra 1980
Inden kannibalklassikeren indtog lærredet lørdag aften, var Cinemateket indtaget af diverse boder, hvor man kunne købe plakater, film og merchandise. Der var virkelig mange spændende sager, og så var det hyggeligt at møde andre gore hounds. Deodato og Kaufman var selvfølgelig også til stede, så man kunne få taget et billede med dem og signeret sine film og filmplakater.
Der var syv film på programmet om lørdagen. Jeg fik set beskedne tre. Først den vellykkede vampyr-mocumentary-komedie What We Do in the Shadows. Her følger et dokumentarhold livet i et vampyrbofællesskab i New Zealand, hvilket selv sagt ikke er problemfrit, når nu man er vampyr. Ikke altid lige komisk vellykket, men vampyrerne var hele vejen godt selskab.
Den overhøflige vampyr i mocumentary-komedien What We Do in the Shadows
Lige fra den overhøflige Viago (Taika Waititi) til den lidt for selvsikre Deacon (Jonathan Brugh) og den dameglade Vladislav (Jemaine Clement). Grotesk, sjov, blodig, herligt tåbelig og hele vejen leveret med en kærlighed til genren. Efterfølgende var det tid til Kannibalmassakren – og det i propfyldt sal. Helt forrygende fedt.
Selvom den grumme klassiker er mere end 30 år gammel, er det fortsat en brutal og trøstesløs oplevelse med sine dyredrab, voldtægter og generelt blodig omgang med menneskekroppen. En af mine all time favourites. Det var derfor også stort at møde Deodato, der introducerede filmen og efterfølgende deltog i en q&a. Han var en noget uforudsigelig blanding af morsom, veloplagt og vrissen. Men utvivlsomt en fornøjelse – i hvert fald for mig.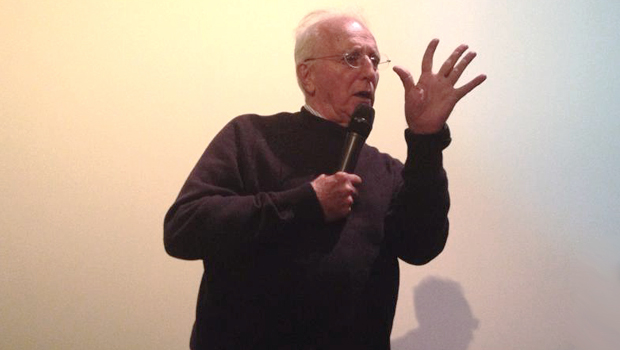 Instruktør Ruggero Deodato fortæller om sin kannibalklassiker Cannibal Holocaust aka Kannibalmassakren
Lørdagen sluttede med Bustillo og Maurys ret så fremragende Among the Living, efter at jeg havde stammet mig sortsnakkende igennem min introduktion af den franske horrorfilm. En genrebevidst sag i slasherland, der ligger et sted imellem de to franskmænds to forrige film, den blodig Inside og den overnaturlige Livid. I Among the Living følger man tre drenge, der får enden på komedie, da de møder en mystisk maskeret mand. Brutal, eventyrlig og tung af horror-stemning.
Om søndagen var der fire film på programmet. Den schweiziske vampyrfilm Chimères samt en 20-års jubilæumsvisning af Ole Bornedals Nattevagten med besøg af instruktøren. Selv så jeg ABCs of Death 2, hvor hvert bogstav i alfabet udgjorde udgangspunktet for filmens 26 indslag fra forskellige instruktører.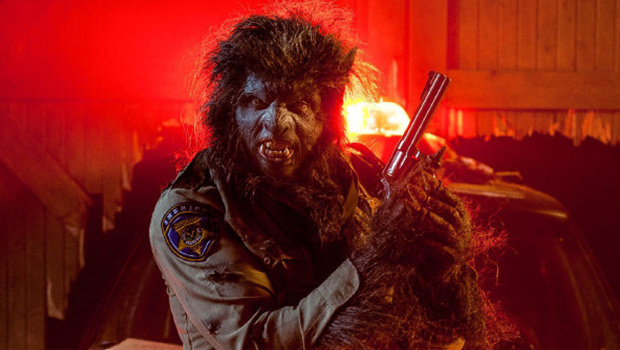 Halvt betjent, halvt varulv – 100% WolfCop
Et opfindsomt, vanvittigt og blodigt kludetæppe af måder, man kan dø på. Niveauet var højere og mindre ujævnt end forgængeren. Så selvom det er mange kortfilm at tage ind på én gang, var det en ret så forrygende og forrygende skizofren oplevelse. Jeg sluttede søndagen af med den fjollede horrorkomedie WolfCop, der er præcis det, du tror den er – en film om en varulvebetjent.
En film, der er nem at elske, men som jeg gerne ville have elsket endnu mere. For selvom folkene bag utvivlsomt har horrorhjertet på rette sted, var filmen ikke lige veloplagt fortalt, mens ikke alle jokes ramte lige godt plet. Men den var præcis sjov nok til at komme i mål – og så var det en fornøjelse med filmens praktiske effekter. Jeg ser bestemt frem til WolfCop 2, der allerede er på vej.

– Besøg Blodig Weekend på deres site her og på Facebook her.
– Læs også om mine filmanbefalinger på Blodig Weekend 2014 her, og første del  her.
– Besøg Filmskribenten på Facebook her.
Programmet for resten af Blodig Weekend 2014:
ONSDAG DEN 1. OKTOBER 2014
21.00 | ENCOUNTERS | CinemaxX KBH
TORSDAG DEN 4. OKTOBER 2014
21:00 | Den officielle Blodig Weekend-fest. Filmen Nightsatan and the Loops of Doom vises og efterfølgende er der koncert med bandet Nightsatan.
FREDAG DEN 3. OKTOBER 2014
19.00 | Sharknado 2: The Second One | CinemaxX KBH
19.00 | These Final Hours | CinemaxX Aarhus
21.00 | Sharknado 2: The Second One | CinemaxX Aarhus
LØRDAG DEN 4. OKTOBER 2014
19.00 | ZOMBEAVERS | CinemaxX Aarhus |
19.00 | THE DEVIL's HAND | CinemaxX Aarhus |
21.30 | Open Windows | Grand Teatret
23.45 | Starry Eyes | Grand Teatret
SØNDAG DEN 5. OKTOBER 2014
17.00 | The Quiet Ones | CinemaxX KBH
17.00 | AUX YEUX DES VIVANTS/AMONG THE LIVING | CinemaxX Aarhus
19.00 | These Final Hours | CinemaxX KBH
19.00 | WHAT WE DO IN THE SHADOWS | CinemaxX Aarhus