Blodig Weekend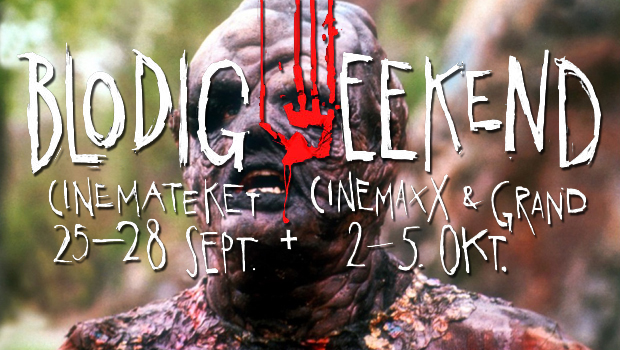 Published on september 27th, 2014 | by Bjarke Friis Kristensen
43
BLODIG WEEKEND 2014: Amish-slasher, besøg af en legende og sjasket giftaffaldsklassiker
Blodig Weekend 2014: Genrefilmsfestivalen Blodig Weekend åbnede i torsdags med verdenspremieren på Christian E. Christiansens nyeste film, den amerikanske amish-og-teen-slasher Devil's Hand. Instruktøren introducerede filmen med en ærlig q&a om blandt andet sin kærlighed til genren og erfaringer med, at Hollywood klipper personligheden ud hans film.
Her i landet er han nok mest kendt for Lev stærkt og Råzone. Nå ja, og det der thriller-flop, vi ikke taler om (host, ID:A). I USA har han dyrket horrorgenren med hans økonomisk succesfulde, men på alle andre måder meget lidt succesfulde gys The Roommate. Med Devil's Hand er han nu hjemvendt med endnu et gys, der heldigvis en langt bedre end The Roommate (ikke at det siger så meget).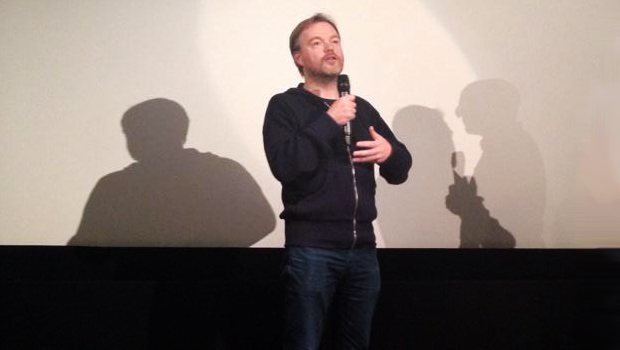 Christian E. Christiansen i q&a før sin amish-slasher Devil's Hand
Men Christian E. Christiansen ved, hvad det er, han laver – nemlig letbenet popcornsunderholdning. Og det leverer denne velpacede, klichéfulde og sine steder fint stemningsfulde gyser, der foregår i et lille Amish-samfund. Her nærmer en profeti sin opfyldelse og hermed djævelens komme, hvilket involverer en flok piger (der alle selvfølgelig er meget pæne). De må derfor forsøge at overleve en mystisk morder, der hærger i det religiøse samfund.
Nej, den er på ingen måde original. Men hul i det. Filmen fungerer nemlig på sine egne, letbenede præmisser og kommer fint i mål som det den er. En middelmådig slasher, der dog ikke er uhyggelig, men bestemt ok underholdende. Her trækker et par groteske – om end ublodige – drab op, sammen med solide præstationer fra blandt andet en olm Colm Meaney som fanatisk præst.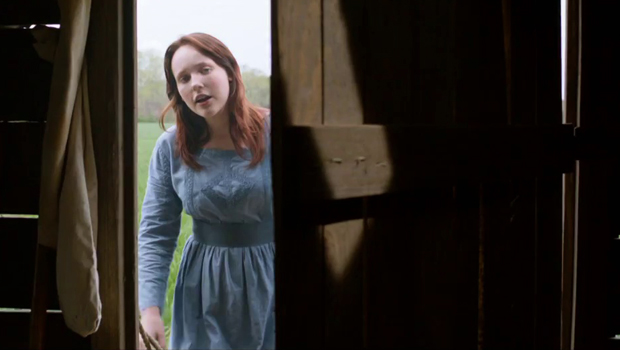 En kysk pige, der helt sikkert dør i Devil's Hand
Modsat torsdagens kun ene visning, var der fem film at kaste sig over om fredagen, plus en live-opførsel af udvalgte scener fra The Toxic Avenger, der ligeledes blev vist på 35 mm om aftenen (fuck yeah). En dag med både home invasion-gys (The Torment), science fiction-action (The Anormaly), varulvegru (Late Phases) og ja, den snaskede klassiker The Toxic Avenger fra 1984.
Jeg fik kun set The Toxic Avenger – et tidligt højdepunkt på festivalen, og et højdepunkt for mig i 2014. For det var selv sagt en fornøjelse at gense 80'er-sjaskeren i en fyldt sal med et engageret publikum, der også kom i audiens hos selveste Lloyld Kaudman. Medstifteren af det berygtede filmselskab Troma, der i snart 40 år har produceret den ene smattede film efter den anden, hvor hans The Toxic Avenger fortsat står som pejlemærket. Det forstår jeg godt.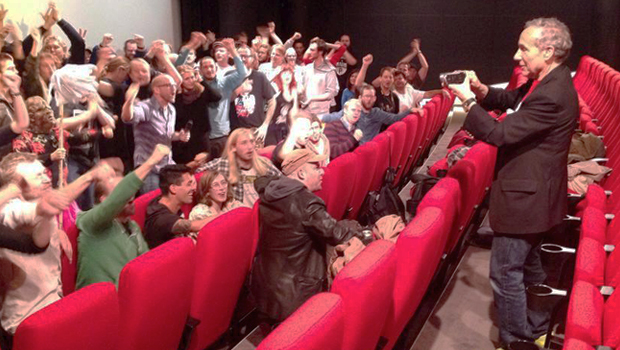 Legenden Lloyld Kaudman filmer og instruerer et tydeligt begejstret publikum før visningen af den forrygende The Toxic Avenger
En forrygende grotesk, snasket og politisk ukorrekt film om en giftaffaldsskabt hævner, der rydder ud i alle slynglerne i det korrupte Tromaville. Legenden Kaufman var veloplagt og som altid i hopla i sin introduktion af filmen og den efterfølgende q&a, der selvfølgelig involverede lumre jokes, men også en ubetinget begejstring for filmmediet. Nå ja, og så fik han den fyldte sal til at danse rundt, så han kunne få skudt materiale til introduktionen på den kommende Blu-ray-udgivelse af The Toxic Avenger 2. I sandhed en legende og en legendarisk aften.
– Besøg Blodig Weekend på deres site her og på Facebook her.
– Læs også om mine filmanbefalinger på Blodig Weekend 2014 her.
– Besøg Filmskribenten på Facebook her.