Anmeldelser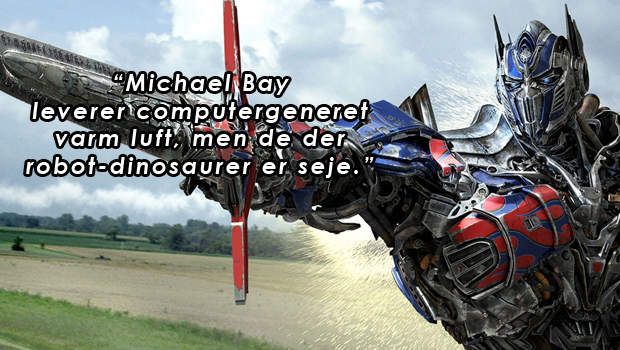 Published on juli 10th, 2014 | by Bjarke Friis Kristensen
1.416
TRANSFORMERS: AGE OF EXTINCTION: Michael Bay slår trættende CGI-prutter i tomgang
Biografanmeldelse: Skal vi virkelig til det igen? Ja, vi skal virkelig til det igen, og nu for fucking fjerde gang. Michael Bay har atter fundet sine største sprængladninger, mest vilde robotter og blankpolerede damer frem med Transformers: Age of Extinction. Til gengæld har han efterladt al form for fortællermæssigt flair og udholdeligt mådehold langt væk fra dette nye kapitel om de enorme maskiner.
En film, der bedst kan beskrives som et enormt irriterende barn, der uden nogen form for fornemmelse for sine omgivelser bare bliver ved at løbe umotiveret rundt, mens han konstant vifter med sine arme og insisterer på, at du skal se på ham. Det bliver du så nødt til at gøre i hele 165 minutter, hvilket selv sagt er alt for lang tid. Det kan filmen ikke bære. Der er simpelthen for lidt udvikling i både plot og karakterer.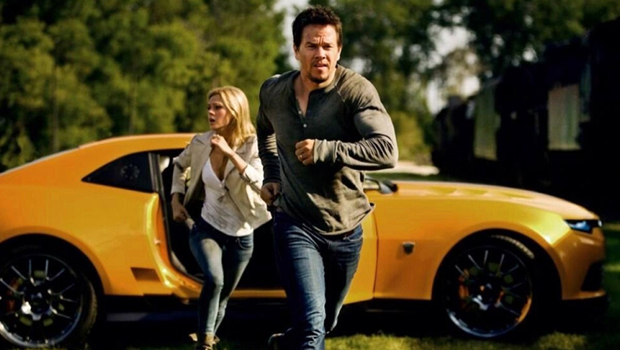 Men nej, det er jo ikke fordi, der ikke sker noget. Michael Bay formår om nogen at smide om sig med ekstravagante scenerier, hurtige biler samt evigt eksplosiv og tyngdekraftfornægtende action. Desværre gøres det med så lidt sans for også at fortælle en historie, der kan engageres mig alle eksplosionerne. Desuden er filmens action desværre ofte mere larmende end egentlig medrivende.
Nu jeg er ved historien, så lad mig hurtigt ridse den op. Ikke at den er så vigtig – det synes den i hvert fald ikke at være for Michael Bay. Nå, kindheste nok. Men altså. De gode Autobots, der kæmpede mode de onde Decepticons i den forrige film, er blevet erklæret fjender af USA. Mark Wahlberg spiller maden på gaden – en godhjertet opfinder – der ender midt i denne dødsensfarlige kamp, hvor det selvfølgelig er menneskehedens overlevelse, der skal sikres.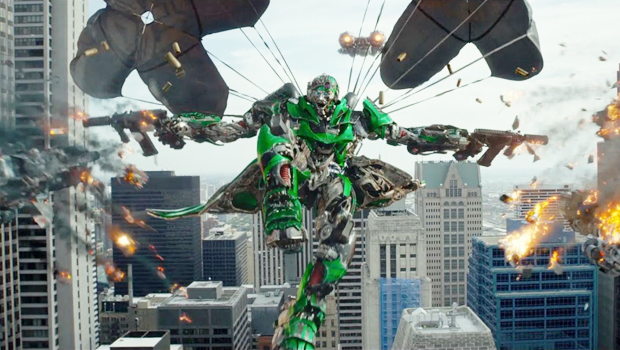 Der er også Dinobots med – ja, Transformers- dinosaurer. De er seje. Det er de mange Transformers også. Det ser lækkert ud, når de forvandler sig fra køretøjer til kæmpende robotter med overdrevne sværd og metalknytnæver, der jorder hinanden til metalskrot, mens bygninger kollapser. Men der er bare alt for meget af det hele – hele tiden. Det hele flyder sammen og trækker ulideligt i langdrag. Nå ja, og filmens "humor" er selvfølgelig stadig ikke sjov, men bare plat og klichéfuld.
Ja, jeg undres til stadighed over, at Michael Bay ikke synes at være blevet bedre til at fortælle en historie, eller at gøre sin action mere dynamisk medrivende. Jeg mangler ikoniske money shots, der lader de vilde kampe få åndehuller og betydning. Jeg mangler, at når en eksplosion går af, eller Mark Wahlberg og co. forsøger at klare skærene, at det betyder noget, i stedet for bare at køre i ét langt trættende gear, der ikke er andet end computergeneret varm luft, der larmer og ikke engagerer.
– Besøg Filmskribenten på Facebook HER. 

Vurdering 2/6: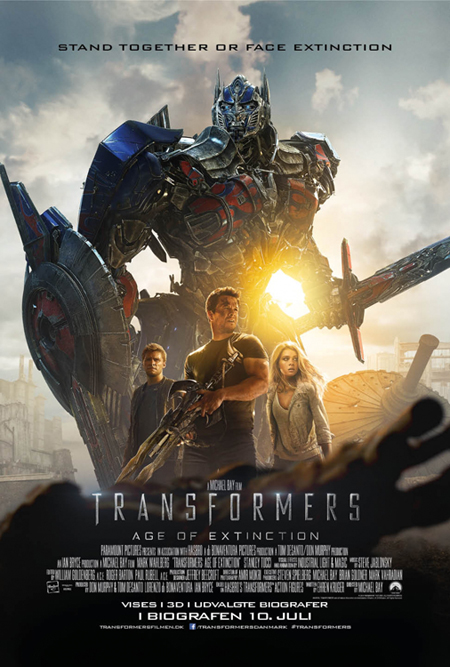 Originaltitel:
Transformers: Age of Extinction
, USA, 2014
Release:
d. 10. juli 2014
Instruktion:
Michael Bay

Medvirkende:
Mark Wahlberg, Nicola Peltz, Jack Reynor, Stanley Tucci m.fl.
Spilletid:
165 min.
Distributør:
UIP