Anmeldelser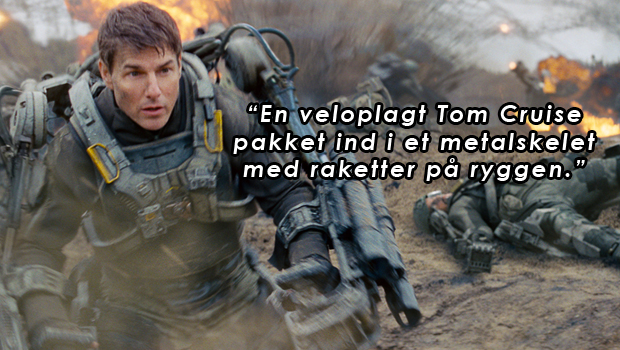 Published on juni 4th, 2014 | by Bjarke Friis Kristensen
94
EDGE OF TOMORROW: Tom Cruise dør igen og igen og igen og igen – og det er han virkelig god til
Biografanmeldelse: Tænk lige over, hvordan det ville være at vågne op til den samme dag igen og igen. Og tænk så lige over, hvis den dag, var en dag, hvor du blev tvunget i krig mod fæle, invaderende rumvæsner, der igen og igen dræbte dig. Det er præcis sådan en dag, Tom Cruise på mystisk vis vågner op til igen og igen i den heftige science fiction-tidssløje-basker Edge of Tomorrow.
Det er kun ekstra nedtur for Tom Cruise, der spiller officeren William Cage, da han normalt blot varetager PR for militæret og derfor aldrig har sat en fod på slagmarken, endsige haft et gevær i hånden – og så kan han ikke tåle synet af blod. Ja, sådan en art krigskujon og tøffelhelt placeret i sit livs mareridt, gang på gang.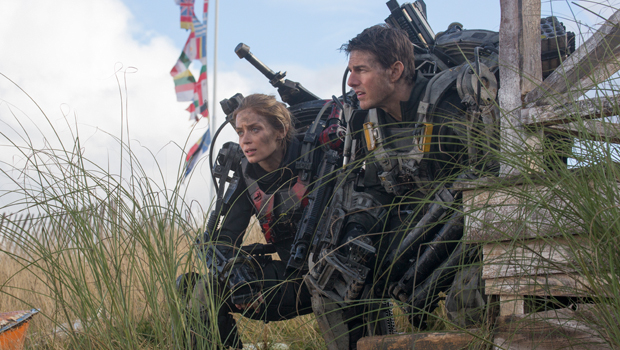 Men for hver gang Cage vågner op til den samme skæbnesvangre dag, begynder han at ane en mulighed for at besejre rumvæsnerne og hermed redde intet mindre end menneskeheden fra undergang – ikke mindst med hjælp fra en den nådesløse soldat Rita Vrataski, en hårdtslående Emily Blunt. Men selvom filmens præmis altså er et tidsloop, bliver historiens repetitive natur aldrig kedelig.
Løjerne forbliver veloplagt leveret fremtidsaction med en fin menneskelig klangbund, der vinder fodfæstne som filmen skrider frem. En art eksplosiv variation af Groundhog Day tilsat Aliens og The Matrix samt mudret krigssmadder og forrygende flot fremtidsaction. Og nej, humoren glemmes ikke, hvor den absurde præmis spiddes vittigt undervejs. Blandt andet veltimede jokes med Tom Cruise, der modvilligt sendes i graven gang på gang.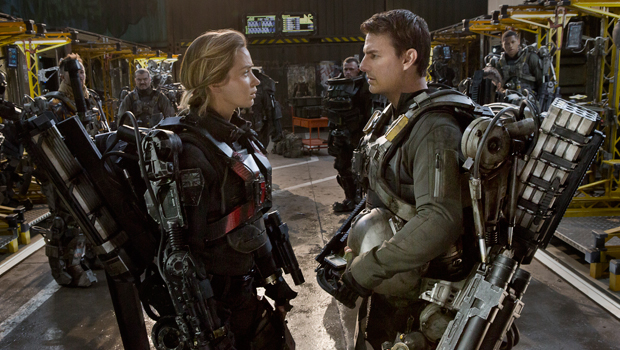 Det er desuden forfriskende at se Tom Cruise i en mere kujonagtig rolle end man er vant til. Som en mand, der for en gangs skyld ikke har styr på tingene. Men ja, han vokser selvfølgelig med opgaven og bliver absolut habil til at håndtere både sit gevær og ikke mindst det store kropsforstærkende kampskelet som soldaterne placeres i.
Men selvfølgelig er en film om en tidsloopende invasion fra rummet ikke uden sine fodfejl. Filmen er dog på trods af historiemæssige ujævnheder og et ikke lige veltuneret tredje akt pokkers medrivende, energisk og heftig fremtidsaction. Hvor tæt filmen så er på sit japanske romanforlæg, ved jeg ikke, men evigt karismatiske Tom Cruise er i hvert fald pakket veloplagt ind i et metalskelet med raketter på ryggen.
– Besøg Filmskribenten på Facebook HER. 

Vurdering 5/6: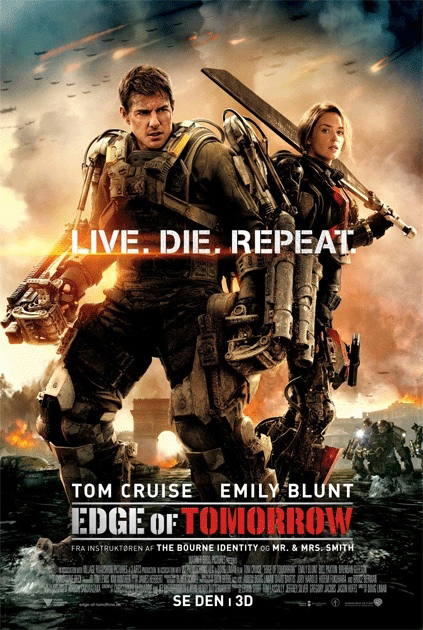 Originaltitel:
Edge of Tormorrow
, USA, 2014
Premiere:
d. 4. juni 2014
Instruktion:
Doug Liman

Medvirkende:
Tom Cruise, Emily Blunt, Bill Paxton, Brendan Gleeson m.fl.
Spilletid:
113 min
Distributør:
SF Film