Anmeldelser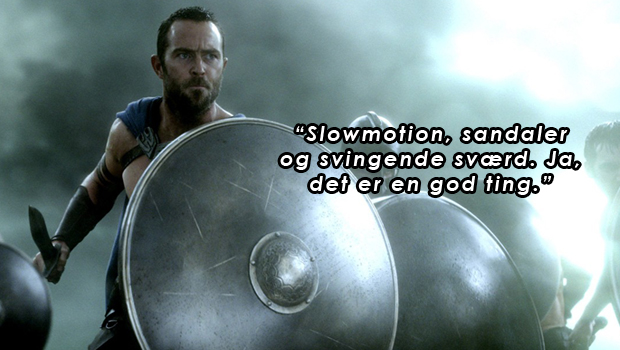 Published on marts 5th, 2014 | by Bjarke Friis Kristensen
97
300: RISE OF AN EMPIRE: Sandaler, sværd og slowmotion er en blodig god kombination
Biografanmeldelse: Det er otte år siden, at Zack Snyder udfoldede sin slowmotion- og computerblodselskende actionfilm 300, hvor krigeriske spartanere viste hvordan en sandal skulle bæres og et sværd svinges. Nu er opfølgeren, 300: Rise of an Empire, klar med mere slowmotion, endnu mere computerblod og endnu flere grækere i sandaler og med svingende sværd. Ja, det er en god ting.
Godt nok er det småt med historie og karaktertegninger – her er det de voluminøse og heftige actionscener, som har den egentlige hovedrolle. Det er helt fint, når nu de er så pokkers medrivende godt skruet sammen. Filmen holder desuden et tempo, der ikke efterlader megen pusterum til kedsomhed – nå ja, eller karakteropbygning. Men man får lige præcis nok indblik i persongalleriet til, at man er med dem, eller imod dem.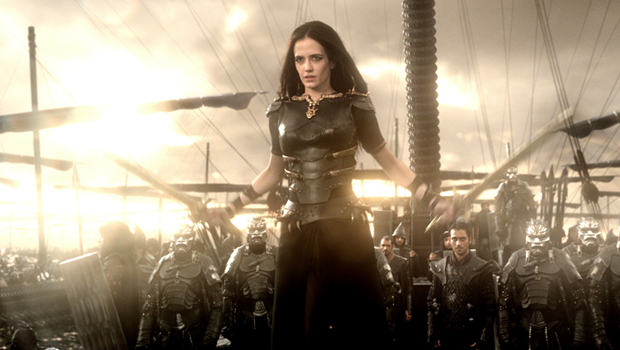 Den athenske general Themistocles forsøger at samle Grækenland ved heroisk og med strategisk snilde at lede sin hær til sejr mod den invaderende persiske hær, der ellers er i klart overtal. Det med gudekongen Xerxes spejdende ud over sine soldater og med den hævntørstige hærførerinde Artemisia krigerisk i front – brutal og uden nåde.
Filmen finder sted omkring 480 f.Kr. og udspiller sig før, under og efter handlingen i første film. Der er dog som forgængeren intet støvet over sandal-strabadserne, som lægger sig flot i tråd med Zack Snyders oprindelige visuelle vision, der som bekendt er baseret på en tegneserie af Frank Miller – manden bag blandt andet Sin City-serien.
Zack Snyder har da også ageret både producer og medforfatter på filmen.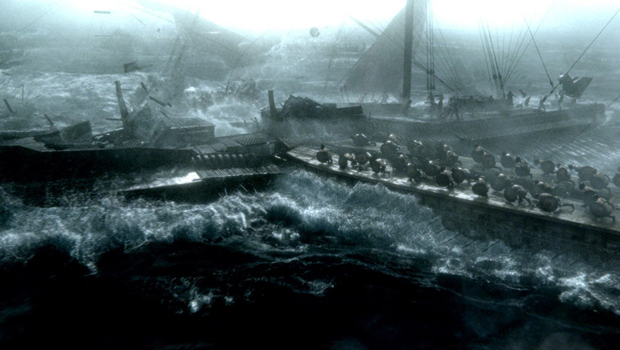 Men selvom det er de storslåede actionscener, der holder filmen flyvende, gør de medvirkende også god figur i det svulstige univers, hvor død, hævn og ære konstant vejrer i vinden. Sullivan Stapleton bærer muskuløst og med heroisk autoritet rollen som Themistocles, mens Eva Green er vibrerende ond, men ikke helt frygtindgydende nok som den nådesløse Artemisia. De to stabler dog et engagerende magtspil på benene, både når kampene raser og når der skal forhandles en til en.
Lena Headey gentager sin rolle fra 300 som Spartas velovervejede dronning Gorgo, mens Rodrigo Santoro er tilbage som Xerxes. Alle karismatiske karakterer, der matcher spektaklet, hvor slagene i stort omfang udspiller sig på det brusende hav, hvor blod, afhuggede lemmer og mægtige skibe hvirvler mod sit publikum i spruttende 3D med slagord om retfærdighed og demokrati i ryggen. Medrivende, storladent og alt for meget. Skønt.
– Besøg Filmskribenten på Facebook HER. 

Vurdering 4/6: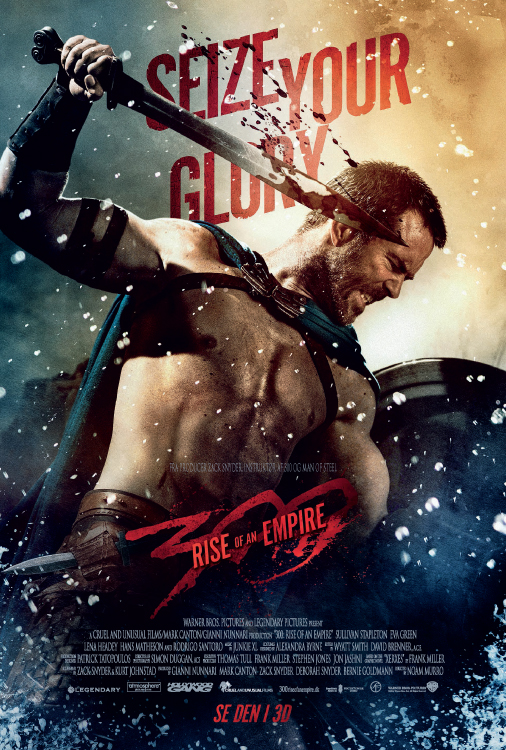 Originaltitel:
300: Rise of an Empire
, USA, 2014
Premiere:
d. 6. marts 2014
Instruktion:
Noam Murro

Medvirkende:
Sullivan Stapleton, Eva Green, Lena Headey, Hans Mathesonm.fl.
Spilletid:
102 min
Distributør:
SF Warner