Anmeldelser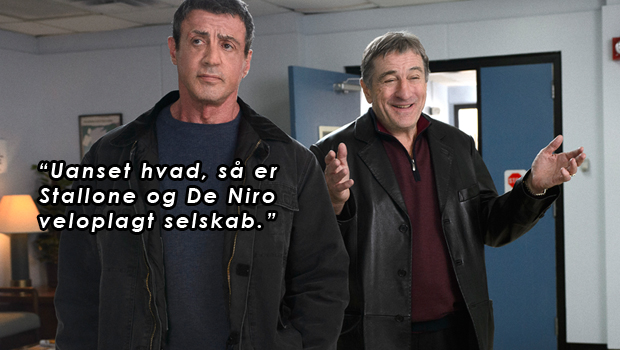 Published on januar 9th, 2014 | by Bjarke Friis Kristensen
120
TILBAGE I RINGEN: Stallone og De Niro slår charmerende huller i luften som aldrende boksere
Biografanmeldelse: For helvede da også, hvorfor pokker har man ikke gjort sig en smule mere umage, når nu man har sat Sylvester Stallone og Robert De Niro stævne – ja, selveste Rocky og The Raging Bull tilbage i ringen. Men okay, helt til hundene er Grudge Match ikke – eller Tilbage i ringen, som er den håbløse danske titel. De to legender har charmen i behold og leverer veloplagt ping pong.
De Niro og Stallone spiller de aldrende bokserivaler, Billy "The Kid" McDonnen og Henry "Razor" Sharp, som siger ja til at tage den revanchekamp, der aldrig blev til noget for 30 år siden. Her tabte The Kid verdensmesterskabet i letsværvægt til Razor, efter selv at have vundet en kamp før det. Der står med andre ord 1-1 – en uafgjort, der nu skal blive til én taber og én vinder. På papiret synes en kvabset De Niro dog ikke just som en værdig modstander til den muskuløse Stallone. Men, men, men…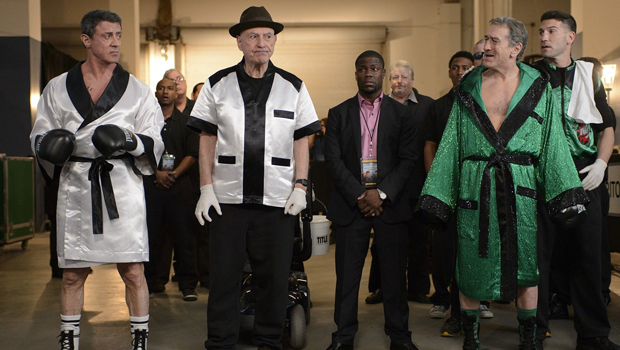 For ja, selvfølgelig er det ikke sådan for et par ældre mænd at få boksehandskerne på igen, end sige at skabe den fornødne opmærksomhed omkring deres kamp. Men de kan begge bruge pengene, hvilket bag den personlige vendetta også er en motivation. Derfor kaster de sig ikke kun ud i hård træning, men også ind i mediemøllen. Det afføder et par absurde og ofte også ret så sjove scener.
Blandt andet da de to iført grøn heldragt skal lægge krop til deres animerede alter egoer i et boksespil. Men selvfølgelig farer de to fjender i flæsket på hinanden – hvilket gælder hele filmen, en legesyg og herligt spydige kamp på både ord og fysik. De Niro som den selvsikre og kvindejagende charmør, der både drikker og spiser løs – hvilket hans korpus også vidner om.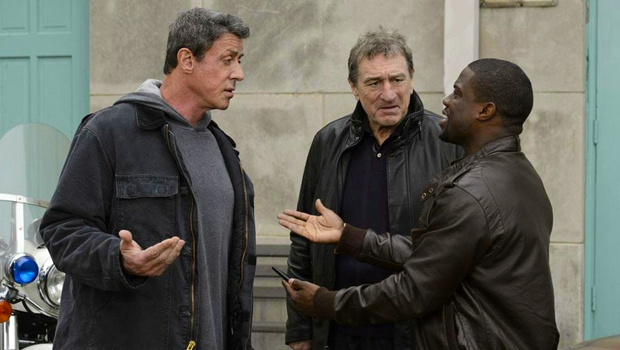 Modsat står Stallone som bredskuldret knudemand med fysikken i orden og et knust hjerte, der dog sidder på rette sted. Han er arbejderen, der slider i det, mens han tager sig af at betale regningerne for sin endnu ældre ven og mentor Louis, en herligt bidsk Alan Arkin. Det er dog fjendskabet mellem The Kid og Razor, der er filmens ubetingede omdrejningspunkt, selvom der da puttes andre dramapiller i suppen.
Blandt andet smides der nogle familiekomplikationer på bordet, mens også forliste forhold og forældreroller forsøger at få tårerne til at trille – hvilket da også næsten lykkedes. Men skidtet bliver en kendte for klægt sentimentalt til for alvor at få oprigtige følelser sat i sving, hvilket en møgirriterende møgunge ikke just hjælper på. Men fuck det, for Stallone og De Niro er godt selskab – vittigt og veloplagt, selvom de desværre ikke helt vinder denne tur tilbage i ringen.
– 'Synes godt om' Filmskribenten på Facebook HER. 

Vurdering 3/6: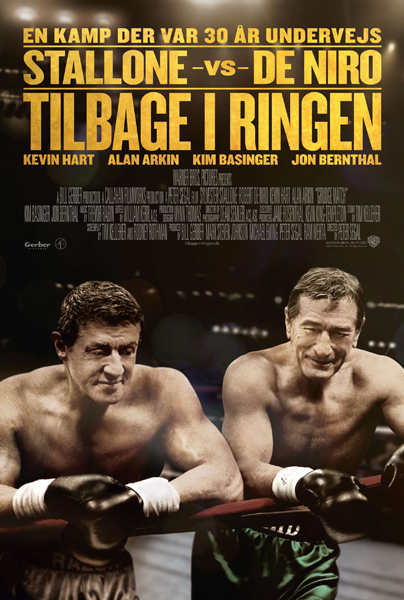 Originaltitel:
Grudge Match
, USA, 2013
Premiere:
d. 9. januar 2014
Instruktion:
Peter Segal

Medvirkende:
Robert De Niro, Sylvester Stallone, Kevin Hart, Alan Arkin, Kim Basinger, Jon Bernthal m.fl.
Spilletid:
113 timer
Distributør:
SF Film