Anmeldelser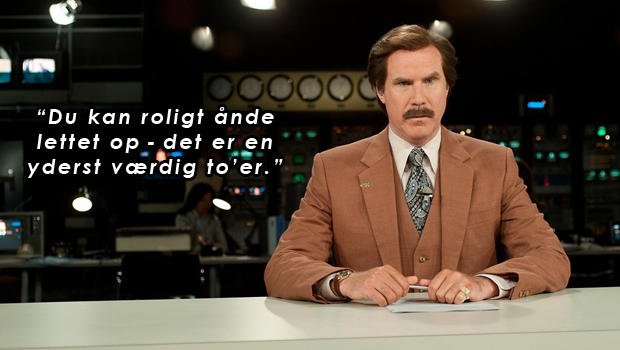 Published on januar 30th, 2014 | by Bjarke Friis Kristensen
38
ANCHORMAN 2: THE LEGEND CONTINUES: Will Ferrell og co. er tilbage i veloplagt absurd to'er
Du kan roligt ånde lettet op, for ja, Anchorman 2: The Legend Continues (eller Anchorman: Fortsat flimmer på skærmen, som den håbløse danske titel lyder), er en yderst værdig opfølger til en af de sjoveste film, du har set – nemlig Anchorman: The Legend of Ron Burgundy fra 2004. Nu er Will Ferrell og co. veloplagt tilbage som de selvsmagende nyhedsværter med store egoer anno 1979.
Ron Burgundy nyder på trods af sin inkompetence fortsat succes som nyhedsvært på tv-stationen i San Diego. Men hammeren falder og han fyres – og ikke nok med det, hans kollega og kone får chefposten. Ron Burgundy forlader i vrede både kone og søn, men tilbydes midt i sin nedtur job på verdens første kanal, der vil sende nyheder døgnet rundt. Han samler derfor sit gamle hold og drager til New York for at generobre tronen som nyhedsværternes konge.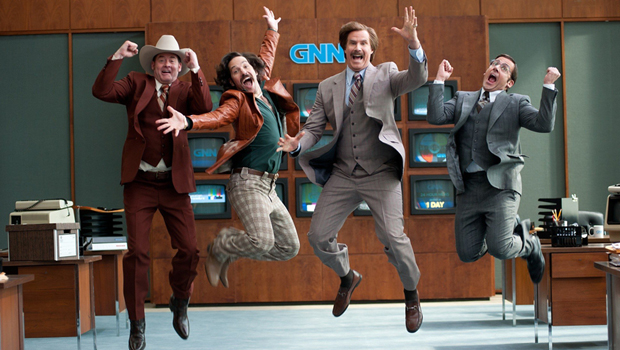 Som sin forgænger er her også tale om en absurd og grotesk komedie, der ikke giver en fuck for, hvor tåbeligt, man har lov at opføre sig, eller hvor langt ude scenarier, man kan sætte de excentriske karakterer i. Her er blandt andet et biluheld i slowmotion, der involverer skorpioner og bowlingkugler, og en scene hvor vejrværten Brick tror, han har mistet sine ben, eftersom han har grønne bukser på foran studiets green screen. Ja, det er tåbeligt, og heldigvis virkelig sjovt.
Men det er en tåbelighed, der kræver komisk talent af rang, og det er præcis, hvad Will Ferrell og co. har. Pokkers god timing, komisk kemi og veloplagt sans for fjollede improvisationer og sort snak. Det får man masse af, og måske også en smule for meget. For selvom alle scener er sjove (mere eller mindre), så kunne man godt have strammet filmen lidt op. Det ændrer dog ikke på, at her er komisk guld på stribe.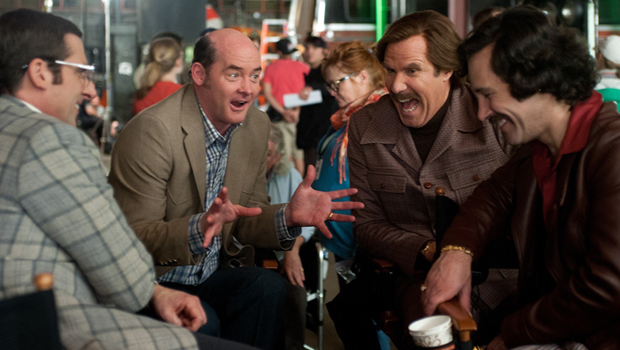 Desuden fungerer fjollerierne også som en spidende satire over mediers tørst efter seertal, hvorfor de vigtige og komplekse historier forbigås. For Ron Burgundy og co. finder nemlig ud af, at luftige og ligegyldige nyheder – der faktisk ikke engang er nyheder – sender seertallene i vejret med raketfart. Du ved, historier om kattekillinger og den slags. Du kan bare se Aftenshowet eller Go' morgen Danmark, hvor du finder samme omgang ligegyldigt lort, der lefler for laveste fællesnævner.
Men ja, selvom filmen måske er en smule for lang for sit eget bedste, skal man på ingen måde underkende, at her er tale om en komedie, der rent faktisk er sjov fra start til slut. Ron Burgundy er fortsat en af Will Ferrells bedste karakterer, Steve Carells blanke Brick er herligt dum og Paul Rudd som kvindebedårer uforbederlig, mens David Koechner blot er alt for meget. Ja, jeg skal nok sidde klar til en tredje omgang.
– 'Synes godt om' Filmskribenten på Facebook HER. 

Vurdering 4/6: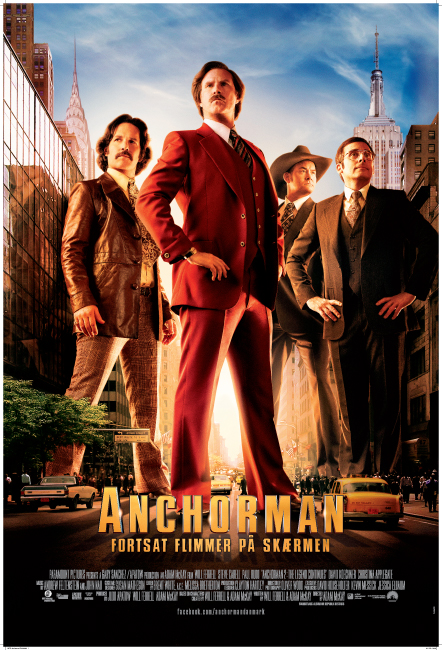 Originaltitel:
Anchorman 2: The Legend Continues
, USA, 2013
Premiere:
d. 30. januar 2014
Instruktion:
Adam McKay

Medvirkende:
Will Ferrell, Steve Carell, Paul Rudd, David Koechner, Christina Applegate m.fl.
Spilletid:
119 min
Distributør:
UIP