Anmeldelser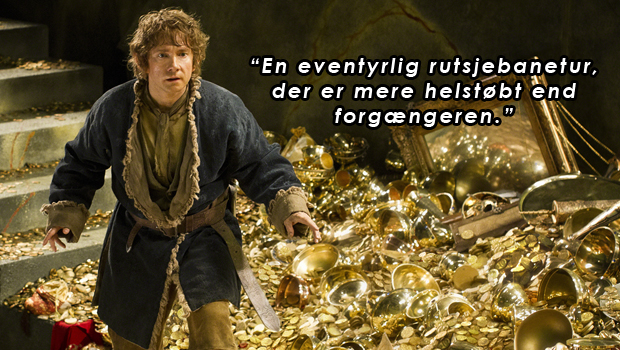 Published on december 10th, 2013 | by Bjarke Friis Kristensen
63
HOBBITTEN: DRAGEN SMAUGS ØDEMARK: Traveturen fortsætter med et forrygende eventyrridt
Biografanmeldelse: Med anden del i Peter Jacksons Hobbitten-trilogi, Hobbitten: Dragen Smaugs ødemark, fortsætter den eventyrlige travetur for hobbitten Bilbo, de tretten dværge og troldmanden Gandalf. Målet er stadig at tilbageerobre det fortabte dværgekongerige fra den frygtindgydende drage Smaug. Ja, ikke så meget pis. Du ved, på med vandrestøvlerne og afsted gennem dunkle skove og over åndeløse bjergrykke med grumme orker i hælene.
Det er på mange måder en mere helstøbt film end den ganske vist underholdende, men også noget ujævne forgænger, Hobbitten: En uventet rejse. Traveturen er mere dynamisk afviklet og bedre grundet i formålet for det umage følges færd – at nå frem til dragen Smaug. Her er ikke scener, der som sådan føles som fyld – nej, ingen dværgesange. Hvert skridt er knyttet naturligt til historiens fremdrift, der desuden holder et medrivende momentum frem mod den storslåede finale.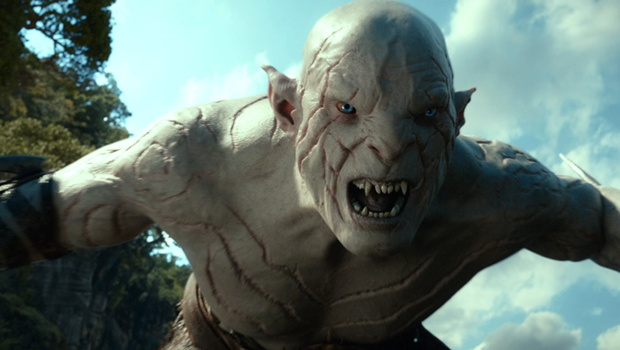 Den ene heftige scene afløser således den anden. Lige fra mødet med væmmelige kæmpeedderkopper til et besøg hos elverfolket og videre til nærkampe med de brutale orker. En eventyrlig rutsjebanetur, der modsat sin forgænger også har en mørkere klangbund. Det klæder rejsen, som her bliver fortsat mere alvorlig jo tættere på det endelige opgør, man kommer. Et mørke, der også sniger sig ind på Bilbo.
For godt er den godmodige hobbit nærmest uskylden selv, men hans renskurede væsen udfordres, da han drages mere og mere af den gådefulde ring, han gemmer i sin lomme. Desuden lægger Bilbo også for alvor passiviteten fra sig og tager således sværdet i egen hånd – bogstavelig talt. Der er altså mere pondus i Bilbo og det gør ham mere interessant at følge, hvilket også er med til at løfte det effekttunge bæst engagerende fremad.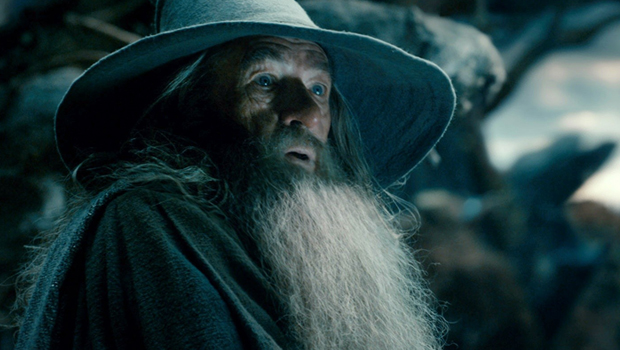 Filmen er dog ikke rig på komplekse karaktertegninger, men de mange medvirkende udfylder bestemt fint deres roller. Fra en altid fremragende Ian McKellen som Gandalf til de kampklare dværge, der ledes an af Richard Armitage som den alvorsfulde Thorin. Desuden er Orlando Bloom tilbage som elveren Legolas, mens Evangeline Lilly ligeledes er en ferm elverkriger. Deres forhold får dog ikke rigtig luft under vingerne, hvilket også gælder en romantisk sidehistorie. Disse en smule uforløste relationer vil der dog nok bliver fulgt op på i det tredje kapitel.
Men filmens fodfejl til trods, er det absolut lykkedes Peter Jackson engagerende at udfolde Tolkiens fascinerende univers – i særdeleshed fordi historien indgår som en naturlig del af de mange ationfyldte scener. Filmens mørke tone er desuden med til at give strabadserne et større fareelement, uden der dog gås all in på død og opsprættede monstre. Der serveres dog sin del af afhuggede orkhoveder og dødsrallende kryb. Heldigvis. Man går med andre ord ikke uforløst fra filmen, selvom her i grunden er tale om en mellemmad inden tredje og sidste del i trilogien.
– 'Synes godt om' Filmskribenten på Facebook HER. 

Filmen får 5/6: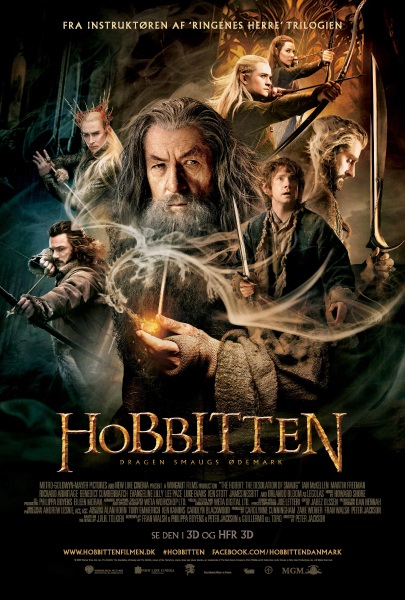 Originaltitel:
The Hobbit: The Desolation of Smaug
, USA | New Zealand, 2013
Premiere:
d. 11. december 2013
Instruktion:
Peter Jackson
Medvirkende:
Martin Freeman, Ian McKellen, Richard Armitage, Orlando Bloom, Evangeline Lilly m.fl.
Spilletid:
161 min.
Distributør:
Nordisk Film