Anmeldelser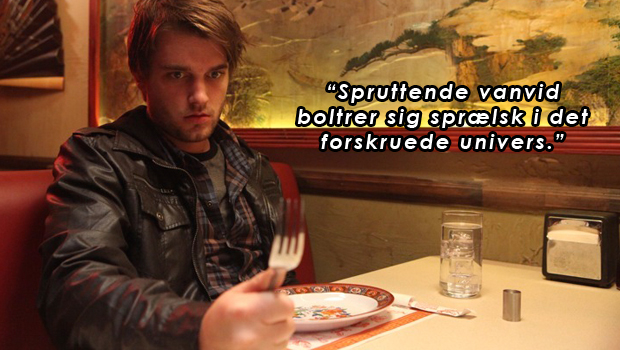 Published on november 27th, 2013 | by Bjarke Friis Kristensen
90
JOHN DIES AT THE END: Syre og spruttende sprælsk vanvidsridt på tværs af dimensioner
Der skrues i den grad op for det spruttende og kulørte vanvid med Don Coscarellis syrede John Dies at the End. Her boltrer det sprælske plot sig legende og veloplagt hele vejen igennem filmens fascinerende og forskruede univers, hvor historien tager sig op til flere både groteske og ikke mindst overraskende drejninger undervejs.
Men hvad handler filmen så egentlig om? Tja, lidt af hvert og en del mere. Men det er noget med et stof, der giver dem, der tager det, evnen til at se ind i fremtiden samt muligheden for at komme i kontakt med andre dimensioner. Vennerne John og Dave prøver stoffet, hvilket sender dem ud på en kringlet rejse, der slår smut med tiden og sender bizarre monstre i deres retning. Så ja, det er sgu bare med at hænge på.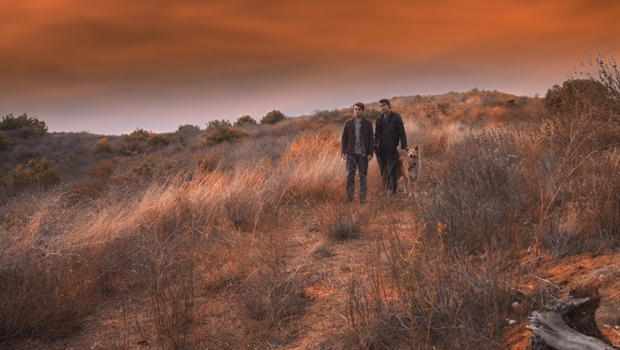 Man må med andre ord selv forsøge at finde meningen, der måske, måske ikke gemmer sig et sted i det herligt udknaldede plot. Eller man kan overgive sig til det medrivende vanvid. For her er intet, hvad det giver sig ud for at være. Og man er mindst lige så forbavset over begivenhedernes gang som de to gutter, der fanges i dette bæst af en film. Det er både skørt, opfindsomt og alt for meget.
Chase Williamson og Rob Mayes er desuden dejligt forvirrede som de to gutter i front, mens Paul Giamatti er skøn som manden, der må se forbavset til fra sidelinjen. Men selvom filmen er pokkers underholdende, mister den en smule momentum undervejs, mens plottet også vælter en tand for meget rundt for sit eget bedste. Det er dog små fodfejl i en film, jeg kun kan anbefale, hvis man har brug for et skud syre – og ja, det har vi alle af og til.
– Filmen, John Dies at the End, 4/6: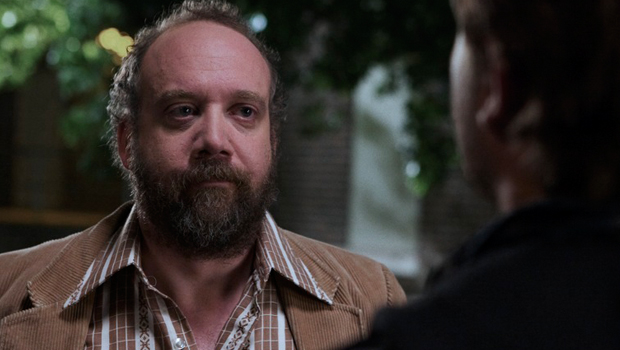 Ekstramateriale, billede og lyd:
Det spruttende vanvid kommer bestemt til sin ret på Bl-ray. Vanviddet står farvemættet, veldefineret og detaljerigt. Lydsporet er ligeledes en fornøjelse med sine dynamiske og klare niveauer, der giver fin plads til alle elementer. Udgivelsens ekstramateriale er desværre ikke ligeså tilfredsstillende.
Her får man en kort og overfladigt making of, hvor cast og crew interviewes (6 min.), mens man også får et kig på skabelsen af et par af filmens monstre (9 min.). Videre finder man optagelser fra gennemlæsninger af manus med skuespillerne, hvilket er kedeligt (7 min.), et fint interview med Paul Giamatti om filmen og arbejdet med Don Coscarelli (10 min.). Slutteligt får man en håndfuld ikke vildt interessante slettede scener (10 min.).
Ekstramateriale 2/6 

| Billede 5/6

| Lyd 5/6

– 'Synes godt om' Filmskribenten på Facebook HER. 

Samlet vurdering af Blu-ray-udgivelsen 4/6: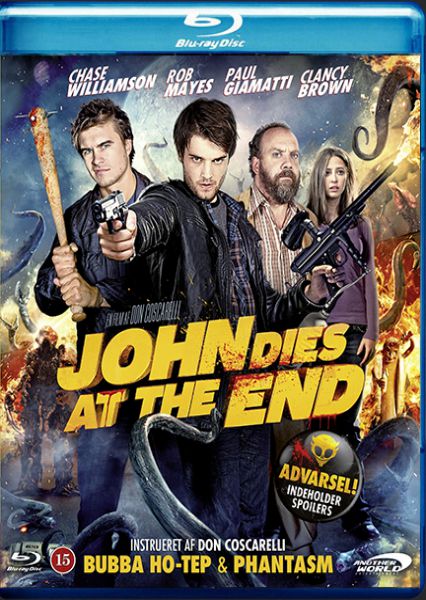 Originaltitel:
John Dies at the End
, USA, 2013
Udgivelse:
d. 7. november 2013
Instruktion:
Don Coscarelli
Medvirkende:
Chase Williamson, Rob Mayes, Paul Giamatti m.fl.
Spilletid:
99 min.
Udgiver:
Another World Entertainmet