Anmeldelser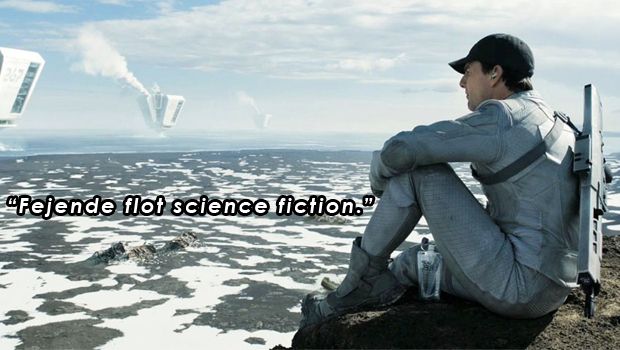 Published on august 28th, 2013 | by Bjarke Friis Kristensen
113
OBLIVION: Tom Cruise og en øde Jord er fejende flot science fiction
Der er noget grundlæggende medrivende ved at følge Tom Cruise suse rundt i sit lille fly oppe blandt bløde skyer og på Jorden, der efter en altødelæggende krig med fremmede væsner nu ligger øde hen. Den post-apokalyptisk science fiction-film Oblivion tager os således med til en mennesketom Jord anno 2077.
For selvom menneskene vandt krigen, blev Jorden ødelagt – befolkningen har derfor bosat sig ude i rummet. Tom Cruise aka Jack Harper er med sin navigatør/kæreste som de eneste mennesker blevet tilbage for at udvinde de sidste ressourcer og holde styr på de patruljerende droner, der vogter Jorden mod de lyssky væsner.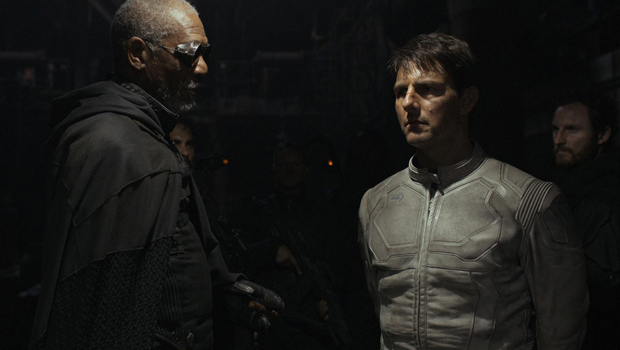 Den ellers fredelige tjans kompliceres imidlertid, da de to opfanger et signal fra et fremmed rumskib – og hvad gemmer der sig egentlig ude blandt ruinerne på den ubeboelige Jord? Der kommer med andre ord også adrenalinfyldt action på banen, mens plottets hemmeligheder optrevles med sikker hånd.
Tom Cruise tilfører de smukt udfoldende scenerier og hæsblæsende flyveture vanlig karisma, mens Andrea Riseborough giver den som behersket og en smule kedelig kæreste. En cool og cigarrygende Morgan Freeman dukker op som leder af en gruppe overlevende på Jorden, som en rå Nikolaj Coster-Waldau også er en del af.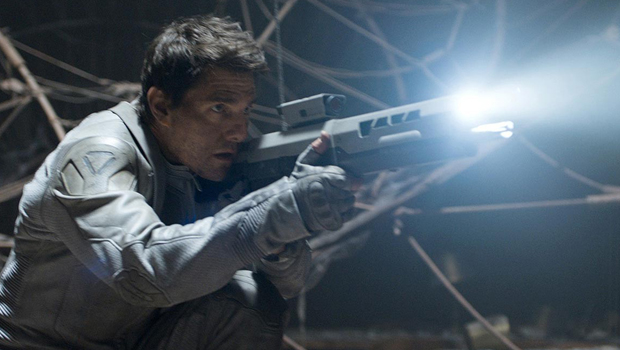 Det er dog Tom Cruise, der er den ubetingede hovedperson. Han tumler også med mystiske minder om en pige – den smukke Olga Kurylenko – men helt ind under huden rent dramatisk kommer man desværre ikke. Hertil står de medvirkende for overfladisk optegnet. Det er den imponerende og fascinerende visuelle side med sine vidtstrakte landskaber og sci fi-udstyr, der for alvor får fortællingen til at fænge.

Oblivion kan altså til tider godt føles mere som en velsmurt Hollywood-maskine, end et drama med menneskelig tyngde og eksistentielle tematikker malet nuanceret op. Ikke desto mindre er historien dragende udfoldet til tonerne af et ofte berusende score. Joseph Kosinski beviser som med debuten TRON: Legacy, at han mestrer det at opbygge universer, men ikke er helt ferm udi at få formidlet det menneskelige drama.
Filmen 4/6: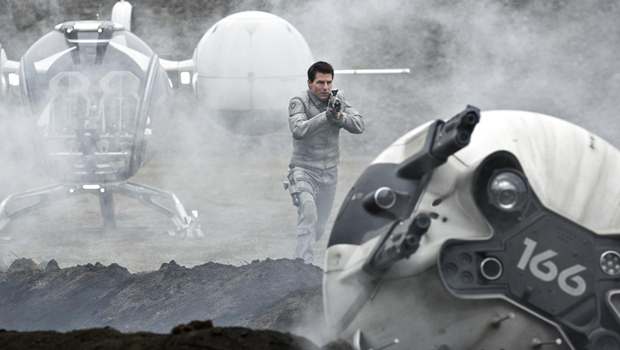 Ekstramateriale, billede og lyd:
Blu-ray udgivelsen er intet mindre en fremragende. Her er ikke noget at udsætte på billedet, der hele vejen står klart, veldefineret og detaljerigt. Lydsporet spiller ligeledes upåklageligt og leverer et både dynamisk og velbalanceret mix, hvor både action, scoret og dialog smukt komplimenterer hinanden. Desuden medfølger et både solidt og interessant ekstramateriale.
Her får man fire slettede scener (4 min.), der giver lidt mere indsigt i universet. Videre er der en femdelt making of (i alt ca. 49 min.), hvor cast og crew informativt giver et indblik i blandt andet production design, det adrætte rumskib, scoret, stunts, action og special effects og så kan man vælge at se filmen med M83s score som eneste lyd. Kommentarsporet med instruktør Joseph Kosinski og Tom Cruise er ok, men ikke vildt ophidsende – de kommer dog på trods af lidt dead air og rygklapperi med fine iagttagelser om filmen og produktionen. Alt i alt et tilfredsstillende ekstramateriale.
Ekstramateriale 4/6 

| Billede 6/6

| Lyd 6/6

– Bliv ven med Filmskribenten på Facebook HER. 

Samlet vurdering: 4/6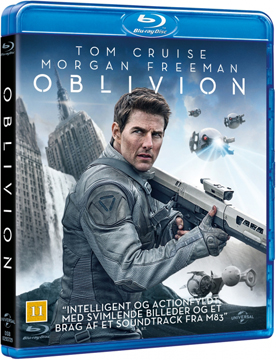 Originaltitel: Oblivion, USA, 2013
Release: d. 20. august 2013
Instruktion: Joseph Kosinski
Medvirkende: Tom Cruise, Morgan Freeman, Andrea Riseborough, Nikolaj Coster-Waldau, Olga Kurylenko m.fl.
Spilletid: 2 timer 5 min.
Udgiver: Universal Home Entertainment