Anmeldelser
Published on august 14th, 2013 | by Bjarke Friis Kristensen
124
ELYSIUM: Matt Damon på hæsblæsende og fascinerende science fiction-ridt
Der lukkes op for godteposen af fremtidslir, heftig action og medrivende scenerier i Neill Blomkamps dystopiske science fiction-basker Elysium. Her tegnes skellet mellem rig og fattig skarpt op, mens en desperat Matt Damon iført kropsforstærkende metalskelet forsøger at klare ærterne i en fremtid, der ikke just tegner lovende for menneskeheden – med mindre man altså er stenrig.
Året er 2154 og Jorden er forpestet af sygdom, fattigdom, forurening og general elendighed. De rigeste har derfor bosat sig på en enorm rumstation, Elysium, hvor alt ånder fred og ro – luften er ren og sygdomme kurreres med et snuptag. Uheldige omstændigheder gør, at arbejderen Max må forsøge den farlige rejse mod Elysium for at redde sig selv, sine nærmeste og gøre op med det forskruede klasseskel.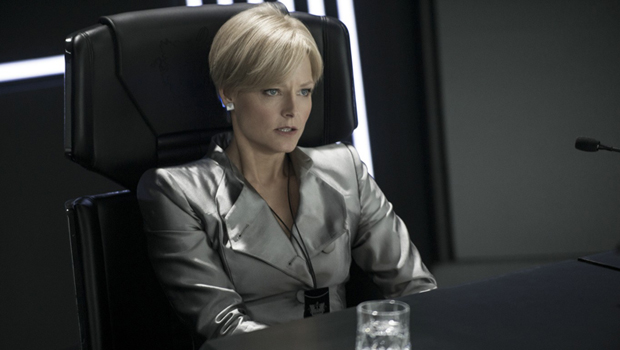 Ja, tematikken er tegnet sort/hvidt op – de rige er onde, kolde og kyniske, mens de fattige på Jorden overvejende er gode. Men selvom man godt kunne savne lidt flere tematiske nuancer og satirisk spidsfindighed, ændrer det ikke på, at filmens fascinerende univers fejede benene væk under mig. Det er på en gang legesygt, opfindsomt og over the top, hvor et par teknologiske giraffer da også lige skal sluges.
Det bombastiske plot afvikles ganske vist til tider en kende hurtigt og der smides også et par lette løsninger ind fra højre. Det ændrer dog ikke på, at det hele vejen er medrivende at følge Damons møde med både vilde skududvekslinger, sejlivede robotter og påmonteringen af metalskelettet. Så hul i at løjerne momentvis bliver en kende sentimentale, for her får man splattet eksploderende kroppe som modvægt.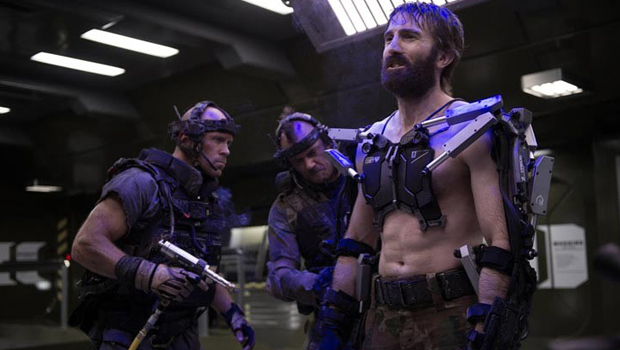 Jodie Foster er herligt stram i masken som Elysiums hårde forsvarsminister, der skal sikre deres paradis i himlen mod de fattiges indtrængen, mens William Fichtner i en skøn, slesk birolle som brutal boss lige understreger præcis hvor kyniske de rige er. Sharlto Copley er en skånselsløs agent, der uden skrupler og med et samuraisværd i hånden agerer Forsters håndlanger og Damons plageånd. Selvom han ikke hele vejen er helt troværdig som 'ond-ind-til-benet-skurk', vinder han i længden.
Blomkamp har med andre ord fulgt sin fremragende spillefilmsdebut District 9 op med et heftigt, flot og fascinerende fremtidsridt, der med vilde guns og onde robotter overvinder sine fortællemæssige ujævnheder og noget sort/hvide karakterer, hvor blandt andet et mere nuanceret indblik i Elysiums beboere kunne have givet tematikkerne lidt mere kant. Men Damon er virkelig god og giver menneskelig tyngde og dynamik til både action og gadget-fascination. 

Vurdering 5/6: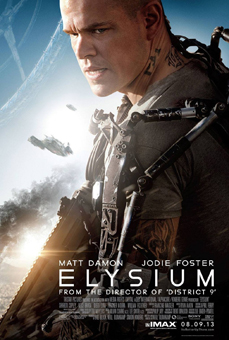 Originaltitel:
Elysium
, USA I Frankrig I Canada, 2013
Premiere:
d. 15. august 2013
Instruktion:
Neill Blomkamp
Medvirkende:
Matt Damon, Jodie Foster, Sharlto Copley m.fl.
Spilletid:
1 time 56 min.
Distributør:
UIP