Anmeldelser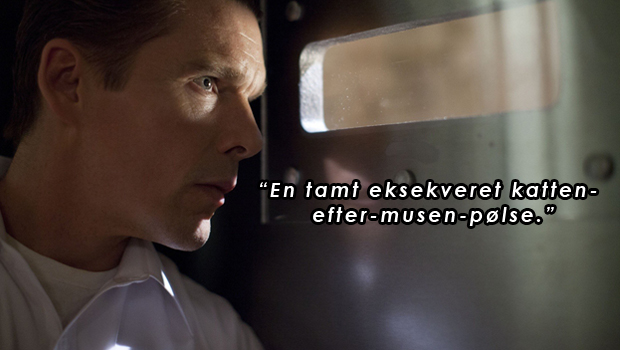 Published on juli 17th, 2013 | by Bjarke Friis Kristensen
112
THE PURGE: Ethan Hawke kan ikke stille meget op med tam thriller
Året er 2022 og USA har efter en voldsom krise fundet løsningen på arbejdsløshed og kriminalitet. For i 12 timer én gang om året er alt lovligt – inklusiv mord. Denne ene nat virker altså som ventil for samfundet, der således giver afløb for hadet og volden, hvilket har fået USA på fode igen. Vi følger i The Purge således en rig familie i disse farlige timer i deres topsikrede hus, der selvfølgelig ikke er så topsikkert alligevel.
Så mens nogle går amok, forskanser andre sig. Ja, lad lige denne præmis fise ind. Nej vel, den er lidt svær at sluge. Filmen forsøger ellers at give konceptet lidt troværdig tyngde ved at lade eksperter på tv udtale sig om denne kaotiske nat af katarsis. Men rent faktisk bliver den ekstreme præmis aldrig for alvor udforsket. Hverken de politiske kvæk om økonomi og samfundslag eller tematikker som vold, menneskelighed og overlevelse bliver udforsket nævneværdigt.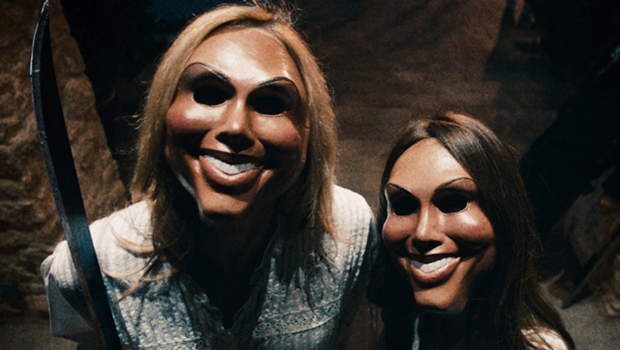 De mere komplekse aspekter af filmens præmis forbigås altså, mens man i stedet får en rendyrket home invasion-film – desværre fungerer The Purge heller ikke på det plan. For hvor andre film i denne subgenre, så som Straw Dogs, Funny Games og Panic Room, har leveret nervepirrende klaustrofobi, adrenalinfyldt vold og intens spænding, må man her kigge langt efter noget, der bare kunne minde om et par svedige håndflader.
Til gengæld er der rigeligt med plothuller og et cast, der opfører sig mere eller mindre dumt. Ethan Hawke får dog som den beskyttende familiefar aktiveret en smule engagement i det dystre foretagende, hvor alt kører af sporet for hans familie, der ellers har forskanset sig efter alle kunstens regler. For datterens kæreste har gemt sig i huset og konfronterer efter aflåsningen farmand, mens sønniken med mistænkelig lethed får afsikret huset og lukket en hjemløs mand ind.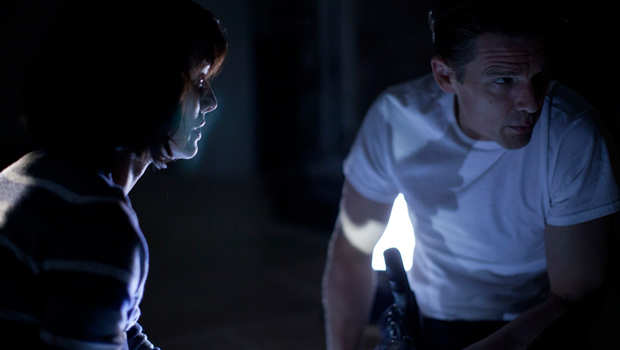 Løjerne optrappes yderlige, da en flok maskeklædte unge banker på med pistoler, macheter i hånden og rigeligt af overspil. Den hjemløse mand var nemlig deres bytte og åbenbart eneste mulighed for deres udrenselse – så hvis ikke han udleveres, vil de bryde ind og myrde hele familien. De bryder selvfølgelig ind og så står den ellers på en tamt eksekveret katten-efter-musen-pølse.
The Purge har altså ikke mange trumfkort i hånden – hverken som en dyster og tankevækkende fremtidsvision, som medrivende home invasion-thriller eller som blodig exploitation. Og nej, det forudsigelige twist i filmens finale redder altså ikke filmen på målstregen, der dog trods alt nås efter små 85 minutter.
– Bliv ven med Filmskribenten på Facebook her.
Vurdering 2/6: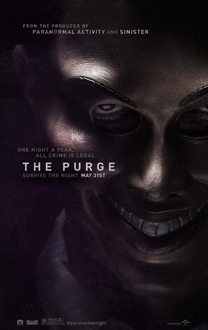 Originaltitel: The Purge, USA, 2013
Premiere: d. 18. juli 2013
Instruktion: James DeMonaco
Medvirkende: Ethan Hawke, Lena Headey, Max Burkholder m.fl.
Spilletid: 85 min.
Distributør: UIP