Anmeldelser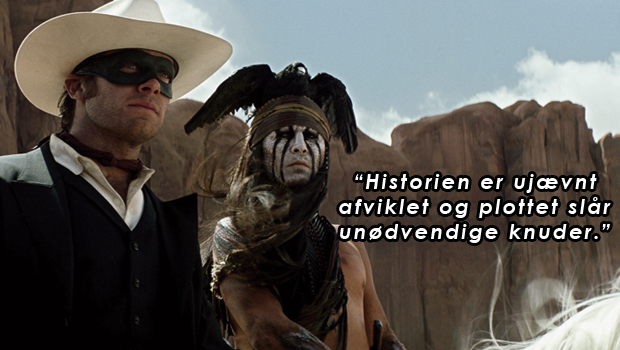 Published on juli 3rd, 2013 | by Bjarke Friis Kristensen
1.234
THE LONE RANGER: Johnny Depp med en fugl på hovedet og en sløv cowboyhelt mangler et spark bagi
Det kan godt være, at titlen er The Lone Ranger, men den egentlig hovedperson er Johnny Depp som den excentriske indianer Tonto – komplet med fugl på hovedet og krigsmaling. Der er i hvert fald hverken meget handlekraft eller karismatisk helt at hente hos Armie Hammer som den maskebærende ranger i Gore Verbinskis flotte, men også ujævne, for lange og halvkedelige rabalderwestern.
Men nej, Tonto er som bekendt ikke alene om at klare ærterne, når de onde og grådige skurke skal stoppes. Så med hjælp fra ånderne pejles han i retning af den sky advokat John Reid, der mod all odds skal blive den retskafne cowboyhelt. Filmen er således også fortællingen om en helts umage tilblivelse – for godt nok har han hjertet på rette sted og en høj retfærdighedssans, men modet er til at overse.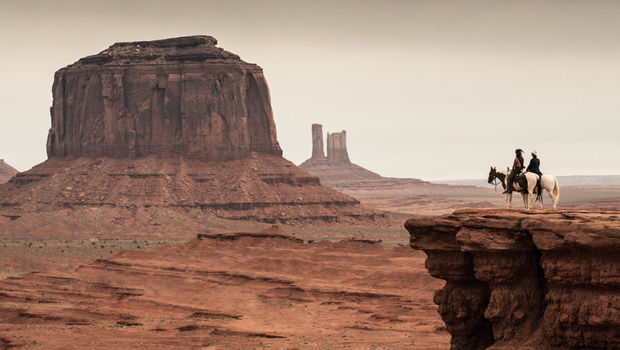 Der går desuden (virkelig) lang tid, før The Lone Ranger træder i karakter – og når det endelig sker, har han desværre ikke den forventelig pondus. Sidekicket Tonto har allerede stjålet rampelyset sammen med William Fichtner, der som den ubehagelige skurk Butch Cavendish har hang til at spise sine ofre – han er mere mindeværdig end filmen desværre giver ham plads til at være.
Men det er ikke kun Cavendish, der ikke helt kommer til sin ret – også Helena Bonham Carter som bestemt bordelmutter samt Ruth Wilson som John Reids flamme forbliver overfladiske brikker i et manuskript, der aldrig rigtigt finder rytmen og en medrivende balance mellem karakterudvikling og de logikfortrængende actionscener.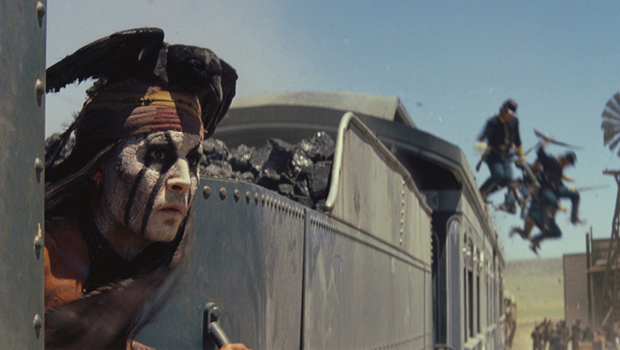 For selvom Verbinski viser en vis tæft udi skuddueller og løbske lokomotiver, så er leddene, der udgør bindeled mellem actioneskapaderne ikke vildt engagerende. Historien er ujævnt afviklet og plottet slår unødvendige knuder. Desuden synes det også overflødigt at filmen bindes op på en rammefortælling, hvor en ældgammel Tonto i flashback fortæller historien til en lille knægt.
Desuden er hverken Reid eller Tonto specielt interessante. Ja, Hammer er flot og firskåret, men fladt optegnet, mens Depp mest minder om en mindre snakkesalig Jack Sparrow – ja, Verbinski er som bekendt også manden bag et par Pirates-film. Lone Ranger-karakteren så dagens lys i 1933, men dette forsøg på at bringe helten tilbage er kun delvist vellykket. Man kan håbe, at opfølgeren har bedre held med at balance den umage duo med action og humor, når nu de to er blevet etableret. 

Vurdering 3/6: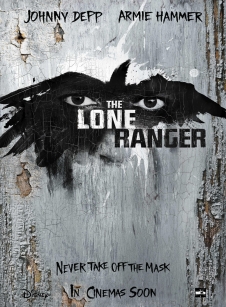 Originaltitel: The Lone Ranger, USA, 2013
Premiere: d. 3. juli 2013
Instruktion: Gore Verbinski
Medvirkende: Johnny Depp, Armie Hammer, William Fichtner, Helena Bonham Carter, Tim Wilkinson m.fl.
Spilletid: 150 min.
Distributør: Disney