Anmeldelser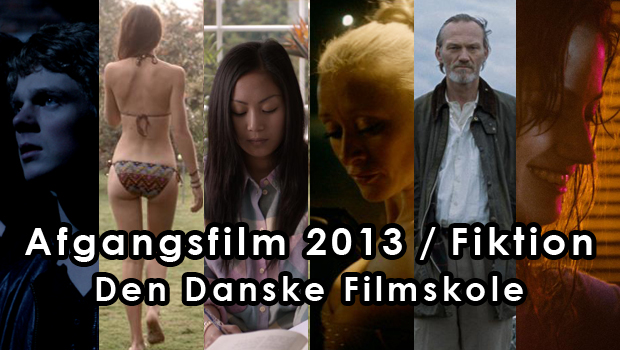 Published on juni 19th, 2013 | by Bjarke Friis Kristensen
1.330
AFGANGSFILM 2013 / FIKTION: Nyt kuld fra filmskolen vælger den sikre vej
En ny årgang er netop udklækket fra Den Danske Filmskole – og dermed også en flok filmskabere, man forhåbentlig vil stifte bekendtskab med på den danske filmscene i fremtiden. Jeg har set de seks afgangsfilm indenfor fiktion, hvor man præsenteres for både stilsikre og velfortalte 30 minutters kortfilm – men det er også film uden de store overraskelser. Det er historier, man har set før, hvor der kredses om temaer som familie, tilhørsforhold og ensomhed.
Men selvom der spilles med sikre kort, kan man ikke tage fra filmene, at de fungerer godt som små afsluttede fortællinger, der desuden alle er hårdværksmæssigt stærke – ja, de ser flotte ud og lyder godt. Men de uforudsigelige bump på vejen er det desværre småt med. Professionalismen brænder igennem, men modet til at teste mediet og fortællingens rammer af er svær at få øje på.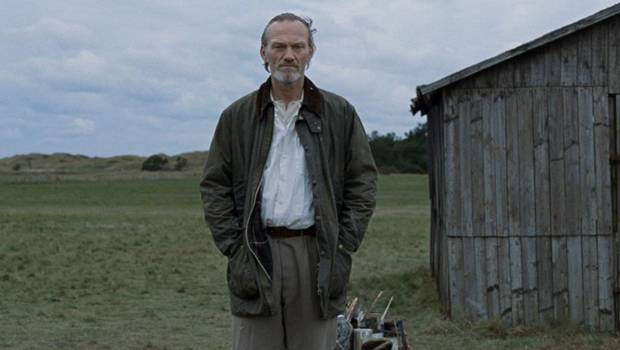 En maler (instr. Hlynur Pàlmason)
I Hlynur Pàlmasons En maler mere end titter noget af den vildskab og det vanvid frem, der ellers mest glimrer ved sit fravær på årgangen. Her drejes en fandenivoldsk fortælling om en selvoptaget maler, der i pagt med naturen skaber sin kunst, men som samtidig er endt op med at skubbe alle fra sig. Men da en af hans sønner tropper op, konfronteres han med sin egen utilstrækkelighed – både som far, men også som et menneske, der har svært ved at bevare en vedvarende relation til andre end sig selv.
Det er fortalt med skarp sort humor, hvor den egocentriske kunstner i skikkelse af en ilter Ingvar Eggert Sigurðsson spiddes med både vid og dramatisk flair. Og selvom Paul Thomas Anderson og især hans There Will Be Blood mere end spøger i kulissen, hvilket den til tider minimalistisk skramlede lydside vidner om samt den ensomme hovedkarakters slidsomme kamp med sig selv og elementerne, er det en film med personlighed og råstyrke, hvilket de betagende billederne fotograferet med poetisk tæft af Maria von Hausswolff blot understreger.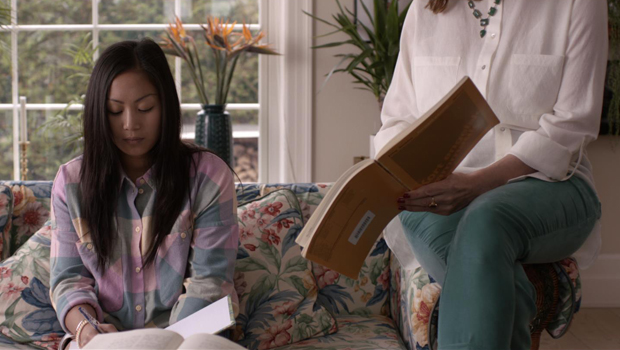 The Association of Joy, (instr. Amanda Kernell)
Humor er også et vigtigt element i Amanda Kernells satiriske The Association of Joy, hvor danskernes trang til at købe sig fri af dårlig samvittighed med sponsorbørn og et medlemskab i Børnefonden tages et skridt videre. Det barnløse overklassepar Charlotte og Mads får her fløjet den thailandske teenager Joy til Danmark, hvor hun skal indgå i Charlottes uddannelsesprojekt, der dog nok mest af alt er et forsøg på at udfylde det tomrum og den ensomhed, der runger i det velindrettede hjem.
Der er således lagt op til et skævt kultursammenstød og en hudfletning af overfladisk, dansk næstekærlighed. Scenariet afføder da også flere absurde og morsomme scener, hvor særligt Ida Dwinger med deadpan-gestik får udstillet den hult klingende godhed. Humoren fungerer altså ofte fint, men satiren og karaktererne forbliver noget unuancerede, hvilket gør det svært for rigtige følelser og fornemmelsen af andet end karikaturer at trænge igennem og give tyngde til satiren og den i grunden alvorlige og relevante tematik.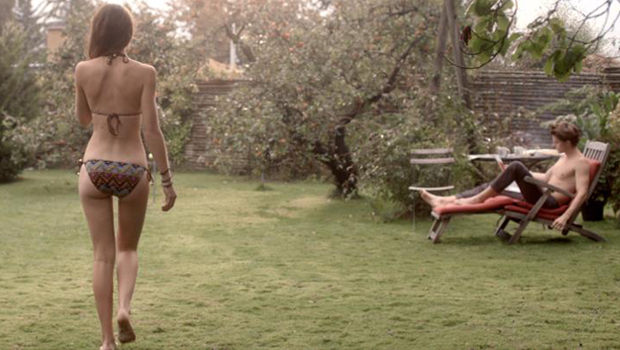 Spidse albuer, blødende knæ (instr. Karoline Lyngbyes)
Så kommer man i instruktør Karoline Lyngbyes Spidse albuer, blødende knæ noget bedre ind på livet af den 15-årige Julie, der tumler med sine forældres skilsmisse samt gængse teenagekvaler – ja, blandt andet den klassiske 'ikke rigtigt voksen, ikke rigtigt barn'-problematik. Og da hendes storesøster planlægger at rejse til England med sin kæreste, kommer der for alvor røre i parcelhuset. Julie har nemlig ikke sådan tænkt sig at lade sin søster rejse væk – som også hendes far forlod familien – så hun forsøger med sin Lolita-list at komme ind på livet af søsterens kæreste.
Det lykkedes på indtagende vis at skildre en frustreret teenager – ikke mindst takket være Coco Hjardemaal i hovedrollen. Hun rummer som Julie både uskyldigheden og naiviteten, men er samtidig beregnende og selvbevidst. Filmen er desuden fornemt fotograferet af Lis Dyre, der giver forstadsmiljøet en sart poesi, det uden at give afkald på virkeligheden. Så selvom et par af filmens dramatiske højdepunkter ikke kommer helt troværdigt i mål, er her tale om en velafstemt fortælling med et godt greb om en teenagepiges kvaler.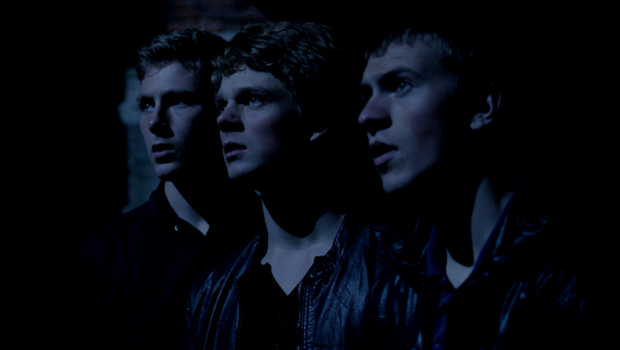 Flokken (instr. Klas Marklund)
Ungdommen og dens dramatisk potente materiale er også i centrum med Klas Marklund Flokken. Her gælder det dynamikken og hierarkiet hos en gruppe unge drenge. Her får outsideren Lasse en invitation ind i varmen hos de seje drenge (ja, det er dem med læderjakkerne) efter at han har brilleret på fodboldbanen. Men selvfølgelig er sådan en optagelse ikke uden problemer – og da slet ikke, når man som Lasse har et godt øje til alfahanens pige (ja, blondinen med det søde smil). Således venter den obligatoriske manddomsprøve og nævekamp.
Det er stramt fortalt og med et fint øje for både den selvtillid og usikkerhed sådan en flok drenge rummer – men det er også et noget klichéfyldt billede, der tegnes. Drenge spiller fodbold, har Rambo-plakater på værelset og de seje går med læderjakke. Men som fortælling fungerer filmen, blandt andet i sin skildring af det stammelignende sammenhold i omklædningsrummet. Sonny Lindberg er troværdig og konstant på vagt i rollen som Lasse, mens et rituelt opgør i filmens afsluttende højdepunkt tilføjer det ellers forudsigelige drengedrama en nærmest mytologisk kant.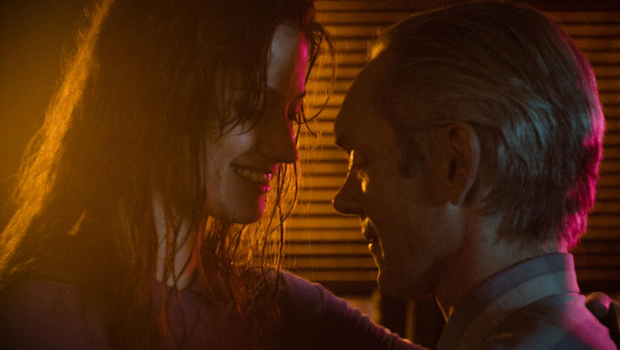 Oasen (instr. Carl Marott)
Med Carl Marotts genrebevidste Oasen er vi langt fra drengenes omklædningsrum, men løftes her ind i et helstøbt univers af neon og regnvejr på et lille snusket motel. Her ender den formælte Tom med den smukke Laura og hendes ubehøvlede kæreste efter at have hjulpet dem med deres benzintomme bil. Således er et trekantsdrama på et lurvet motel er sat i spil. Historien fortælles fermt og med et godt greb om sine virkemidler – fra akavet humor, over naiv romance til pulserende thriller. Fornemt.
Jens Andersen bærer den nervøse Tom med både medlidenhed og medynk på sine spinkle skuldre, mens Laura i skikkelse af Danica Curcic bløder op på filmens til tider manglende logik med sin varme og smittende nærvær. Mellem de to opstår ægte og helt rørende kemi, blandt andet i en fin dansescene – mens der med filmens dramatiske og genremæssige kovending halvvejs stables oprigtig spænding på benene og det lækre synthscore forfører på lydsiden.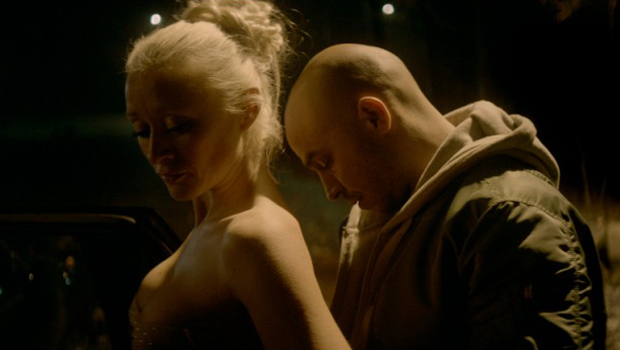 Escort (instr. Jonas Grum)
Mindre nervepirrende er Jonas Grums 'manden-der-falder-for-luderen'-dramaet Escort. Vi er dog langt fra Pretty Woman, når man her kommer med ind i escort-chaufføren Alex' bil, hvor Lulu fragtes fra den ene mand til anden. Men forholdet mellem de to udvikler sig til mere end at være rent professionelt. Det er således forholdet mellem de to ensomme sjæle, der er filmens omdrejningspunkt.
Dar Salim og Maria Erwolter udfylder for så vidt fint de to hovedroller, men forholdet mellem dem bliver ikke udviklet nok og sender hermed også noget af troværdigheden til tælling undervejs. Man savner mere nuancerede persontegninger, men i glimt øjnes der rigtige følelser mellem de to. Desværre er de ikke videre interessante karakterer og engagementet i filmen bliver også derefter.
Den Danske Filmskoles afgangsfilm 2013 / fiktion:
En maler (instr. Hlymur Pálmason) 4/6:


The Association of Joy (instr. Amanda Kernell) 3/6:


Spidse albuer, blødende knæ (instr. Karoline Lyngbye) 4/6:


Flokken (instr. Klas Marklund) 3/6:


Oasen (instr. Carl Marott) 4/6:


Escort (instr. Jonas Grum) 3/6:

– Besøg filmene her og på Facebook her.
– Bestil din billet til visninger i Dagmar her.
– Bliv ven med Filmskribenten på Facebook her.