Anmeldelser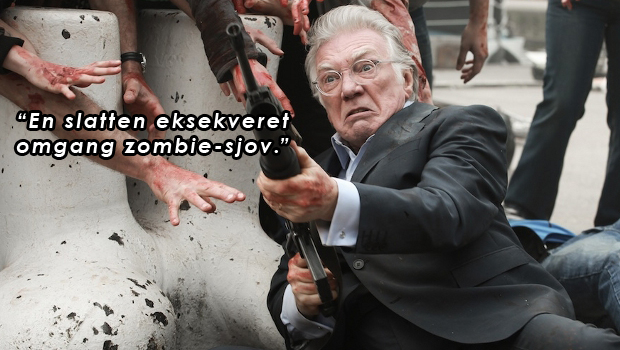 Published on maj 19th, 2013 | by Bjarke Friis Kristensen
97
COCKNEYS VS ZOMBIES: Tumper, pensionister og levende døde
Jeg er vild med zombier, så egentlig burde zombie-komedien Cockneys vs Zombies være lige noget for mig. For ja, der skal ikke så meget andet end levende døde til for at gøre mig i godt humør. Jeg er let på den måde. Men desværre forbliver de blodige løjer en slatten eksekveret omgang zombie-sjov.
Vi befinder os i Londons East End, hvor de mere eller mindre tumpede brødre Andy og Terry beslutter sig for at røve en bank, så de kan redde deres farfars plejehjem. Men midt i kuppet bryder zombie-apokalypsen ud og snart må brødrene, deres crew samt farfaren og de andre pensionister forsøge at overleve zombierne.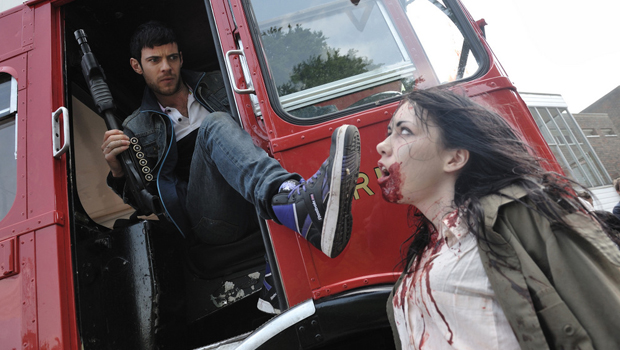 Ja, lige til og uden så meget pis. Desværre mangler løjerne den nødvendige komiske timing, opfindsomme kills og mindeværdige karakterer. Der forsøges ellers ivrigt pirret til både lattermuskler og ens indre gore hound med sorthumoristiske og blodige optrin – så som et spark til en zombie-baby, så den flyver gennem luften.
Filmens humor rammer bare alt for sjældent plet og hev på det nærmeste ingen grin ud mig. Det ellers oplagte komiske sammenstød mellem pensionister med maskinpistoler og stavrende kadavere afføder ikke meget mere end et vagt tøhø. Nej, udover at filmen er engelsk og forsøger at blande humor med zombier, så tåler den ingen sammenligning med den mesterlige Shaun of the Dead.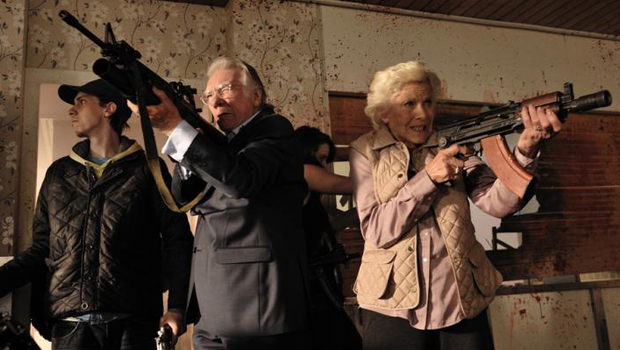 Man får dog sin del af sjaskede headshots, men desværre overskygges blodsudgydelserne af snaldret computergeneret splat. Desuden er zombierne heller ikke særligt skræmmende, så spændingen udebliver. Det kan filmens overspillende bad guy med store guns ikke råbe sig fra.
Alan Ford er dog cool som hidsig farfar med slag i. Han kan dog ikke ene mand opveje det forglemmelige cast og de fjogede oneliners. End ikke da det store våbenarsenal hives frem til filmens final showdown løfter løjerne sig nævneværdigt fra jorden. Det ændrer en rød dobbeltdækker med zombieblod under dækkene ikke på. Øv.
Filmen: 2/6:

Billede, lys, ekstramateriale:
Filmen gør sig imidlertid godt på Blu-ray. Billedet står veldefineret, med fin detaljegrad og indtagende farvegengivelse. Lydsporet spiller dog ikke nær så godt, men det fungerer på trods af ikke altid lige velbalancerede niveauer. Der medfølger intet ekstramateriale.
Billede: 5/6 

| Lyd: 4/6 

| Ekstramateriale: 0/6

Samlet vurdering 2/6: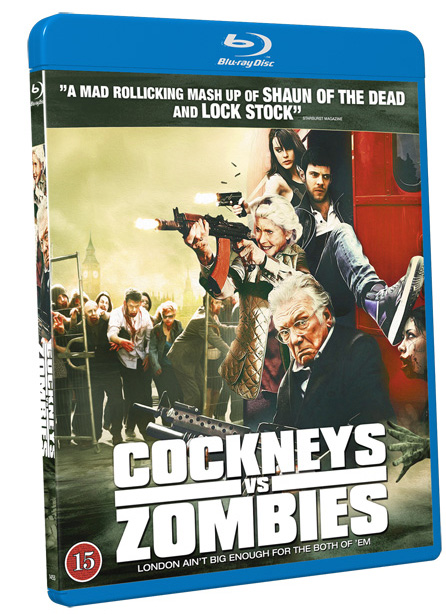 Originaltitel: Cockneys vs Zombies, England, 2012
Udgivelse: d. 2. april 2013
Instruktion: Matthias Hoene
Medvirkende: Rasmus Hardiker, Harry Treadaway, Michelle Ryan m.fl.
Spilletid: 1 time 28 min.
Distributør: Atlantic Film