Anmeldelser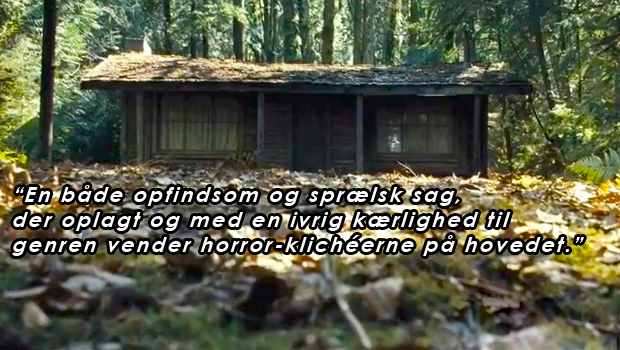 Published on oktober 27th, 2012 | by Bjarke Friis Kristensen
52
En blodig kolbøtte af en skrækfilm
Der spyttes den ene klichéfyldte skrækfilm ud efter den anden, for slet ikke at tale om de mange idéforladte remakes, prequels og sequels. Det er bl.a. derfor en fornøjelse at se The Cabin in the Woods, som er en både opfindsom og sprælsk sag, der oplagt og med en ivrig kærlighed til genren vender horror-klichéerne på hovedet.
For hvad der til at starte med ligner en gængs omgang metervaregys med blonde duller og mørke kældre, ruller sig snart uventet om på maven for at lege tagfat med et genrebevidst publikums forventninger. Regelbogen for gys følges dog indledningsvis til punkt og prikke, hvor man følger fem friske unge, der tager ud i en hytte for at feste løs. Snart begynder overraskelserne dog at poppe blodigt op…
Så har jeg vist også sagt nok om plottet, for jo mindre man ved, desto bedre. Men lad mig blot igen slå fast, at her er tale om en dybt underholdende omgang gru, der ikke er, hvad den først giver sig ud for at være. Det er måske ikke en specielt uhyggelig sag, men snarere en medrivende rutsjebanetur ind i genrens velkendte ritualer, hvor der dog også leveres et par vellykkede jump scares undervejs.


Men udover, at det bl.a. er sjovt at spotte referencer til horrorklassikere, er her ganske enkelt også tale om en solid omgang underholdning med gode idéer og en fint afstemt sort humor. Man kan desuden midt i de grumme løjer også spotte det drilske spørgsmål om, hvorfor vi overhovedet ser de her blodige film og har denne voyeuristiske trang til at se folk blive pint og plaget. Nej, titelskiltets knaldrøde reference til Michael Hanekes Funny Games er ikke tilfældig.
Filmen er skrevet og instrueret af Drew Goddard, mens Joss Whedon har været medforfatter. Whedon var senest aktuel med den kulørte The Avengers og er bl.a. også manden bag tv-serierne Buffy the Vampire Slayer og Firefly, mens Goddard bl.a. har været med til at skrive tv-serien Lost og monsterfilmen Cloverfield. Altså to gutter, der elsker genren, hvilket bestemt skinner igennem i filmen.
Nå ja, de fem unge i kødgryden udfylder fint deres respektive roller som karakter-klichéer med et twist. Bl.a. Chris Hemsworth som sportsfan, Kristen Connolly som læsehest og Fran Kranz som det skæve bonghoved. The Cabin in the Woods vil uden tvivl overraske og underholde hele vejen, hvor ikke mindst skrækfilmsfans med kendskab til genrens konventioner vil blive rigeligt belønnet. Se den!
Billede, lyd og ekstramateriale:
Filmen gør sig yderst indtagende på Blu-ray. Billedet står veldefineret og med en flot og farvemættet farvepalet samt en indtagende detaljegrad. Lydsporet er ligeledes en fornøjelse og buldrer medrivende afsted med gode panoreringer og solid bund i grusomhederne. Desuden medfølger en omgang lækkert ekstramateriale.
Her får man en fin 'The Making of', hvor bl.a. Goddard og Whedon snakker om deres årelange samarbejde og filmens tilblivelse samt deres kærlighed til genren (26 min.). Herudover er der to interessante features om filmens effekter – både de flotte, praktiske samt de computerskabte (i alt 24 min.). Videre er der en to korte features, hvor Kranz bl.a. taler om sin rolle, mens Whedon giver en kort tur rundt på settet (i alt 13 min.).  Slutteligt får man en mere dybdegående Q&A samt et både morsomt og informativt kommentarspor med Goddard og Whedon. Alt i alt en både kvalitativ og spændende omgang ekstramateriale. En fornøjelse.


Originaltitel: The Cabin in the Woods, USA, 2011
Instruktion: Drew Goddard
Medvirkende: Chris Hemsworth, Kristen Connolly, Anna Hutchison, Fran Kranz, Jesse Williams, Richard Jenkins, Bradley Whitford m.fl.
Spilletid: 95 min.
Udgiver: Midget Entertainment